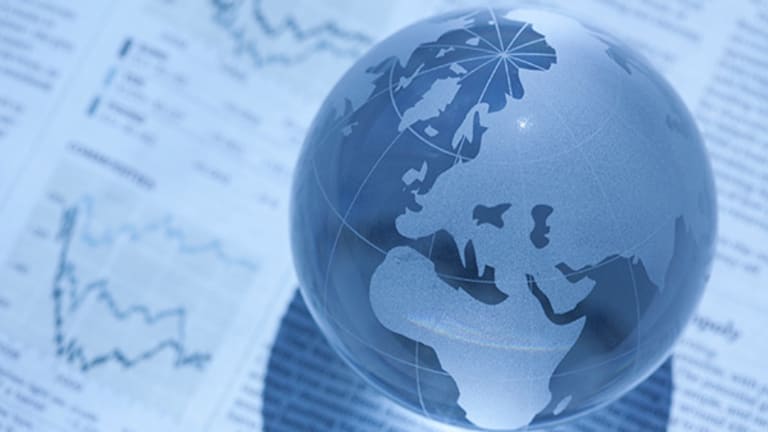 European Stocks Trade Mixed, Asian Shares Decline
European markets are mixed Thursday following weakness in Asia and the U.S. overnight.
LONDON (The Deal) -- European markets were mixed Thursday following weakness in Asia and the U.S. overnight.
The FTSE 100 was down 0.19% at 6114.78, while in Germany the DAX was up 0.45% at 10,639.97. The CAC 40 in Paris was up 0.48% at 4,659.97. 
U.K. sports retailer, Sports Direct International (SDIPF) , fell sharply after a disappointing set of results it blamed on a decline in retail sales. These were offset by better-than-expected gross margins and the company also said it believes it should benefit from the Olympics and the European Championships in 2016. However, at least one analyst team, Cantor Fitzgerald Europe Research, said it was reducing its target price for the company to 700 pence from 760 pence as it believed there was more risk to forecasts on the downside.
Whitbread (WTBCY) , the company behind the Costa Coffee shops that compete with Starbucks in the U.K. and the budget hotel chain Premier Inn, dropped 0.8% to 4,444.0 pence after announcing that third quarter like-for-like sales grew 3.5%, less than the 4% expected by the market. Costa Coffee generated like-for-like sales up 2.5% compared with growth of 4.5% in the first half. Like other retailers, Whitbread's new CEO Alison Brittain, the former head of retail banking at Lloyds Banking Group, has blamed unseasonably warm weather for part of its weakness.
Meanwhile, London-listed resources and commodities giant Glencore (GLNCY) announced a further increase in its debt reduction plan by almost $3 billion to $13 billion as well as another cut in spending on its mines. They say when you're in a hole you should stop digging, and the cut in mining capex does seem to have helped this morning. Glencore was up a solid 14% mid-morning at 94.72 pence.
Travel Group TUI (TTVLF) , announcing its first set of results since the merger of its U.K. and German arms over the summer, took flight after a strong set of figures showed it had largely weathered the terrorism-related drops in traffic it suffered earlier in the year. First half revenues were up 8% at €20 billion ($21.9 billion), and Ebitda was up 23% at €1.1 billion. The share was up 5.71% at 1,185.0 pence.
Nasdaq-listed Ebix (EBIX) - Get Ebix, Inc. Report , of Johns Creek, Ga., confirmed its continued interest in making an offer for U.K. insurance and financial services software provider Xchanging (XCNGF) , which on Wednesday announced an agreement to be acquired by Computer Sciences (CSC)  of Falls Church Va., for £480 million ($722 million). Xchanging slipped 0.26% to 193.75 pence.
French power company Eléctricité de France, which is poised to leave the Paris exchange's CAC 40 index, suddenly seems to have got a charge of its own energy. It surged 8.68% to €13.71 as the markets got a chance to react to last night's statement that the company expects Ebitda growth in 2015 of at least 3%, compared with previous forecasts of between 0% and 3%, and that it reaffirms its ambition ot be cash-flow positive after dividends in 2018. It also expects to cut annual operational expenditures by €700 million over that period. It also booked additional impairments of €2.3 billion for the second half of 2015 following a strategic review of its fossil-fired generation assets.
Also in Paris, French oilfield services provider Technip rose strongly after denying reports it is discussing a potential tie-up with its U.S. peer and joint venture partner FMC Technologies (FTI) - Get TechnipFMC Plc Report .
Anglo-Dutch oil major Royal Dutch Shell (RDS.A) slipped around 1.7% following press reports it is considering divesting its New Zealand operations as part of a plan to divest about $30 billion of assets to simplify the business.
In Asia, Tokyo's Nikkei 225 closed down 1.32% at 19,046.55, while the Topix index dropped 0.98% to 1,540.35. Hong Kong's Hang Seng fell 0.45% to close at 21,704.61 and in China, the combined Shanghai and Shenzhen CSI 300 was down 0.35% at 3,623.08.