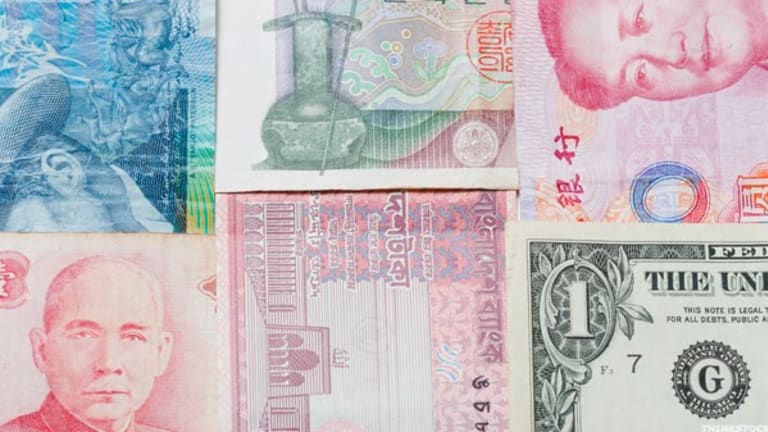 European Stocks Trade Mixed After a Mostly Down Day in Asia
European stock indices are mixed on Thursday, after a predominantly negative day of trading in Asia.
LONDON (The Deal) -- European stock indices were mixed on Thursday, after a predominantly negative day of trading in Asia, as investors focused on key manufacturing statistics coming out of the U.S. later Thursday and after the European Central Bank boss reiterated the central bank's willingness to use a wide range of tools to nurture the economy.
Economists and analysts are braced for a steep decline in U.S. durable goods orders for August, probably as much as 18%, after orders surged almost 23% in July. That report will be released at 8:30 a.m. EDT.
In comments European Central Bank President Mario Draghi made in an interview with Lithuanian business daily Verslo Zinios that were released ahead of publication, he reiterated that the policymakers "stand ready to use additional unconventional instruments within our mandate" to counter deflationary risks. Draghi earlier delivered a speech about Lithuania's imminent entry to the euro.
Bank of England Governor Mark Carney will address an insurance industry conference in Wales at 1:40 p.m. local time.
In London, the FTSE 100 was down 0.14% at 6,697.06. In Frankfurt the DAX climbed 0.38% to 9,698.70. The CAC 40 in Paris gained 0.21% to 4,423.10.
In London, drugmaker GlaxoSmithKline (GSK)  edged higher on confirmation that the company had appointed Philip Hampton, the chairman of Royal Bank of Scotland (RBS) , to become first deputy chairman and by September chairman. Last week, the company agreed to pay China a 297 million pounds ($489 million) fine after a damaging probe concluded the company was guilty of corruption.
Sports Direct International was down 1% after the maverick retailer once again announced a surprise maneuver. It said it had secured a put option on a 0.28% stake in struggling food retailing giant Tesco (TSCDY) held by Goldman Sachs. Sports Direct said the move reflects its "belief in Tesco's long-term future" and will cost it no more than 43 million pounds.
Tesco, which said on Monday it had overstated a half-year profit forecast by 250 million pounds, was down 0.8%.
Cairn Energy (CRNCY) was up 2.5% after striking a deal to sell a 10% stake in a North Sea development. Ryanair Holdings (RYAAY) gained almost 2% after predicting full-year profit would come in at the top end of its expected range.
In Paris, Air France KLM (AFLYY) rose 2.4% after it said it would drop plans to create low-cost subsidiary outside its French and Dutch home bases following a 10-day strike. The planned Transvia Europe would have competed with Easyjet (ESYJY) , whose shares were up more than 2.7% in London.
In Tokyo, the Nikkei 225 closed up 1.28% at 16,374.14. In Hong Kong, the Hang Seng closed down 0.55% at 23,789.68. Most Chinese mainland indices, and Indian indices were also down.