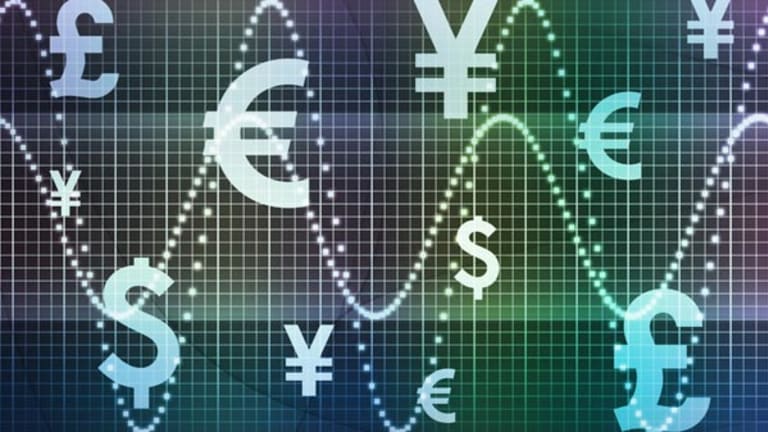 European Stocks Still Riding High on Greece/E.U. Debt Deal
European markets are still celebrating a debt deal between the E.U. and Greece.
LONDON (TheDeal) -- European markets soared to new heights at the open, following Friday evening's announcement of a deal to extend the Greek bailout for four months. But some indices fell back somewhat later as investors wait to see what reform package the Greek government will now offer later today -- and whether it's going to be acceptable to Athens' German opponents.
The Athens General Index in particular slumped to below Friday's closing level and was down 0.27% at around 852.95 by the end of the morning, local time.
In London, at 10:45 a.m. GMT, the FTSE 100 was down 0.20% at 6,901.47, while in Paris the CAC 40 was up 0.30% at 4,845.16. Frankfurt's DAX was up 0.42% at 11,096.82, though well off the morning's record high of 11,158.
In London, banks were once again the focus of attention. HSBC Holdings (HSBC) - Get Free Report fell 4.4% to 578.5 pence after announcing pretax profits of $18.7 billion in 2014, down 17% from the previous year. It blamed the drop on lower gains from disposals as well as the effects of $3.7 billion in what it said were "fines, settlements, U.K. customer redress and associated provisions." Among them was a hit of nearly $1.2 billion for various fines related to foreign exchange rigging. HSBC also saw a near-two percentage point fall in its return on equity to 7.3%.
The bank apologized once again for the Swiss tax evasion scandal that has dogged it for the past few weeks. Yet its chief executive, who faces questions of his own over his tax affairs, is still expecting a bonus of about $11.5 million.
Lloyds Banking (LYG) - Get Free Report rose 1.6% to 79.27 pence on news that it plans to pay a dividend this year for the first time since the financial crash. It's expected to be no more than half a penny to 1 penny a share to start out with, but investors will take it as another sign the banking sector's returning to health.
Meanwhile the British government announced the sale of a further 1% stake in the bank, which it was forced to bail out in 2008 and 2009, bringing its holding down to 23.9%.
But amid the good news, shareholders are still looking askance at the £375 million ($576 million) bonus pool for staff this year, which is expected to includes £7 million in shares for Lloyds chief executive António Horta-Osório, who presided over the bank's turnaround.
Bovis Homes (BVHMF) , said to be Britain's fastest growing housebuilder, reported a 69% jump in pretax profits for last year, and announced a big hike in its dividend to 35 pence a share. But the shares fell 0.84% to 938.5 pence, as some of the heat has come out of the U.K. housing market ahead of a general election in May, which could see new property taxes imposed on costlier homes.
Travel operator Thomas Cook (TCKGF) experienced a morning of turbulence after a weekend report that it is seeking possible buyers or partners for its airline, although no talks are currently underway. The stock finished the morning just above Friday's closing level at 123.1 pence
French nuclear power group Areva (ARVCF) fell 1.39% to €9.43 after preliminary results showed an annual loss of €4.9 billion ($5.5 billion) last year -- almost ten times the previous year's figure. It blamed the loss on writedowns on the value of various reactors as well as the cost of meeting its regulatory obligations on nuclear waste disposal and site protection. But it said it was working on a comprehensive new business plan which would be revealed in March.
In Asia, Honda Motor (HMC) - Get Free Report , Japan's No. 3 car maker, announced that CEO Takanobu Ito is stepping down. The company has had a difficult year, with repeated profit warnings as well as a string of safety issues and product recalls -- including its Takata airbags. It also agreed to pay a record $70 million fine in the U.S. over its failure to report safety problems. Honda closed down 0.91% at ¥3,928,5.
Japan's biggest airline, ANA Holdings (ALNPY) , said it was considering injecting capital into bankrupt domestic carrier Skymark Airlines (SKALF) . Other investors are also reported to have shown interest in joining a rescue package for the carrier, which went into bankruptcy protection last month with liabilities of about ¥71.09 billion ($596.24 million).
The Nikkei 225 closed up 0.73% at 18,466.92. In Hong Kong, back for its first day of trading after the Lunar New Year holiday, the Hang Seng finished up just 0.02% at 24,836.76. Mainland China's markets are still closed after the break.