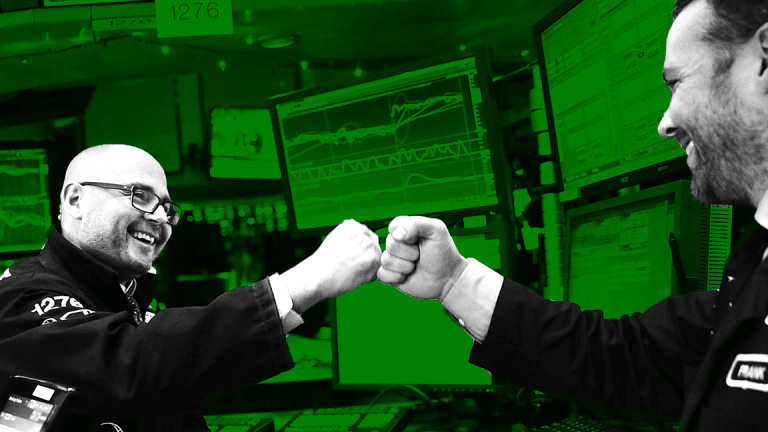 Stocks Are Trying to Recover After Italy Caused a Tuesday Market Rout
Global stocks were mixed Wednesday, with markets in Asia hit by yesterday's sharp sell-off on Wall Street and renewed U.S.-China trade tensions while Europe and Wall Street look to rebound despite muted investor sentiment.
Global stocks were mixed Wednesday, with markets in Asia hit by yesterday's sharp sell-off on Wall Street and renewed U.S.-China trade tensions while Europe and Wall Street look to rebound despite muted investor sentiment.
The Wednesday Market Minute
Global stocks mixed as Asia falls sharply, Europe steadies despite Italy's ongoing political crisis
U.S.-China trade spat continues to test Asia market sentiment as Beijing reacts to White House plan on import tariffs
U.S. Dollar index holds at early November highs; 10-year yields bump to 2.86% but safe-haven trade continues to flourish.
European stocks mixed, but solid Italian rebound calms early nerves even as reports of July elections loom
Oil prices extend declines as strong dollar, supply boosts continue to pressure global crude contracts
Market Snapshot
European stocks steadied Wednesday as investors scooped up cheap Italian assets following yesterday's sell-off even as uncertainty over the country's current political crisis keeps government bond yields elevated and the euro pinned near 10-month lows against the U.S. dollar.
Asia stocks, however, nursed heavy losses throughout the session, with the MSCI ex-Japan benchmark shedding 1.35% into the close of trading while Japan's Nikkei 225 fell 1.52% to end the session at 22,018.52 points as investors reacted to news that the U.S. will publish a list of Chinese goods it will hit with tariffs next month as the brewing trade war between the world's two biggest economies threatens to escalate once again. 
Wall Street futures, however, look set for a solid rebound at the opening bell, with contracts tied to the Dow Jones Industrial Average  I:DJI pointing to a 170-point gain for the 30-stock benchmark and those linked to the broader S&P 500  I:GSPC suggesting a 16 point bump to start the trading day.
Italy's political crisis, however, which lifted yields on short-term governments bonds the most in more than 25 years yesterday, continues to hang over global sentiment, with reports from Rome suggesting new elections could come as early as July. Furthermore, domestic Italian media reports have said the anti-establishment coalition of Five Star and Lega plan to re-nominated anti-euro economist Paolo Savona to the post of finance minister if, as expected, they take the lion's share of the next poll and win the right to form another government.
That said, European markets look to have regained some poise, for the moment at least, following yesterday's wipeout, with the euro rising to 1.1624 against the greenback and the Stoxx 600 benchmark edging 0.1% higher by late morning in Frankfurt.
Italy's FTSE MIB index, the country's bluechip benchmark, rebounded firmly in early Wednesday trading with a 2% gain, while 10-year Italian government bond yields eased to 2.92% and 2-year notes were marked at 1.73% after a successful bond auction by the country's Treasury.
Italy sold $6.5 billion worth of government bonds Wednesday, paying the highest rate it at least for years, as investors reacted cautiously to the indebted nation's attempt to stablize markets amid its ongoing political chaos.
That said, investors appeared to be attracted to the auction's higher return, which saw 10-year bonds sold at a yield-to-maturity of 3%, significantly higher than the 1.7% the government paid in late April. Italy's 5-year sale was made at a yield-to-maturity of 2.32%, the highest since February 2014.
Investors bid €1.48 for every €1 of debt sold, Italy's Treasury said, meaning €8.24 billion in bids were placed for the €5.57 billion bonds that were ultimately sold, indicating the strongest demand for an auction since December.
Vivendi SA  (VIVHY) shares were a notable early market mover, falling 3.37% to the bottom of the Stoxx 600 after a unit of the French media group, Canal plus, lost the rights to broadcast soccer in Europe's second-largest economy to China-owned Mediapro. 
The U.S. dollar index, however, remains firmly fixed to it recent multi-month highs and was trading at 94.68 against a basket of six global currencies at the start of the European session. Benchmark 10-year U.S. Treasury yields, meanwhile, edged modestly higher to 2.86%.
Still, yesterday's decision by the White House to reveal a list of China-made goods it will target with import tariffs has investors concerned that last week's short-lived "hold" of the trade war between the two countries has abruptly re-started, even as Commerce Secretary Wilbur Ross plans a visit to Beijing early next week.
China's Commerce Ministry issued a statement Wednesday saying it was "surprised" by the U.S. move and urged Washington to act in the spirit of their recent joint statement on trade. 
Perhaps in response to the growing concerns on global trade, echoed by Germany's influential DIHK Chambers of Commerce Wednesday when it noted export expectations had been "noticeably dampened" by recent developments, global oil prices extended declines in early European dealing as investors priced-in the impact of a stronger U.S. dollar, increased Saudi supply and slowing global economic growth.
A modestly weaker dollar, however, following the euro's rebound, reversed that move, taking Brent crude contracts for July delivery 24 cents higher from their Tuesday close to change hands at $75.63 a barrel during London trading while WTI contracts for the same month added 5 cent a barrel to $66.78.