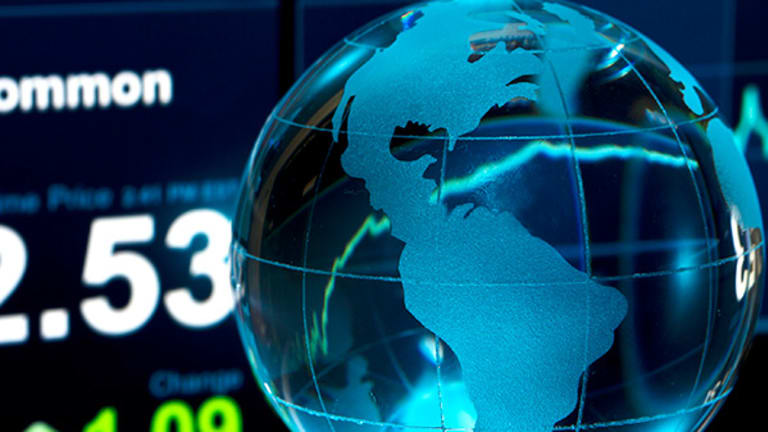 European Stocks Slip on Earnings Downgrades
European stock markets slip on Thursday amid a raft of earnings downgrades.
LONDON (The Deal) -- European stock markets slipped on Thursday amid a raft of earnings downgrades and as the European Central Bank boss hinted at new monetary boosters.
In London, the FTSE 100 fell 0.54% to 6,263.50 and in Frankfurt the DAX dropped 0.45% to 10,859.02. In Paris, the CAC 40 fell 0.71% to 4,917.36.
Eurozone industrial output figures for September came in weaker than expected, with output down 0.3% from August, and up 1.7% year-on-year. The 28-nation European Union performed better, with output up 1.8% year-on-year and down 0.1% in the month.
European Central Bank President Mario Draghi stoked expectations that the central bank will expand its asset purchase program as early as next month by telling European Parliament's monetary affairs committee that the ECB will re-examine its policy when officials next meet.
Some big U.K. names delivered gloomy news in London.
Engines maker Rolls-Royce Holdings (RYCEF)  plunged 20% after warning of "sharply weaker demand in 2016" and guiding that 2015 profit will be at the lower end of the range. It also said it will review its shareholder payments policy. Concluding a review by CEO Warren East, the company announced a major restructuring from next year which will seek to achieve £150 million to £200 million ($228 million to $303.9 million) of annual cost savings from 2017.
Car accessories and bikes retailer Halfords Group (HLFDF)  fell about 9% after undershooting first-half profit forecasts and announcing more spending on stores, staff and marketing, prompting analysts including Investec Bank to cut their expectations for 2016 and 2017. Peel Hunt LLP cut their recommendation to hold from add, noting that the prospect of a major capital return to shareholders has retreated.
Engineering company IMI was down about 7% after warning in an update of "challenging" conditions and a decline in full-year revenue and earnings in the full year, as well as earnings per share towards the lower end of expectations. Jefferies  analysts said the update would drive "meaningful downgrades" to 2015 and 2016 estimates. 
Defense equipment maker BAE Systems (BAESF)  was up close to 5% after delivering an upbeat trading update in which it said the business environment is improving and predicted good 2015 sales growth. It expects more contracts for its Typhoon aircrafts and announced a deal to sell 22 Hawk jets to Saudi Arabia. It is chopping 371 jobs in its military air and information business to cut the cost of production.
Shares in Burberry Group (BURBY)  edged higher as it eked out a first-half profit increase on flat revenue and maintained its full-year forecasts despite a slowdown in China, while in Paris rival luxury goods maker Hermes International slipped back as it reported 9% nine-month sales growth.
In Madrid, oil producer Repsol (REPYF) was down almost 5% as it missed consensus net profit expectations in its third quarter, with upstream assets proving the trouble spot. . The results were the first to include figures from recently acquired Talisman Energy Inc., of Canada, for the entire reporting period, with the Talisman assets contributing a loss of €90 million ($96.5 million) to adjusted net profit.
In Frankfurt, Siemens (SI) - Get Report rose after lifting its dividend and announcing a three-year, €3 billion buyback with its full-year results. The company said it expects "moderate revenue growth" in fiscal 2016.
Dutch mail service PostNL was up 1% in Amsterdam after media entrepreneur John de Mol, the founder of companies behind the "Big Brother" and "The Voice" TV formats, took a 3% stake.
In Sydney, the S&P/ASX 200 closed little changed at 5,125.69, up 0.06% after far stronger than expected Australian jobs figures lifted the Australian dollar.
In Tokyo, the Nikkei 225 closed little changed, up 0.03% at 19,697.77 and the Topix closed down 0.11% at 1,593.57.
In Hong Kong, the Hang Seng leaped 2.4% to 22,888.92. Most mainland Chinese indices sustained modest falls, however, with the Shanghai Composite closing down 0.48% at 3,632.90.