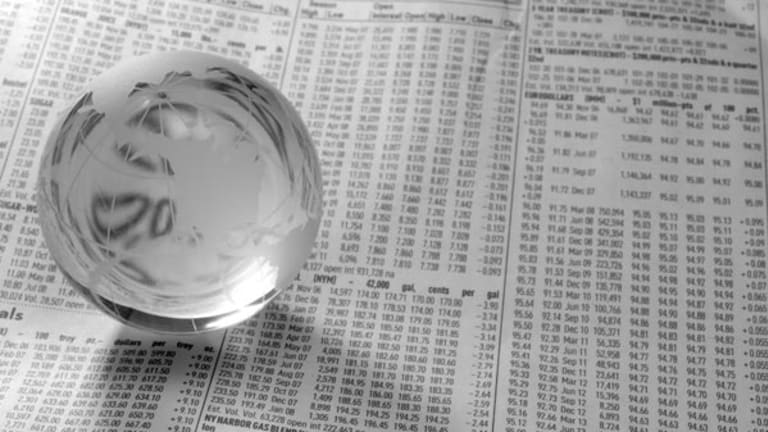 European Stocks Slip Amid Earnings Disappointments, Grim U.K. Economic Data
European stocks fall Wednesday amid a string of disappointing earnings and grim economic news from the U.K.
Corrected from 6:28 a.m. with U.K. unemployment information.
LONDON ( The Deal) -- European stocks fell Wednesday amid a string of disappointing earnings and grim economic news from the U.K. 
In London, the FTSE 100 was down 0.11% at 6,619.95, while in Frankfurt the DAX retreated 0.62% to 9,310.97. In Paris, the CAC 40 shed 0.62% to 9,310.97.
Watch the video below for a closer look at how European markets are doing in midday trading Wednesday:
Must Read:
10 Stocks Billionaire John Paulson Loves in 2014
Investors were in the mood to sell after the Bank of England cut its growth forecasts for 2015 and 2016 and warned that inflation could sink below 1% in coming months. A separate report from the Office of National Statistics showed the U.K. unemployment rate at 6% in the third quarter, unchanged from the previous quarter. 
In London, FlyBE lost 16.63% to 110.50 pence after the airline said its after-tax loss widened to 15.4 million pounds ($24.5 million) in the six months ended Sept. 30 from 13.6 million pounds a year earlier as expenses related to flight delays and restructuring impacted on earnings. 
FlyBE also said it would sell its 60% stake in its loss-making joint venture with Finland's Finnair to Finnair for a symbolic 1 euro in a transaction it expects to complete by Jan. 1, 2015. 
Barclays (BCS) - Get Barclays Plc Report was down 1.45% at 231.20 pence after the bank delayed reaching a settlement with regulators probing a global currency-rigging investigation. Regulators in the U.K., the U.S. and Switzerland announced a combined $3.2 billion in fines against five other lenders including UBS (UBS) - Get UBS Group AG Report  and the Royal Bank of Scotland (RBS) - Get Royal Bank of Scotland Group Plc Report . 
In the absence of a settlement with Barclays, the U.K.'s Financial Conduct Authority said it will expand its investigation to cover ithe lender's G10 spot foreign-exchange trading business and wider forex business areas. 
In Milan, Enel fell 3.31%  after Italy's largest power producer reported a 54% drop in third-quarter adjusted net income to 298 million euros, well below the 320 million euros projected by analysts surveyed by Bloomberg News. 
U.K. energy company SSE fell 2.23% to 1,543 pence. It's now forecasting annual earnings to fall at the lower end of the range set out in March, which will also mean a dividend below target. The company said the business environment remains challenging, in particular persistently mild weather that's contributed to low energy production and consumption. 
In Amsterdam, SBM Offshore soared more than 18%. The Dutch supplier of floating production platforms to the offshore energy industry said it will pay $240 million to Dutch prosecutors to settle a case related to payments to sales agents in Equatorial Guinea, Angola and Brazil from 2007 to 2011. 
Asian stocks were mainly positive, with Hong Kong's Hang Seng adding 0.55% to 23,938.18 and Japan's Nikkei index advancing 0.43% to 17,197.