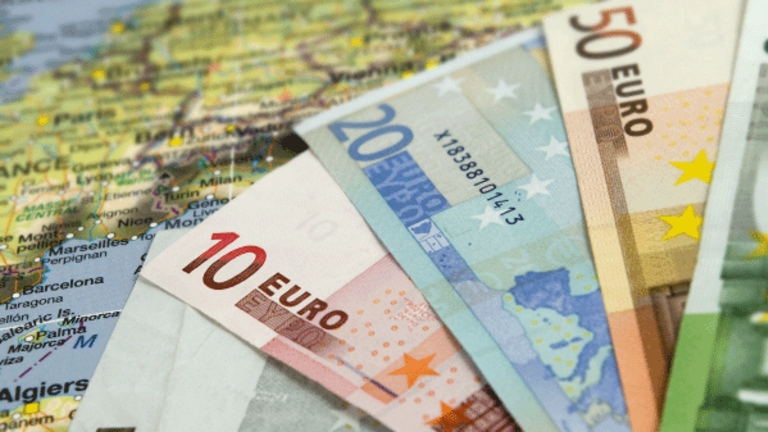 European Stocks Drift Lower After Mixed Asia Session
European stocks eased from 2016 highs as investors begin a year-end shutdown.
European stocks opened lower Thursday in one of the final trading days of the year following a mixed session for major markets in Asia.
Britain's FTSE 100 index slipped around 5 points from its record close of 7,106.08 Tuesday amid a softer opening for U.K. financial shares. Germany's DAX also fell around 0.2% from it's 52-week high while the CAC-40 in Paris dropped 0.1%. The region-wide Stoxx 600 Index was marked around 0.2% lower at 360.75 by 12:15 GMT. 
Overnight in Asia, a U.S. dollar pull back held down the recent momentum of the Nikkei 225, as the yen touched a two week high of 116.38, which fell 1.3% to a three-week low of 19,145.14 points in its second-last session of the year.
Toshiba (TOSYY) continued its worrying decline, falling another 17% in Tokyo as investors reacted to both its surprise write down warning linked to its Westinghouse unit in the US and two credit ratings downgrades that will markedly increase its cost of raising new capital. The three-day series of declines has wiped out more than $6.5 billion in Toshbia's market value. 
Elsewhere in Asia, South Korea's KOSPI edged just under 2 points higher for the session while Australia's S&P/ASX notched another 2016 high after a 0.25% advance. China's Shanghai Composite looks set for a 0.18% decline on the session while the region-wide MSCI Asia Pacific ex-Japan Index added 0.24%.
Most of the overnight attention, however, centred on the weaker U.S. dollar, which fell for the first time in four sessions after a weaker close on Wall Street and surprisingly muted housing data. The dollar index, which marks the greenback against a basket of six global currencies, was trading 0.33% lower by mid-day in Europe and changing hands at 102.82.
Oil prices were broadly weaker, as well, following an unexpected 4.2 million barrel increase in U.S. crude supplies reported by the American Petroleum Institute Wednesday.
WTI futures for February delivery were trading around 0.12% below Wednesday's settlement price at $53.92 per barrel while February Brent futures traded 0.3% higher at $56.39 per barrel as investors closed out positions on the final day of the contract and rolled into March delivery transactions. 
U.S. stocks ended Wednesday in the red, with all sectors of the S&P 500 slumping and a milestone of 20,000 slipping further out of reach of the Dow Jones Industrial Average.
The index of 30 blue-chip stocks dropped 0.56%, while the S&P 500 fell 0.84% and the Nasdaq declined 0.89%.
The dip helped prolong days of speculation about when the Dow might reach what would be a historic high, after climbing within 19 points of it earlier Wednesday. The Nasdaq slid from a record opening of 5,499, with a 6.9% drop at Nvidia (NVDA) - Get Report leading the index lower.
Early indications from U.S. futures prices suggest a 7point dip for the Dow, a 1.1 point gain for the S&P 500 and a 0.8 point decline for the Nasdaq.