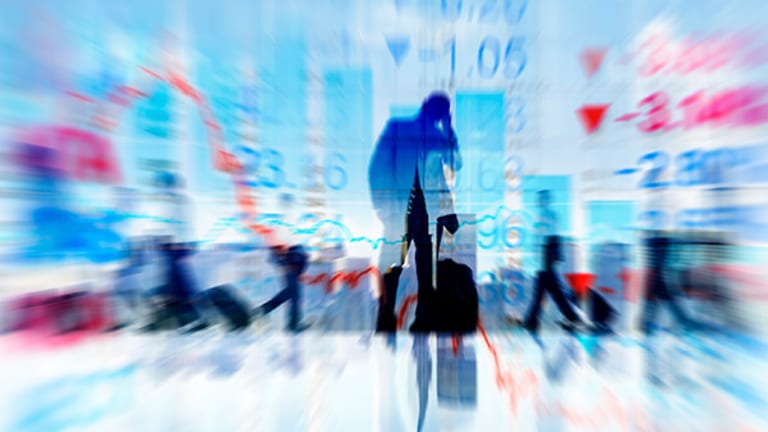 European Bank Stocks Lead Markets Higher After Fed 'Dots' Roil Global Markets
Global stocks react to a faster-than-expected Fed hike path after the first rate increase of the year.
European stocks opened Thursday as investors sifted through the impact of Wednesday's U.S. rate hike and economic projections from the U.S. Federal Reserve that have roiled markets around the world.
Germany's DAX index added 37 points by 11:00am in Frankfurt, taking the benchmark to 11,303.6 points led by a solid 3.9% rise for Deutsche Bank (DB) - Get Report . In Paris, CAC-40 jumped 11.5 points, or 0.23% at the bell, while Britain's FTSE 100 slipped 15 points into the red as basic materials stocks offset gains for financial stocks.
The broadest measure of European shares, the Stoxx 600 Index, added 0.24% to 356.55 led by a 1.61% for the Stoxx 600 Banks subindex.
The Fed expects that the economy will "continue to perform well" as the job market continues to grow stronger and inflation rising to 2% over the next few years, she added, indicating that she and her colleagues expect to increase interest rates three times next year compared to the two hikes forecast in September from the Fed's co-called "dot plots".
"My colleagues and I are recognizing the considerable progress the economy has made toward our dual objectives of maximum employment and price stability," Fed Chairwoman Janet Yellen explained Wednesday. "Over the past year two and a quarter million net new jobs have been created, unemployment has fallen further and inflation has moved closer to our longer run goal of 2%."
Eurozone government bonds opened sharply lower Thursday, with cash futures prices for German bunds falling 0.01% to 160.475 and yields on benchmark 10-year bonds rising 6 basis points to 0.36%, U.S. 10-year Treasury yields traded 3 basis points higher at 2.60% and 10-year Gilts traded at 1.52%.
In France, EDF (ECIFY) shares plunged utility company agreed to sell half of its stake in its high-voltage power grid unit, RTE, following government request earlier in the year and lowered its earnings target for 2017.
Shares dropped 11.9% to €9.85 in Paris by 11:00am local time, taking the year-to-date loss to 26%.
Lonza (LZAGY) AG shares fell 7% to Sfr157.21 each in Zurich after the Swiss biotech said it will buy private-equity backed U.S. capsule maker Capsugel SA in a $5.5 billion all-cash deal that pushes it further into the healthcare industry.
Lonza will buy the Morristown, N.J.-based group from Kohlberg Kravis Roberts & Co. LP, its owner, via a combination of debt and equity financing, Lonza said, and will assume around $2 billion in Capsugel debt. Lonza said the acquisition will add $30 million in annual operating synergies by the third year and a further $15 million in tax synergies each year.
H&M (HNNMY) stock dropped markedly in the first hour of trading in Stockholm after it reported sales growth that missed analysts' expectations as retailers deal with a tough European trading environment.
The Swedish fast-fashion said sales in November were up 9% in local currency terms compared with the same time period last year. A Reuters poll of analysts had been expecting a rise of 15%.
H&M stock was down 5.5% at SEK260.60 each by 11am local time, extending the year-to-date loss past 11%. The Stoxx Europe Retail Index has lost 4.9% year-to-date.
Overnight in Asia, the U.S. dollar raced to a 14-year high against a basket of global currencies, punishing emerging markets and lifting bond yields in markets all around the region. The corresponding weakness in other currencies, particularly the yen, however, helped boosted local markets, including the Nikkei 225, which notched its eighth consecutive session gain to close 0.1% higher at 19,273 points. South Korea's KOSPI, however, slipped 0.22 points to 2,036 despite the won falling the most against the dollar in more than a month and Australia's S&P/ASX dipped 0.82% to end the day at 5,538 points despite adding more than double the estimate of jobs to its economy in its later labor market report. 
The dollar's surged pegged it at 102.41 by 08:15 GMT in London against six major currencies as investors reacted to a faster-than-anticipated forecast for 2017 rate hikes from the Fed, which lifted its key lending rate by 25 basis points to a 0.5% to 0.75% target.
The move also hit the European single currency, which fell to 104.83 against the greenback, the lowest level since March of this year. The pound also declined, falling to 1.2530 after rising past 1.27 after faster-than-expected U.K
Stocks retreated from records on Wednesday after the Fed move, with the S&P 500 down 0.81%, the Dow Jones Industrial Average sliding 0.59%, and the Nasdaq tumbling 0.50%. The Dow snapped a seven-day streak of record closes, while the S&P 500 and Nasdaq retreated from their own records set a day earlier.
Early indications from U.S. futures prices point to a rebound on Wall Street Thursday with a 66 point increase for the Dow, a 7 point gain for the S&P 500 and a 12 point rise for the Nasdaq.