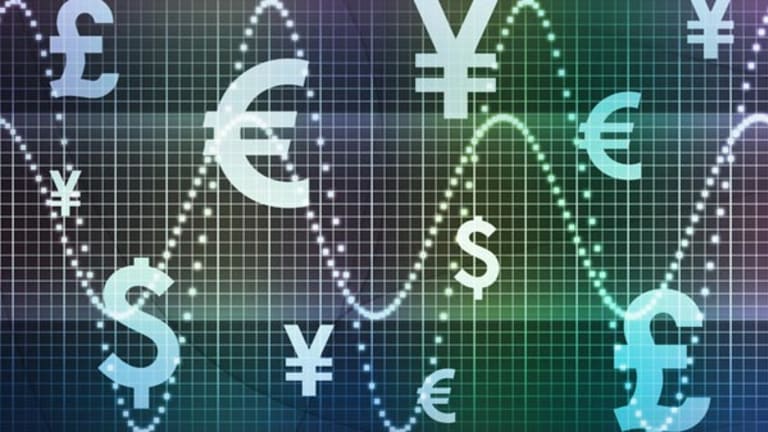 European Stocks Rise, Pushing Against Cratering Greek Bank Stocks
European stocks rose on Wednesday as investors reacted to some positive earnings reports and better-than-expected manufacturing and services data for the eurozone.
LONDON (TheDeal) -- European stock indices rose on Wednesday as investors reacted to some positive earnings reports and better-than-expected manufacturing and services data for the eurozone.
Markit Economics' final data for July appeared to confirm the perception that the eurozone economic recovery is on track, with two closely watched indices holding well above the 50 threshold that separates expansion from contraction.
Markit's July final composite purchasing managers' index came in at 53.9 for the eurozone, better than an earlier estimate of 53.7, though falling from 54.2 in June.
The services PMI index also beat the preliminary estimate, coming in at 54.0, compared with 54.4 in June.
In Frankfurt, the DAX rose 0.98% to 11,568.63, and in Paris, the CAC 40 gained 0.93% to 5,159.78. In London, the FTSE 100 was up 0.12% at 6,694.58.
In Greece, a selloff of banking stocks continued for the third day after equities markets reopened on Monday after a five-week suspension. Piraeus Bank (BPIRY) and Alpha Bank (ALBKY) were each down almost 30%.
In London, companies including fund manager and insurer Legal & General (LGGNY) , London Stock Exchange and sausage-skin maker Devro (DEVOY) gained earnings-related boosts, while miners including global leaders BHP Billiton (BHP) - Get BHP Group Ltd. Report and Rio Tinto (RIO) - Get Rio Tinto Plc Report rose.
London Stock Exchange gained after reporting a 16% rise in first-half operating profit to £239.4 million ($372.8 million), after it bought index provider Frank Russell for $2.7 billion in December. It announced an 11% increase in the dividend.
Legal & General's first-half results, meanwhile, included news that assets under management were up 12% at £714.6 billion.
Devro rose sharply after reporting good news on investment projects in the U.S. and China and a 10% increase in first-half profit to £14.7 million, thanks in part to restructuring savings.
In Paris, lender Societe Generale (SCGLY) surged more than 10% and was recently up close to 8% on better-than-expected first-half results and a decision to raise its common equity Tier One capital target to 11% from at least 10% by the end of 2016. Second-quarter earnings, including a net profit of €1.35 billion ($1.47 billion), were the highest in eight years.
In Italy, investment bank Mediobanca (MDIBF) rose as it announced that full-year revenue increased 12% to over €2 billion and net profit climbed 27% to €590 million. The bank also announced the small but symbolically important purchase of fund manager Cairn Capital, cementing the perception that it is now in growth rather than recovery mode.
But in the Netherlands, Dutch bankING (ING) - Get ING Groep NV Report fell as investors took profits on a second-quarter earnings report that included a 21% increase in net profit to €1.12 billion. The stock has risen about 60% in the past year.
In Frankfurt, Nivea maker Beiersdorf (BDRFF) got a booster from record first-half results, led by growth in the Americas. Revenue rose 7.3% to €3.4 billion, with Ebit before one-time items was up more than 12% at €508 million. It predicted a higher full-year Ebit margin with a 3% to 5% increase in full-year sales.
Asian indices were mixed after earlier taking fright from comments made by FedAtlanta chief Dennis Lockhart in a Wall Street Journal interview. He said economic data would need to get significantly worse to convince him to delay a rate rise beyond September.
In Hong Kong, the Hang Seng closed up 0.44% at 24,514.16. The Shanghai Composite index closed down 1.65% at 3,694.57. In Tokyo, the Nikkei 225 closed up 0.46% at 20,614.06, and the Topix gained 0.36% to close at 1,665.85.
July data from Markit Economics showed its purchasing managers' index for the services sector in China, which it compiles with Caixin Media, rose to 53.8 , from 51.8. The monthly gain was the biggest for 11 months. But the composite index for China slipped back to 50.2 from 50.6.
Corresponding data from Markit for Japan showed the services sector PMI slipped to 51.2, the lowest reading since March, from 51.8.
Later this week, investors will be looking to U.S. jobs data for direction, with analysts expecting growth of 225,000, according to the median estimate culled by Bloomberg news, after 223,000 growth in June.