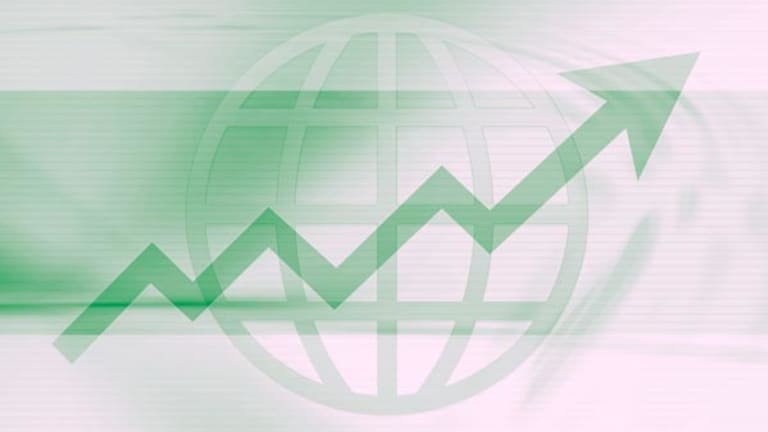 European Stocks Rise on Dovish Draghi Remarks
European stocks rise after European Central Bank President Mario Draghi signaled that central bankers are prepared to tweak monetary policy if needed.
LONDON (The Deal) -- European stocks rose Monday after European Central Bank President Mario Draghi signaled that central bankers are prepared to tweak monetary policy if needed and as German business confidence fell for the fourth straight month. 
In Frankfurt, the DAX was up 1.06% at 9,438.11, while in France the CAC 40 added 0.86% to 4,289.51. The London Stock Exchange was closed for the U.K. bank holiday after ending last week at 6.775.25, down 0.04% from Thursday. 
Investors were mainly in a buying mood after Draghi signaled that policy makers are ready to act if inflation drops further in the eurozone, saying that it would be "helpful" if fiscal policy could play a greater role alongside monetary policy. 
"The package of measures announced by the ECB in June should provide the intended boost to demand, and we stand ready to adjust our policy stance further," he told global peers last Friday in Jackson Hole, Wyo. He also said that central bankers would be prepared to use "unconventional instruments" to safeguard medium- to long-term inflation expectations in the eurozone. 
On Monday, a drop in Germany's Ifo Business Climate Index added to concerns about the pace of recovery in Europe's largest economy. Confidence fell to 106.3 points in August, from 108.0 in July, with the manufacturing index dropping to its lowest level since July 2013 and the wholesaling index now at its lowest in a year. 
Across the continent, corporate news pushed several stocks into positive territory. 
In Madrid, Bankia rose 0.62% to 1.45 euros, following a Sunday report that the government won't sell any more shares in the nationalized lender until November, following the publication of stress test results by the European Central Bank. 
"After October we'll have a much clearer picture, not only on Spanish banks and Bankia, but of the entire Euroupean banking system," Spanish Economy Minister Luis de Guindos said ain an interview with Spanish news agency Europa Press. "Then we'll look at the options." 
Vivendi added 0.44% in Paris, following a report in the Italian press that Spain's Telefonica is planning to raise its bid for Vivendi SA's GVT Brazilian unit in a deal valuing the target at 8 billion euros ($10.6 billion). 
And in Zurich, Roche (RHHBY) gained 0.15% to 266.30 euros after the Swiss pharmaceutical company agreed to buy Brisbane, Calif.-based biotech firm InterMune (ITMN)  for $8.3 billion. 
The deal, announced over the weekend, gives the Basel-based buyer the rights to a drug for the treatment of a progressive, often fatal disease characterized by progressive loss of lung function due to scarring. The medicine, known as pirfenidone, has been approved in the EU and Canada, where it is marketed under the name Esbriet, and received breakthrough therapy designation from the U.S. Food and Drug Administration. 
Roche markets Pulmozyme and Xolair in the U.S. and has other novel therapeutic medicines targeting respiratory diseases in clinical development. It said it expects to close the deal this year, though without giving a precise timetable. 
But gains in the stocks were tempered following a Bloomberg News report that Roche has dropped plans to bid for the 38% of Japanese drug maker Chugai Pharmaceutical it doesn't already own. Chugai slumped 9.15% in Tokyo to 3,325 yen. 
Asian markets were also up. 
In Tokyo, the Nikkei advanced 0.48% to 15,613, while in Hong Kong the Hang Sen added 0.22% to 2,5166.91. 
In Hong Kong, China Petroleum & Chemical, known as Sinopec, gained 4.28% to HK$8.04 after posting a 7.5% increase in first-half profit to 32.54 billion reminibi ($5.29 billion), which was better than expected.
Despite slowing growth in demand and falling prices for chemical products, the company also achieved a double-digit increase in operating profit, which it attributed to increased production and sales volume of high value-added gasoline and diesel fuels. 
In the second half of the year, Sinopec is betting on "rapidly" growing domestic demand for oil products, especially for gasoline, and demand for chemicals to grow slightly. 
Later Monday, investors will be looking to the U.S. for the latest figures on U.S. new-home sales. Economists surveyed by Bloomberg News expect the June figure to be around 429,000, up from 406,000 in June.