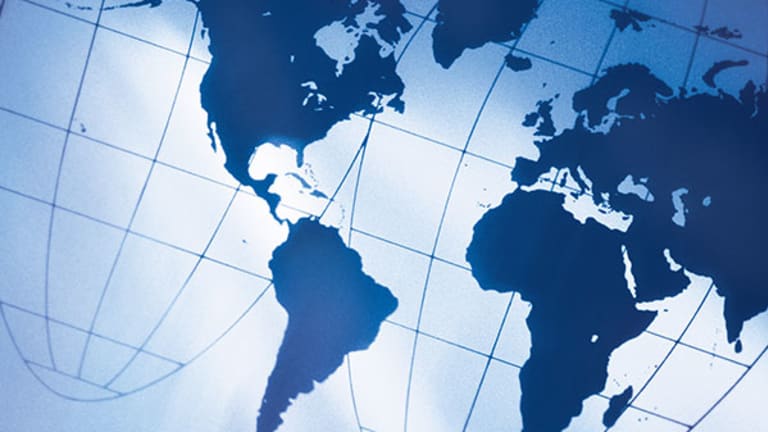 European Stocks Rise Despite Downbeat Chinese Manufacturing Data
European stocks rise Wednesday amid promising signs of German-led growth and after markets had time to digest disappointing manufacturing data out of China.
European stocks rise Wednesday amid promising signs of German-led growth and after markets had time to digest disappointing manufacturing data out of China.
LONDON (The Deal) -- European stocks were up on Wednesday amid promising signs of German-led growth in the single-currency area and after markets had time to digest disappointing manufacturing data out of China.
 In London, the FTSE 100 added 1.40% to 6,018.83, while on the mainland the DAX was 1.05% higher at 9.670.89. The CAC 40 in Paris gained 1.06% to 4,475.67. 
Markets recovered after an initial bumpy start tracking Asian indices lower on new worries of a slowdown in China. China's preliminary Purchasing Managers' Index from Caixin Media and Markit Economics slumped to reading of 47 in September, its lowest level the bottoming out of the global financial crisis in March 2009. 
While markets fell throughout the Asian trading today, in Europe there was a silver lining as the "flash" Purchasing Managers' Index for the euro area recorded its highest third-quarter average in more than four years despite slipping in September. 
There were also signs of growth gathering pace in Germany, Europe's largest economy, which saw the best quarterly expansion for a year led by the service sector and supported by solid manufacturing growth. In France, the rate of expansion in business activity picked up from the near-stagnation seen in August, though remained modest. 
Commodity stocks including Kaz Minerals, Petra Diamonds (PDMDF) and Premier Oil (PMOIY)  were among top gainers in London amid predictions for a fall in U.S. crude oil stockpiles. 
Smiths Group (SMGZY)  was up more than 2% after the engineering group posted a 5% increase in 2015 earnings per share, two days before Andrew Reynolds Smith officially takes the reigns as the new chief executive. 
Diageo (DEO) - Get Report  gained 1.02% after the maker of Smirnoff vodka and Guinness stout said the year has started well with performance in line with expectations. 
In a trading statement ahead of its annual meeting, Diageo said that volume has grown in the mid-single digits, reflecting improved volume growth trends and comparisons against last year's weak start, especially North America where it's still predicting an organic net sales decline of 2% for the rest of the first half. 
In Amsterdam, PostNL (PNLYY) jumped 8.7% following a buy recommendation from Bank of America. 
In Paris, Total (TOT) - Get Report was up 1.71% after Europe's second-biggest oil producer announced a series of measures to safeguard its dividend. 
The plan, detailed at an investor presentation in London, calls for cutting capital expenditures by up to $24 billion in 2015 from the $28 billion peak in 2013, and a 50% increase in its operating-expenses reduction target to $3 billion by 2015. As for the longer term, Total said it plans to allocate 75% of its capital employed to upstream and 25% to downstream. 
And in Zurich, Swiss Re rose 1.43% after its business unit Admin Re announced an agreement to buy Cinven-backed Guardian Holdings for GBP 1.6 billion ($2.5 billion). 
The acquisition, due to be completed in early 2016, will boost Swiss Re's assets under management by about 15%, the buyer said. Swiss Re said it will finance the deal from cash on its balance sheet as well as debt financing. 
In a statement, Admin Re CEO Bob Ratcliffe said the company "will continue to seek growth via other acquisition opportunities, developing further our leading consolidation franchise." 
Among decliners, BBA Aviation was down 1.86% in London after the aircraft services provider announced a $2.065 billion bid for Carlyle-backed Landmark Aviation to expand its footprint in North America. 
In Cophenhagen, Coloplast (CLPBY) fell slumped 6.5% after the health care company said it it took a further $448 million charge as part of a U.S. lawsuit. 
And in Frankfurt, Volkswagen (VLKAF) was down 0.85% after a see-saw morning as CEO Martin Winterkorn faces a grilling from the executive committee starting Wednesday over his role in the diesel-emissions scandal. The company has set aside more than $7 billion to cover fines, though that may not be enough, and is said to have hired Kirkland & Ellis to help it deal with the legal backlash. 
In Asia, the Shanghai Stock Composite Index fell 2.19% to 3,115.888, while the Hang Seng retreated 2.26% to 21,302.91 in Hong Kong.
Citic Securities fell 4.39% in Hong Kong following a Bloomberg News report of insider trading uncovered in a Chinese government probe.
Must Read: