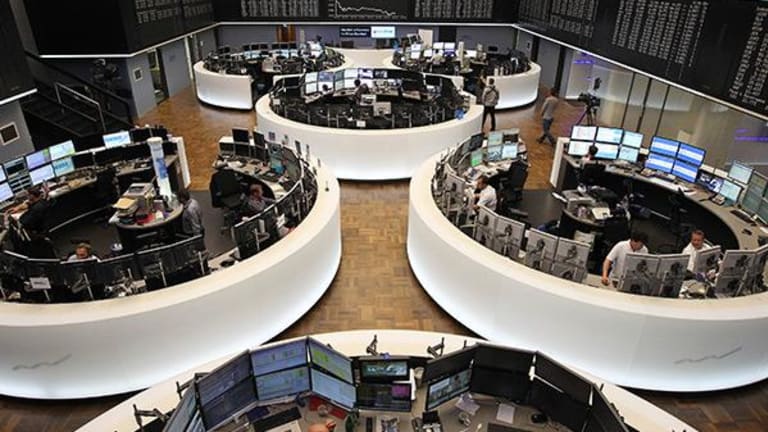 European Stocks Rise but London Blue Chips Slip on Stronger Pound
The FTSE 100 lagged its counterparts on Thursday following a run of broker downgrades and after a stronger pound ate into FX gains for London's blue chips.
The FTSE 100 lagged its counterparts on Thursday following a run of broker downgrades and after a stronger pound ate into FX gains for London's blue chips.
Benchmarks rose broadly on the European continent Thursday as investors retained a risk-on positive stance in the wake of the U.K.'s move to begin the Brexit process on Wednesday.
The mood among investors lifted Wednesday when British Prime Minister Theresa May struck a nonconfrontational tone in her speech to parliament, expressing a desire to work constructively with the European Union in order to establish a post=Brexit relationship that works for both sides.
That brighter outlook carried through into Thursday although evolving expectations around European Central Bank monetary policy also played a role during the session, after German inflation pulled back further than was expected in March.
This prompted some investors to rethink expectations for a more hawkish ECB any time soon.
However, for all of the feel-good music playing in the background, it wasn't quite enough to prop up London's largest stocks as many FTSE 100 blue chips came under pressure following a series of broker downgrades and partially in response to a further recovery in sterling.
More than 75% of revenue at FTSE 100 companies are denominated in foreign currencies and drawn from outside of the U.K.
The FTSE 100 was down by 0.06% at the close, settling at 7,369, although the more domestic mid-market FTSE 250 index added 0.16% to close at 19,009.
In Frankfurt the DAX rose by 0.44% for the session, to close at 12,256, while the CAC 40 gained 0.41% to close at 5,089 in Paris.
In individual stocks Mediclinic International (MCFFY) was the top faller on the FTSE 100, down 2.8%, while Associated British Foods (ASBFY) and medical equipment manufacturer Smith & Nephew (SNN) - Get Report were also found swimming in the red.
In Frankfurt, Deutsche Boerse (DBOEY) rose to the top of the DAX as investors continued to respond to the European Commission's move to block a merger between it and the London Stock Exchange (LDNXF) , forcing to market to reappraise its prospects as a standalone company.
"The exchange remains amongst the cheapest globally at 16x 2018e P/E. We reinstate our rating at Overweight and price target at €95.00," said Daniel Garrod, an analyst at Barclays (BCS) - Get Report .
BMW (BMWYY) stock bucked the trend among German autos, rising more than 1%, after Jefferies raised its price target for the firm.
"BMW has tuned into the sector's valuation anomaly. This feels wrong given earnings resilience in the product down-cycle, leading return on invested capital, cash conversion and highly conservative balance sheet at a time of financial services concern," said Jefferies analystPhilippe Houchois, in a note to clients.
This is while sector peers VW (VLKAY) and Daimler (DDAIF) both slumped.
VW was hit by a bearish note from analysts at Berenberg and news of another emissions-related settlement in the U.S., prompting the shares to drop more than 0.5%.
This is while Daimler went ex-dividend on Thursday which drove the stock nearly 4% lower.
In Paris, building materials manufacturer Lafarge Holcim and steelmaker ArcelorMittal (MT) - Get Report were the top risers at the close of what was a broadly positive session for commodity stocks, which also saw renewed attention directed toward the subject of the "Border Wall" between the U.S. and Mexico.