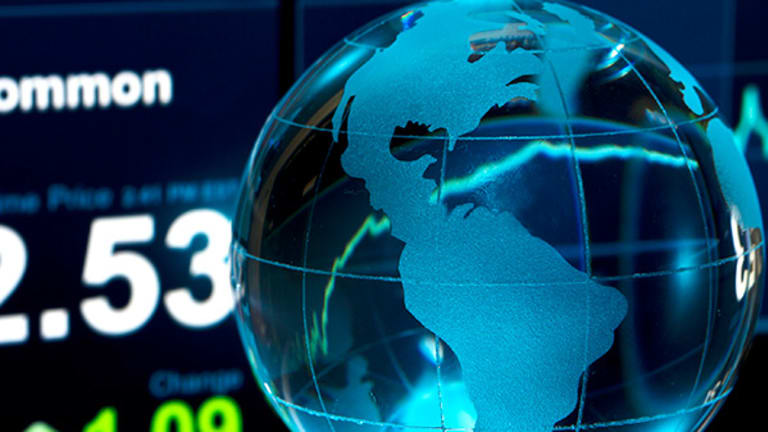 European Stocks Rise as Weak Data Stoke Hopes for ECB Action
European stocks rise on Wednesday as weak consumer price data spurs hopes of central bank action Thursday.
LONDON (The Deal) -- European stocks rose on Wednesday as weak consumer price data stoked hopes of central bank action Thursday.
Eurozone consumer prices rose less than expected in November, according to preliminary figures from the European Commissions' statistics arm, with the inflation rate static at an anemic 0.1%, below the 0.2% economics had predicted. The figures came before the European Central Bank meets to set rates, with investors widely expecting policymakers to push the button on a package of measures to spur growth.
In Frankfurt, the DAX rose 0.46% to 11,313.60 and in Paris the CAC 40 was up 0.39% at 4,933.63. In London, the FTSE 100 gained 0.49% to 6,426.86 as weak construction data appeared to reduce the likelihood of an imminent rate rise.
Utility RWE (RWEOY) initially fell sharply in Frankfurt after announcing late on Tuesday plans to bundle its renewable energy business into a new company and hold an IPO for 10% of that entity late next year. By late morning, the shares were down only marginally.
Pubs operator Greene King (GKNGY)  was up almost 10% in London after releasing first-half results that reflected its July acquisition of rival pubs chain Spirit. The results include a 2% increase in "same-store" retail sales, up from a 0.8% gain a year earlier. 
Accounting software company Sage Group (SGGEF)  was down almost 3% despite strong full-year results after a change to the way it books revenue prompted it to cut its operating margin forecast for the current year and confused investors. 
Shares in financial services and utility price comparison business Moneysupermarket.com Group were down more than 7% at 305.3 pence as of late morning after founder Simon Nixon sold a 5.8% stake at 305 pence per share to raise gross proceeds of £98 million ($147.4 million).
Renewable Energy Generation was up more than 7% after it said it would sell itself to BlackRock (BLK) - Get Report  for £64.5 million after the U.K. government pulled support and a key tax break from renewables companies.
In the Netherlands, specialty chemicals maker IMCD was down almost 5% at €33.68 after Bain Capital sold shares at €33.60, raising €134.4 million ($142.3 million) before expenses, and cutting its stake to 7.9%. 
Asian stocks were mixed on Wednesday after early wobbles following disappointing U.S. manufacturing figures.
The S&P/ASX 200 in Sydney edged down 0.15% to 5,258.34 after Australian GDP figures showed the economy expanded by 0.9% in the third quarter from the previous quarter, with the yearly growth rate at 2.5%. The figures beat consensus expectations.
In China, the Shanghai Composite jumped 2.23% to 3,536.91 and the Shenzhen Component index was up 0.87% to 12,186.27.
In Tokyo, the Nikkei 225 closed down 0.37% to 19,938.13 and the Topix inched up 0.02% to 1,602.26. In Hong Kong, the Hang Seng rose 0.44% to 22,479.69.
From the U.S., a speech Wednesday by Federal Reserve Chief Janet Yellen and Friday's jobs data will be decisive in forging investor expectations for the Fed's Dec. 15-16 policy meeting.