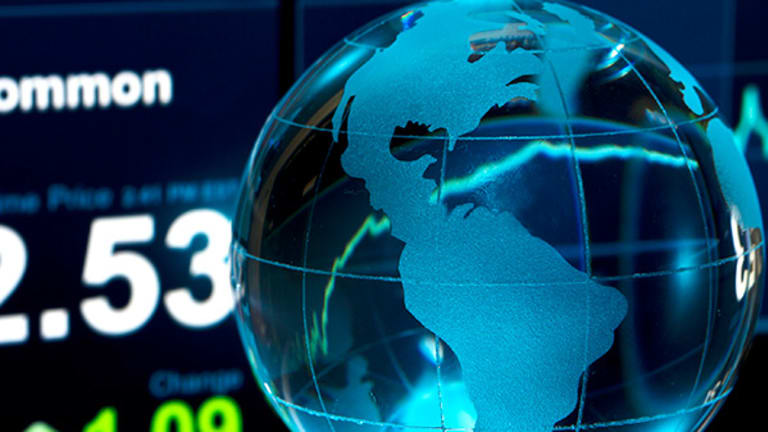 European Stocks Rise as Japan Adopts Negative Interest Rates
European stocks rise on Friday in the wake of Asian gains after a positive surprise from the Bank of Japan.
LONDON (The Deal) -- European stock indices rose on Friday in the wake of Asian gains after a positive surprise from the Bank of Japan.
Japan's central bank cut benchmarks rates to minus 0.1% from 0.1% and said it would move further into negative territory if necessary. The Nikkei 225 surged 2.8% to close at 17,518.30 and the Topix gained 2.87% to close at 1,432.07. Outside Japan almost all Asian indices rose, with the CSI 300 composite index in mainland China gaining 3.24% to 2,946.09 and the Hang Seng rising 2.54% to 19,683.11 in Hong Kong.
In the eurozone, consumer price growth picked up in January, figures from the European Union's statistics arm showed. Preliminary figures pinned a 0.4% inflation rate on the eurozone in January, up from 0.2% in December. Eurozone indices pared earlier gains after the release of the figures.
In London, the FTSE 100 was up 0.91% by late morning at 5,985.75 while in Frankfurt the DAX was up 0.51% 9,688.89. In Paris, the CAC 40 rose 0.77% to 4,355.31. U.S. stock futures indicated a positive start for Wall Street on Friday.
In London, pay-TV broadaster Sky shares were up more than 2% after the surprise return as chairman of James Murdoch four years after he was forced to resign from the 21st Century Fox (FOX) affiliate amid the U.K.'s phone-hacking scandal.
Diversified mining group Vedanta Resources was up more than 3% after posting a 51% decline in third-quarter Ebitda to $493.6 million, which was nevertheless better than expected.
Private-equity investor Oakley Capital Investments rose 1.2% to 144 pence after it predicted that net asset value per share had risen 9% to between 198 pence and 200 pence as of December compared with June.
Swiss travel services company Kuoni Reisen Holding (KUIRY) fell more than 6% in Zurich after announced it had selected buyout firm EQT Partners as preferred suitor.
In Singapore, beleaguered commodities trader Noble Group (NOBGY) surged 14% after Religare Capital described it as "the bargain of the decade" and after its shareholders approved its $750 million sale of its half of an agricultural joint venture to partner Cofco Corp.
In Tokyo, telecom NTT Docomo (NTDMF) closed up 2.5% after it said it will buy back as much as ¥500 billion ($4.1 billion) in shares as it beat consensus fourth-quarter profit expectations.
Sonyundefined  rose 6.1% after a strong showing from its film and music business, including British artist Adele's best-selling 25 album, allowed it to post a 33% surge in profit in the quarter ended December.
In the U.S. Friday eyes will be on how bad things got in the final months of the year.
Fourth-quarter GDP figures, which are due out at 8.30 a.m. EST, are expected to show annual growth of 0.8%, down from 2% the previous quarter.