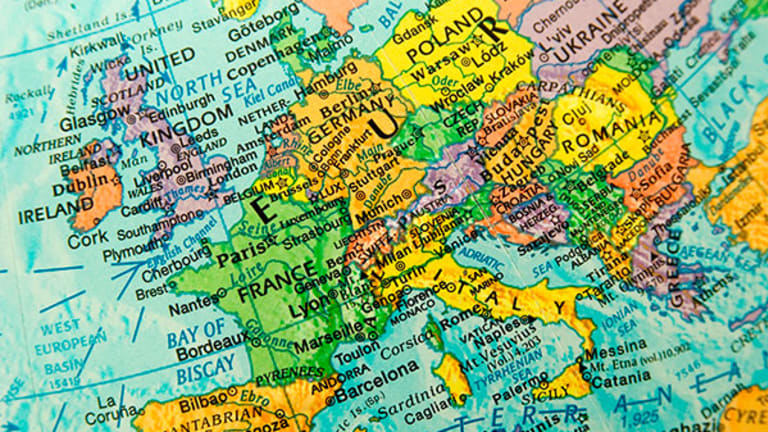 European Stocks Rise as Fed Seems in No Rush to Lift Rates
European stocks rise, following Asia higher after investors decide that minutes from the Federal Reserve's last meeting mean the central bank probably won't raise rates as early as October.
LONDON (The Deal) -- European stocks rose on Friday, following Asia higher after investors decided that minutes from the Federal Reserve's last meeting meant the central bank probably won't raise rates as early as October.
Fed minutes from the September meeting showed policy makers were unsettled by external risks to global growth, emanating mainly from China, but didn't feel they had "materially altered" the U.S. landscape. Most economists expect a rate rise later this year or early next year.
The FTSE 100 in London was up 0.88% at 6,431.23. In Paris the CAC 40 rose 1.15% to 4,729.88 and in Frankfurt the DAX climbed 1.22% to 10,114.96.
Leading utilities E.ON (EONGY) and RWE (RWEOY) led the DAX higher, each rising more than 5%.
Glencore (GLNCY) was up almost 7% in London after it unexpectedly announced it would slash zinc output by more than a third, raising the prospect of higher prices. Other miners, including Anglo American (AAUKF) , Fresnillo,Rio Tinto (RIO) - Get Report  and BHP Billiton BHP also rose sharply.
London Stock Exchange Group (LDNXF)  was down about 1%. The bourses operator said late on Thursday it would sell its Russell Investments fund management business of Seattle to TA Associates and Reverence Capital Partners, for $1.15 billion.
In Copenhagen, DSV jumped almost 6%. The Danish transport company said it would pay $1.34 billion for UTi Worldwide (UTIW) of Long Beach, Calif.
In Milan, Telecom Italia rose close to 2% on reports of asset shuffling. Bloomberg said it has hired Deutsche Bank to help it sell a €1.6 billion ($1.8 billion) stake in wireless towers business Inwit SpA and Reuters said the Telecom Italia board will meet next week to discuss lifting its stake, and potentially taking full ownership, of broadband company Metroweb SpA.
Asian indices closed Friday overwhelmingly higher.
Australia's S&P/ASX 200 closed up 1.33%, helped by gains among commodities stocks, including Fortescue Metals, which rose 3.2% , and zinc producer Independence Group, which increased 8.6 %.
In Tokyo, the Nikkei 225 rose 1.64% to 18,438.67 and the Topix gained 2.28% to 1,515.13. Uniqlo owner Fast Retailing Co. closed down 9.8% on disappointing full-year sales and profit figures.
In Hong Kong the Hang Seng gained 0.46% to close at 22,458.80. 
The Shanghai Composite rose 1.27% to 22,458.80.