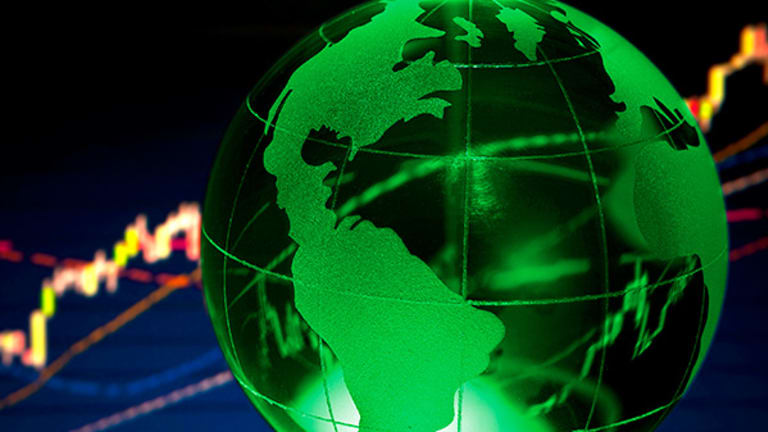 European Stocks Rise as Fed Rate Hike Looms
European stock benchmarks move higher on Wednesday following a strong day in most major Asian markets as Federal Reserve policymakers prepare to announce their decision on U.S. rates.
LONDON (The Deal) -- European stock benchmarks moved higher on Wednesday following a strong day in most major Asian markets as Federal Reserve policymakers prepared to announce their decision on U.S. rates.
By late morning in London, the FTSE 100 was up 0.69% at 6,059.24. In Frankfurt, the DAX moved up 0.14% to 10,465.50, and in Paris the CAC 40 gained 0.47% to 4,635.27.
An increase in short-term U.S. borrowing costs -- the first since 2006 -- is widely expected, with the debate in recent weeks centering on how high and how fast the Fed will go from the current ceiling of 0.25%. A rate decision will come after European markets close at 2 p.m. EST.
In the U.K., Bank of England Gov. Mark Carney cheered investors in British stocks as an interview he gave to the Financial Times appeared to suggest that a near-term rate rise wasn't on the agenda at the central bank, which he said is most concerned about how to curb excessive credit growth. Benchmark rates have been at a historic low 0.5% for almost seven years.
Meanwhile, revised November inflation figures from European Union statistics agency Eurostat put the eurozone inflation rate at 0.2% in November, up from the 0.1% predicted in its "flash estimate" at the start of the month and up from October's 0.1% annual inflation rate.
Aerospace and defense company Rolls-Royce (RYCEY)  was up about 2.5% in London after CEO Warren East took out a tier of management as part of his restructuring efforts.
Clothing company SuperGroup (SEPGY)  was up almost 11% after beating expectations with its first-half results.
Mobile phones and appliances retailer Dixons Carphone (DSITF)  gained well over 3% after first-half results came in at the upper end of forecasts, with its main U.K. business turning in a particularly strong performance.
But discount clothing retailer Bonmarche Holdings plunged 30% after issuing a profit warning three weeks after stating in first-half results that full-year profit should meet expectations provided conditions normalized. That didn't happen, it said on Wednesday, noting that the environment is still challenging. It also announced the departure of CEO Beth Butterwick, who was credited with turning the business around after it emerged from bankruptcy administration.
In Paris, food retailer Casino Guichard Perrachon was up 7.6% by late morning after announcing plans for asset sales in Thailand, Colombia and Vietnam late on Tuesday.
In Brussels, industrial companies Picanol and Tessenderlo Chemie were each up close to 4% as they announced plans for Tessenderlo to issue €811.6 million ($886.4 million) of new shares in exchange for Picanol.
In Singapore, commodities trading company Noble Group (NOBGY) closed up 7.7% after it confirmed it is in talks to sell its 49% stake in its agricultural unit as it seeks cash to protect its investment grade rating. The potential buyer is the division's 51% owner, Cofco Corp. of China, a source said.
In Sydney, gaming and leisure company Crown Resorts closed up 10.5% after two reports that James Packer's Consolidated Press Holdings is courting private-equity firms and pension funds with a view to launching a joint bid.
In Tokyo, the Nikkei 225 surged 2.61% to 19,049.91 and the Topix jumped 2.54% to 1,540.72. In Hong King, the Hang Seng rallied 2.01% to close at 21,701.21.
In Sydney, the S&P/ASX 200 celebrated by closing up 2.42% at 5,028.45. 
In China, the Shanghai Composite ended the day up 0.17% at 3,516.19 and the Shenzhen Component inched up 0.17% to 12,511.03.