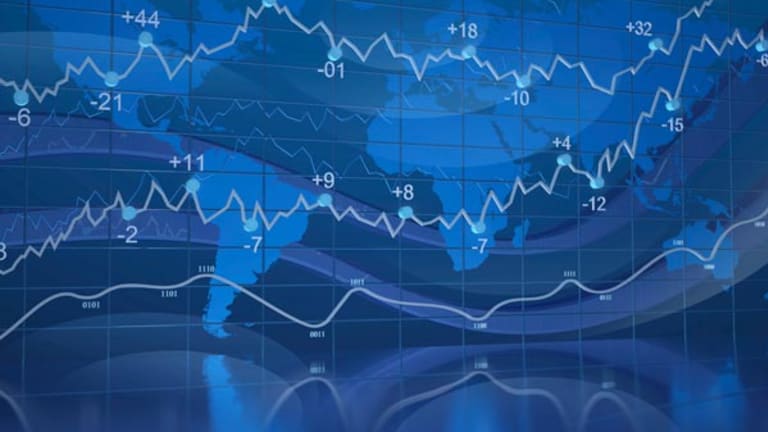 European Stocks Rise as Chinese Recovery, Greek Debt Proposals Buoy Markets
European stocks rose on Thursday as the Greek government prepared detailed proposals to secure a third bailout. Stocks were also buoyed by a recovery in China.
European stocks rose on Thursday as the Greek government prepared detailed proposals to secure a third bailout. Stocks were also buoyed by a recovery in China.
LONDON (TheDeal) -- European stock markets rose on Thursday as the Greek government prepared to submit detailed proposals to secure its third bailout. Indices were also buoyed by a recovery in China, where authorities intervened to stem a plunge in Chinese stocks.
Greece has until the end of Thursday to present new proposals for the bailout. Eurozone finance ministers will study them over the weekend before a summit on Sunday, the deadline for the two sides to secure a deal. Greek banks will remain closed, with a €60 ($66) daily limit on ATM withdrawals, until at least Monday.
In London, the FTSE 100 was up 0.83% at 6,544.61. In Frankfurt, the DAX rose 1.51% to 10.909.05, and in Paris, the CAC 40 gained 1.62% to 4,714.23.
Associated British Foods (ASBFY) was the lead gainer on the FTSE 100 as of mid-morning after it reiterated its full-year profit forecast and calmed fears about the impact of a strong dollar on its Primark "value" fashion chain. It has chosen Downtown Crossing, Boston, as the location of its first U.S. Primark store, which it will open in September.
In London, Bwin.party Digital Entertainment was up more than 2% after it announced that it's holding talks with GVC Holdings after GVC submitted a 110 pence-per-share bid, valuing all of the equity at about £907 million ($1.4 billion). The target began an auction process in November.
GVC edged up marginally. 888 Holdings (EIHDF) , which also submitted a bid for Bwin.party, fell.
Food-sector acquisition vehicle Nomad Holdings was down about 2.6% at $20.74 in London after placing about 15.45 million new shares to raise $320 million for acquisitions. The placing, at $20.75, represented about 9.99% of the pre-issue share capital.
Nomad was founded last year by Jarden (JAH) founder Martin E. Franklin and Noam Gottesman, who founded GLG Partners and sold it to Man Group (MNGPY) . It recently closed the €2.6 billion purchase of frozen-foods maker Iglo Foods Holdings. In June, Nomad said it was in talks about buying the mainland European operations and brand of Lion Capital-backed frozen foods maker Findus.
U.K. construction and infrastructure services companyBalfour Beatty (BAFYY) recovered some composure after an initial nose-dive when it made its seventh profit warning in just over two years. It was trading down more than 3% by mid-morning. The company said 2015 pretax earnings will be hit by between £120 million and £150 million due to newly discovered "legacy" problems in the U.K., U.S. and Middle East.
Premier Oil (PMOIY) moved higher after it reported a 30% decline in first-half operating costs following the disposal of its interest in the high-cost Scott oil field in the North Sea. It said first-half revenue will be about $580 million, down from $885 million a year earlier, after oil prices plunged and output declined following the Scott disposal.
In Frankfurt, tire manufacturer Continental (CTTAY) led the DAX higher, closely followed by carmakers Bayerische Motoren Werke, Daimler (DDAIF) and Volkswagen (VLKAY) .
The Financial Times said a joint bid worth about €3.5 billion by the three carmakers for Nokia's (NOK) - Get Report Here digital mapping business is in pole position in the auction.
In China, all indices rose sharply after the China Securities Regulatory Commission said that holders of more than 5% a company's stock would be barred from selling for the next six months. The ban is unlikely to have much impact on foreign investors.
China is reportedly using central bank money to buy shares directly through China Securities Finance.
The Shanghai Composite Index closed up 5.76% at 3,709.33, narrowing its monthly decline to just under 28%. In Hong Kong,  the Hang Seng gained 3.73% to close at 24,392.79.
In Tokyo, the Nikkei 225 closed up 0.60% at 19,855.50, but the Topix declined 0.16% to 1,579.89.
In Tokyo, Uniqlo owner Fast Retailing closed up 4.1% after reporting a 52% increase in nine-month profit.
U.S. initial weekly jobless claims figures will be out 8.30 a.m. in Washington, with analysts looking for a rise of 276,000, below last week's 281,000 increase.