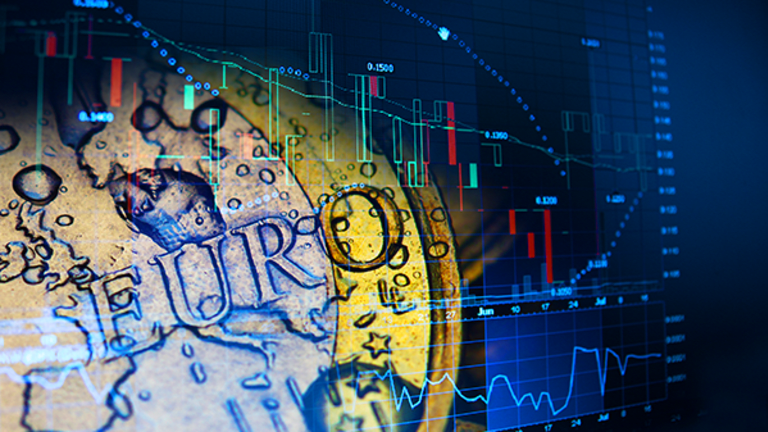 European Stocks Reverse Early Gains as Fed-Inspired Equity Rally Pauses
European stocks gave back early gains Thursday amid rising oil prices and increasing concerns over regional security as investors paused a global equity market rally inspired by dovish Fed minutes.
European stocks gave back early gains Thursday amid rising oil prices and increasing concerns over regional security as investors took a brief pause from the global equity market rally inspired by dovish minutes from the U.S. Federal Reserve's last policy meeting.
The region-wide Stoxx Europe 600 index was marked 0.20% lower by 10:15 BST, with benchmarks in Germany and Italy trading in the red, albeit in thin volumes owing to Ascension Day observances in many European countries.
Britain's FTSE 100, however, was marked 0.17% higher, supported by solid gains for oil stocks and a weaker pound, which fell 0.18% to 1.2967 against the U.S. dollar after the U.K.'s Office for National Statistics lowered its estimate for first quarter GDP growth to 0.2% from an April 28 assessment of 0.3%.
Global oil prices turned sharply lower Thursday, reversing solid early gains, after Saudi Arabia's Oil Minister appeared to rule out deeper production cuts as ministers from the OPEC cartel meet in Vienna to hammer-out a deal on the extension a prior agreement that have kept 1.8 million barrels of oil each from the market each day.
Speaking to reporters during the meeting of The Organization of Petroleum Exporting Countrie (OPEC) members, along with 11 other non-cartel participants such as Russia, Saudi Arabia's Oil Minister Khalid Al-Falih said deeper cuts weren't necessary and that the global market could re-balance to its five-year average if the current agreement is extended for a further nine months.
WTI futures for July delivery were marked 0.58% lower than Wednesday's closing price and trading at $51.07 per barrel by 05:30 EST. However, the sharp pullback has lopped more than 1.6% from prices in the early European session, as prices rose amid speculation of an agreement on cuts that may have included deeper output limits. Brent contracts for the same month, the global benchmark, were seen 0.5% lower from Wednesday's close at $54.69 -- but down 1.4% from their intra-day high.
Overnight in Asia, stocks traded at a two-year high after a dovish tone from minutes of the Fed's May meeting which showed an indication to pause rate hikes in order to confirm if the current series of economic data is indicating a slowdown.
The MSCI Asia ex-Japan index, the region's broadest measure of share prices, gained 0.86% thanks in part to a record close for South Korea's KOSPI and a 17-year high close for markets in Taiwan. Japan's Nikkei 225 also gained, despite a firmer yen, and ended the session 0.36% higher at 19,813.13 points.
The U.S. dollar extended its declines in Asia trading, with the dollar index, a measure of the greenback strengths against a basket of six global currencies, falling to 96.99 while benchmark U.S. 10-year bond yields, which move in the opposite direction of prices, fell to 2.25%
Release of the Fed minutes helped push U.S. stocks to record highs, with the S&P 500 rising 5.97 points to its best-ever close of 2,404,39 points. The Dow Jones Industrial Average gained around 0.36% while the Nasdaq advanced 0.4% to end the day at 6,163.02 points.
Early indications from U.S. equity futures point to extended gains at the opening bell, with the Dow expected to rise by around 70 points while the S&P 500 books another 6 point advance. 
Read More Trending Articles:
25 Wealthiest States: What They Export, Whom They Employ