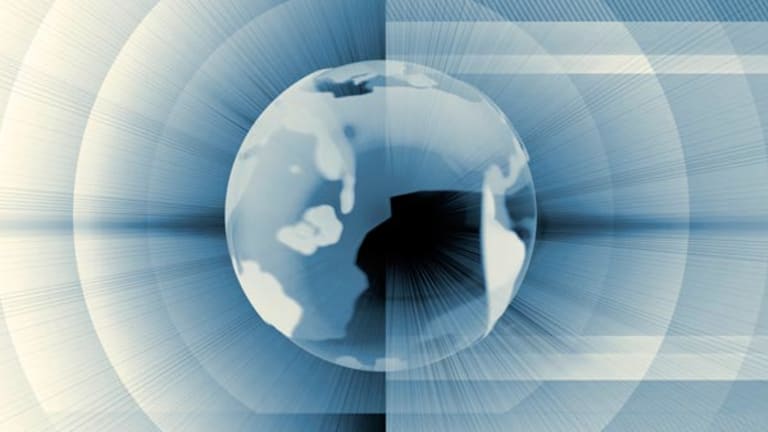 European Stocks Recover Some Losses on Hopes That Euro's Slide Will Boost Economy
European markets opened higher Wednesday, recovering some of Tuesday's losses, on renewed optimism that the euro's fall will boost growth and halt a slide into deflation.
LONDON (TheDeal) -- European markets opened higher Wednesday, recovering some of Tuesday's losses. In part this may be based on optimism that the fall in the value of the euro will halt the eurozone's slide into deflation and help boost growth in the region.
The euro's slide is based on the strength of the dollar as well as the European Central Bank's quantitative easing program, which has squeezed bond yields and pushed down the currency.
In London, the FTSE 100 was up 0.22% at 6,717.66, while in Paris the CAC 40 was up 1.52% at 4,956.17. In Frankfurt, the DAX was up 1.23% at 11,641.61.
In London, commodities groupGlencore (GLCNF) dropped 1.29% to 283.7 pence after a report that it plans to take a 49% stake in Russian oil producer OAO RussNeft, by converting $900 million of debt into equity. RussNeft chairman Mikhail Gutseriev told Russian TV about the deal Wednesday morning, but said it still needed regulatory approval.
There was plenty of excitement in the mid-caps. Online gaming company Bwin.party Digital Entertainment rose 2.62% to 80.45 pence after recommending a 5% increase in its full-year dividend to 1.89 pence a share, despite taking a €94.3 million ($100 million) loss. The company remains a takeover target and said it is in discussions with several parties regarding what it said was a variety of possible business combinations.
FTSE 250 electronic barcode-printer maker Domino Printing Sciences jumped more than 30% to 946 pence a share, after the company agreed to a takeover offer from Japan's Brother Industries (BRTHY) that values its share capital at £1.0 billion ($1.55 billion). The offer of 915 pence a share is at a premium of 26.9% to Tuesday's closing price of 721 pence and implies an enterprise value of 15.4x Domino EBITDA for the year to October 2014. Domino said it needed a partner with appropriate strengths and skills in digital printing to survive in a market dominated by larger competitors.
But fellow mid-cap Cairn Energy (CRNCY) slipped 17.07% to 152.10 pence following its announcement last night of that it has appointed counsel to dispute a $1.6 billion retrospective tax claim from the Indian Income Tax Department. The oil explorer said the Indian government continues to block its sale of its remaining 10% stake in Cairn India, valued at $700 million, while the claim remains outstanding. Cairn says it will also demand restitution for losses resulting from the restriction.
Markets in Asia were mixed. Japan's Nikkei 225 closed up 0.31% at 18,23.52, while in Hong Kong the Hang Seng closed down 0.75% at 23,717.97. In China the Shanghai Composite finished the day up 0.15% at 3,290.90