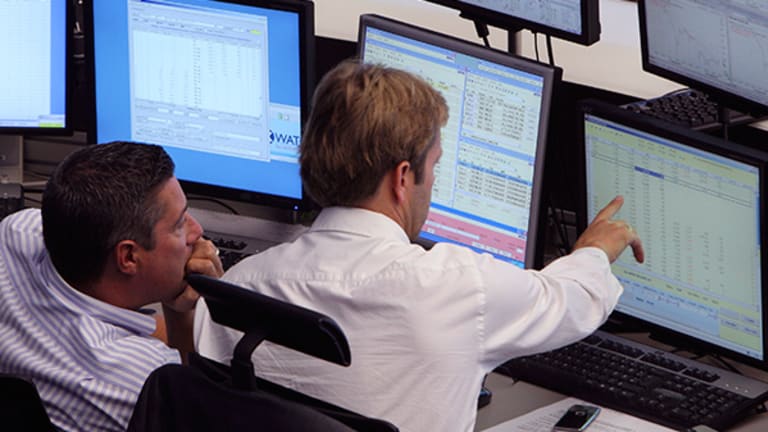 European Stocks Extend Gains on Earnings, Commodities Rally
Solid U.K. earnings keep the tone positive ahead of key inflation data.
European equity markets extended early gains Tuesday, following a positive session in Asia, boosted by a weaker U.S. dollar and a positive earnings trend throughout the region.
Britain's FTSE 100 added around 75.5 points, or 1.0% by mid-day in London to a quote of around 7,022.57 while France CAC 40 rose around 55.2 points, or 1.24% to 4,506.17. Germany's DAX performance index also gained, rising 125.94 points, or 1.22%,to 10,631.2.
The broadest measure of European equity performance, the Stoxx 600 index, rose 1.14% by mid-day to 341.27 with basic material, technology and financial stocks leading the gains. 
Burberry (BURBY) was another of the session's early movers after the luxury goods marker reported better-than-expected sales as the weak pound helped deliver a "significant outperformance" in its fiscal second quarter.
The designer clothing and fragrance maker said sales revenue grew 2% to £895 million ($1.1 billion) in the three months ending in September. However, a weak first quarter kept first half revenues subdued, down 4% from the previous period at £1.158 billion. The company also reaffirmed its full-year guidance and reiterated planned savings of around £20 million for the 2017 fiscal year. It also said that it had completed £34 million of its £100 million sharebuyback program. 
Burberry shares fell 7.4% to 1,404 pence in the opening minutes of trading but have risen more than 35% since the U.K. voted to leave the European Union on June 23 as investors piled into stocks that are seen to have explicit gains as a result of the decline in the pound.
William Hill also gained at the open, rising 1.6% after news that the U.K.-based bookmaker and Canada's Amaya will no longer pursue their previously intended merger.
In France, luxury spirits maker Pernod Ricard shares led gainers on the CAC 40 with a 2.39% rise following better-than-expected sales figures late Monday from rival Remy Cointreau.
Remy shares, which trade outside France's blue chip index, advanced 3.96% in Paris trading after it said organic sales had grown 7.4% in the three months ending in September to €294.8 million, thanks in part to impressive cognac sales in China and U.S. markets. 
In Germany, Continental AG (CTTAY) , Europe's second-largest tire maker, cut its earnings outlook for fiscal 2016 as warranty and antitrust provisions added to supply-chain woes.
The Hanover, Germany-based supplier of tires, brake systems, and powertrains, cut its margin on adjusted earnings before interest and tax (Ebit) for fiscal 2016 to over 10.5% from over 11% late Monday despite maintaining its sales outlook.
Continental shares fell 2% to €1671.9 Tuesday, making it the biggest decliner on the DAX performance index in Frankfurt.
Oil extended its rally into the European session, with Nymex Light Sweet Crude prices adding 0.76% from Tuesday's U.S. close to trade at $50.30 per barrel. The gains were helped, in part, by a marginal decline in the dollar. The U.S. dollar index traded 0.16% lower in Asia to change hands at 97.729. The greenback, however, remains within touching distance of its recent three-month high of 98.019 against a basket of global currencies.
The slippage helped Britain's beaten-down sterling to record a rare advance in Asia trading, with the pound rising 0.48% against the dollar to trade at 1.2239.
Government bond markets remained cautious Tuesday, ahead of key inflation data from the United Kingdom and the European Central Bank's October policy meeting Thursday in Frankfurt. 
Britain's Office for National Statistics will publish fresh inflation data at 09:30 London time, with analysts expecting consumer prices to have risen by an annual 0.9% in September, a full 3 basis points faster than the 0.6% pace recorded in August.
The data follows figures from Europe's official statistics office, Eurostat, whichconfirmed its final September inflation reading at 0.4% Monday.
Benchmark 10-year Gilts, which swung wildly Monday after touching a post-Brexit vote high of 1.22% before rallying 10 basis points to 1.12% late in the session, were quoted modestly changed at around 1.12% at the start of Tuesday's trading.