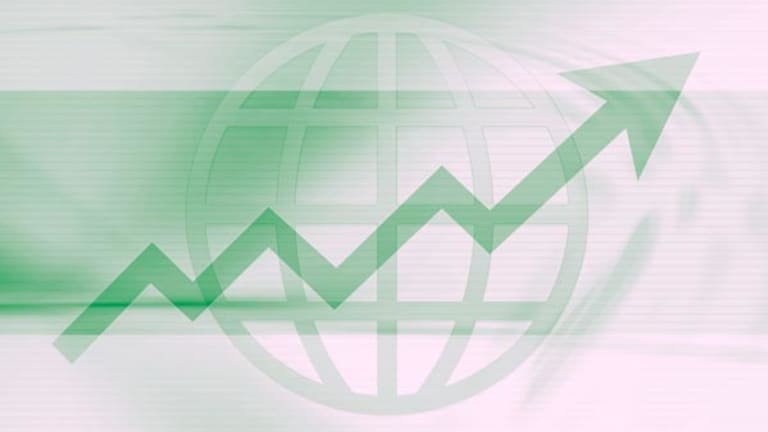 European Stocks Mostly Higher as Investors Bet on ECB Stimulus
European stocks are mainly in positive territory Tuesday, as investors welcomed a decline in inflation and steady unemployment in the eurozone.
LONDON (The Deal) -- European stocks were mainly in positive territory Tuesday, as investors welcomed a decline in inflation and steady unemployment in the eurozone two days before the next monetary policy meeting in Frankfurt. 
In Frankfurt, the DAX was up 0.34% at 3,494.98, while in Paris the CAC 40 was 0.82% higher at 4,393.98. In London, the FTSE 100 was down 0.05% at 6,643.00. 
European bourses cheered a 0.3% rise in euro-area September consumer prices, down from 0.4% in August and in line with expectations, according to the EU's statistics office Eurostat. 
A separate Eurostat report showed that the euro-area unemployment rate held steady at 11.5%, unchanged from July 2014 but down from 12% in August 2013. The news comes two days before the next European Central Bank monetary policy pow-wow, always followed by ECB President Mario Draghi's press conference. 
In London, investors appeared to pay more attention to corporate news than an upward revision of the U.K.'s second-quarter economic growth. 
The U.K. Office for National Statistics said GDP rose 0.9% in the second quarter, up from the previous estimate of 0.8%, boosting the case for the Bank of England to start thinking about raising interest rates from their record low. 
Among top gainers, Royal Bank of Scotland (RBS)  rose 3.32% after saying it expects to "significantly" outperform its previous guidance of 1 billion pounds ($1.62 billion) in impairment charges this year, amid improving economic conditions and asset prices in its main markets.
 The lender, which is 80% owned by the UK government, also said that if market conditions remain favorable, its "bad bank" could incur limited future impairments and disposal losses and a faster timetable for being wound down, though the costs and speed of winding down remain subject to significant potential volatility. 
Wolsley (WOSYY) rose 1.23% to 3,297 pence. The maker of building materials and heating and plumbing supplies reported a 9.9% rise in fully-year earnings per share to 196.2 pence and announced plans to buy back up to 250 million pounds in shares within the next 12 months. It also said it's exploring exit options for its ISB wood solutions business in France, which generated 201 million pounds in revenue last year. 
Among decliners was high-street clothing retailer Next. It fell 4.3% to 6,570 pence after reporting that third-quarter sales are up a lower than expected 6%, amid warmer than usual September weather. It also said that if the mild temperatures continue in October, it may be forced reduce its full-year profit guidance. 
Marks & Spencer (MAKSY) , the U.K.'s largest clothing retailer, was also down, losing 2.245%. 
In Frankfurt, IPO fever continues to heat things up as online clothing retailer Zalando priced shares at 21.50 euros, near the upper end of its 18.00 to 22.50 euros range, and cable operator Tele Columbus announced plans to raise at least 300 million euros in an IPO on the Frankfurt stock exchange by year's end. 
In Asia, Tokyo's Nikkei lost 0.84% to 16,174 while the Hang Seng indix in Hong Kong retreated 1.28% to 22,932.98.