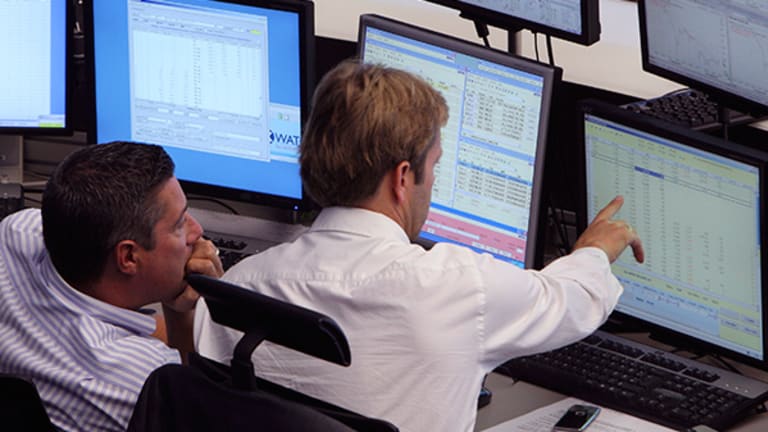 European Stocks Mixed on Monday, Banks Fall
Banks were the biggest detractor from returns as Monte Paschi and Deutsche Bank weighed amid risk-off trading
European stocks were mixed on Monday, amid thin economic and earnings news-flow, with the banking sector the biggest detractor from returns for the session.
Banks were weaker on two pronged concerns, chiefly the diminishing prospect of Italian lender Monte dei Paschi being able to secure rescue funding from the private sector ahead of a year-end deadline.
This was in addition to news that Deutsche Bank (DB) - Get Report could be on the verge of announcing a settlement with the U.S. Department of Justice in relation to its investigation over the sale of mortgage backed securities in the run up to the financial crisis.
The FTSE 100 and the FTSE 250 in London were both in the black by a fraction by the close, settling at 7,017 and 17,782.
The DAX in Germany also closed higher for the session, at around 11,410, while the CAC 40 in France dropped by around 0.29% to 4,821.
European currencies gave up further ground to the greenback on Monday, with sterling up down by nearly 50 points to 1.2425 and the euro dropping by around 25 points to 1.0445.
Government bond markets saw yields fall on Monday, as safe haven demand picked up during the session. German ten-year yields fell the most, down 7 basis points, to 0.25%. French yields were down by 6 basis points to 0.71%. This is while U.K. yields dropped 4 basis points to 1.26%.
In individual stocks, the biggest faller in the bank universe was Monte dei Paschi (BMDPY) in Italy, with the shares down more than 10% on concerns that its efforts at securing a private sector rescue might fail.
Deutsche Bank stock also fell heavily, down by nearly 5% for the session, as speculation mounted that the next week could see it announce a settlement agreement with U.S. authorities - the ticket of which will likely run into the billions.
In the U.K., banks topped the list of decliners, with Barclays (BCS) - Get Report and RBS (RBS) - Get Report leading the charge lower, as investors took risk off the table and responded to the prospect that both banks could soon find themselves in the crosshairs of U.S. regulators over their own conduct in the RMBS market.
Advertising firms Publicis (PUBGY) and WPP (WPPGY) both saw their stocks fall sharply during the session also, with each having received subpoenas from the DoJ alleging that they sought to manipulate the prices charged to customers on their advertising platforms.