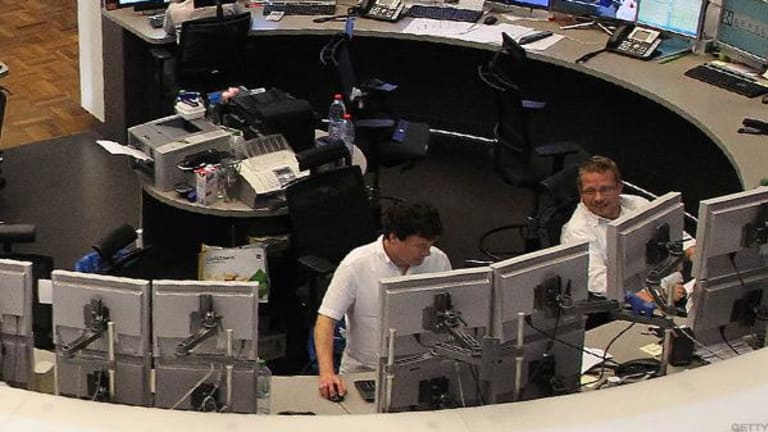 European Stocks Mixed on Cocktail of Deal Speculation, Politics and Economic Data
European stocks were mixed Wednesday as investors responded to a mixture of M&A speculation, economic data and other individual company news.
European stocks were mixed Wednesday as investors responded to a mixture of M&A speculation, economic data and other individual company news.
Deal talk remained a theme in Paris and Frankfurt while weaker than expected eurozone inflation appeared to put paid to any lingering expectation that the ECB will quicken the pace of its exit from quantitative easing.
Politics also remained a theme in the background, with some pollsters now speculating that incumbent British Prime Minister Theresa May might see her lead quashed in the June 8 general election.
The move in the polls around the U.K. election is a wild card for markets. On the one hand a reduced majority in Westminster could be presented by some as a rebuke to May's stated plan to pursue a full exit from the EU, which would be positive for markets.
However, it could also mean that the British prime minister remains beholden to the voting power of hard liners within her own party after the election, which would reduce her ability to step back from delivering on the outcome of the 2016 referendum.
The FTSE 100 fell 0.09% in London to close at 7,519 while the DAX rose 0.13% in Frankfurt to close 12,615. The CAC 40 shed 0.42% in Paris to settle at 5,283.
Big movers included Randgold Resources (GOLD) shares, which topped the FTSE 100 after gold futures reversed their Tuesday decline, going on to add 0.40% to change hands at $1267 around the time stock markets closed. The mining company's shares were up by 3%.
GlaxoSmithKline (GSK) was a top riser on the FTSE 100 for a second day running after clinical trials data for Gilead's (GILD) Bictegravir HIV treatment appeared to reduce the threat of a superior rival emerging to challenge GSK's Dolutegravir anytime soon.
Bictegravir met its primary endpoint of noninferiority in four separate studies, a number of which were head to head studies with GSK's Dolutegravir, although it is yet to demonstrate any kind of superiority. Trials are ongoing. Glaxo stock was up nearly 2% Wednesday.
In Frankfurt, shares of renewable energy firm E.ON (EONGY) rose more than 3% to top the DAX on reports that it has hired Goldman Sachs to explore options for its minority stake in fossil fuels and trading business Uniper (UNPRF) .
E.ON's CFO Marc Spieker told Bloomberg in April that a sale will most likely be carried out in 2018, when certain tax restrictions expire. The company listed Uniper in September 2016 and distributed some of the shares to its own shareholders.
Over in Paris, energy firm Engie (ENGIY) was a big riser for the session, although not by enough to offset the weight of fallers on the CAC 40 index.
Engie has recently been the subject of speculation that it is considering a tie up with Germany's RWE (RWEOY) , which was also a top riser in Frankfurt, that will create a cross border domestic energy powerhouse in continental Europe.