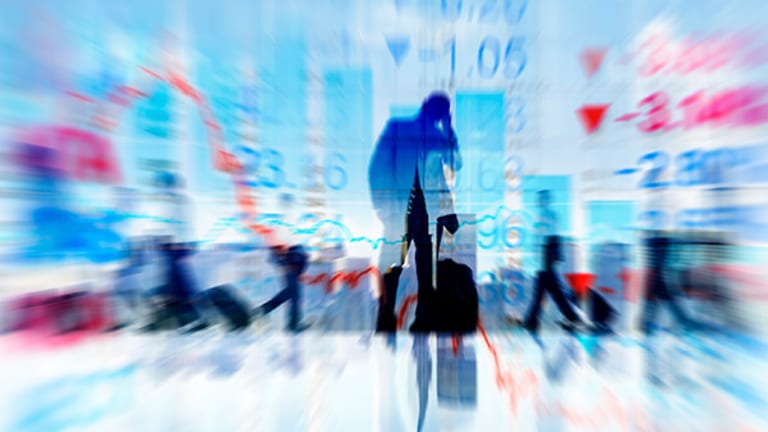 European Stocks Mixed, Oil Rises Higher in Holiday-Thinned Trading
European stocks opened a holiday-thinned session with caution as U.S. dollar strength continues to drive sentiment.
European stocks opened a holiday-thinned session with caution as U.S. dollar strength continues to drive sentiment.
European stocks added cautious gains Thursday amid low volumes owing to the U.S. Thanksgiving holidays, but rising oil prices and continue currency market volatility kept investors focused into the final days of the trading month.
The Stoxx 50 index of European bluechip shares rose 0.2% by mid-day in London, while benchmarks in France, Germany and Italy added modest gains.
Britain's FTSE 100, however, dropped 10 points by 12:20 GMT, with utilities and telecom stocks falling to the bottom of the benchmark as certain shares, including Vodafone Group (VOD) - Get Report and BT Group (BT) , traded ex-dividend. Germany's DAX performance index was little changed from the open, thanks to gains for index heavyweights Bayer AG (BAYRY) - Get Report (+0.3%) and BASF  (+0.55%).  In France, the CAC-40 advanced 0.1%
In Paris, Remy Cointreau SA (REMYY)  shares rose 1% after the luxury spirits maker said operating profits in the first half of its fiscal year rose 7% on a like-for-like basis to €123.9 million and maintained its earnings guidance for the full year. The maker of Cointreau and Remy Martin cognac expects like-for-like operating profit growth of around 8% and said China and U.S. sales were growing better than expected. 
In Germany, Thyssenkrupp AG (TKAMY) shares rose to a one-month high Thursday after it said cost-cutting and a U.S. infrastructure spending boom would boost earnings.
The Essen, Germany-based steelmarker, Germany's largest, said adjusted EBIT fell to €1.47 billion ($1.55 billion) over the 12 months to the end of September, down 12% on the previous year figure of €1.7 billion, while net income was €261 million, down from €268 million.
Shares rose, however, to 0.75% to a one-month high of €22.08 each in Frankfurt trading, extending their 3-month gain to nearly 5%.
One of the biggest downside movers in London were shares of Countrywide plc (CTYWY) , which plunged more than 12% to 198 pence each by 12:20 GMT after the British real estate group said current transactional revenues were "significantly below" 2015 levels owing to changes in tax duties and the country's decision to leave the European Union and would fall again in 2017. Revenue for the three months ending in September fell 4.4% to £188.5 million, the company said.
Global oil prices rose again Thursday, drive largely by headline developments that center around the November OPEC meeting in Vienna, where cartel members will attempt to agree their first production cuts since 2008.
Brent crude prices, the global benchmark, for delivery in January rose 0.35% to $49.98 per barrel by 12:30 GMT while WTI futures for the same month on Nymex added 0.5% to change hands at $48.28.
The U.S. dollar continues to test multi-decade highs in foreign exchange markets, although volumes are thinner owing to the Thanksgiving holiday and 'Black Friday' shopping that traditionally kicks-off the country's Christmas season. The dollar index traded modestly higher in Europe at 101.56, pushing other currencies, including the euro, near to 2016 lows. 
The single currency was quoted at 1.0573 by 12:20 GMT after touching a 20-month low of 1.0518 against the dollar early in the session while the pound was changing hands at 1.2450, up 0.1% from Wednesday's close.
Overall financial market trading, however, will likely remain muted for the remainder of the week as Americans celebrate their Thanksgiving holiday and, most significantly, head to the stores to begin what could be a $656 billion shopping spree between now and the end of the year, according to the National Retail Federation.