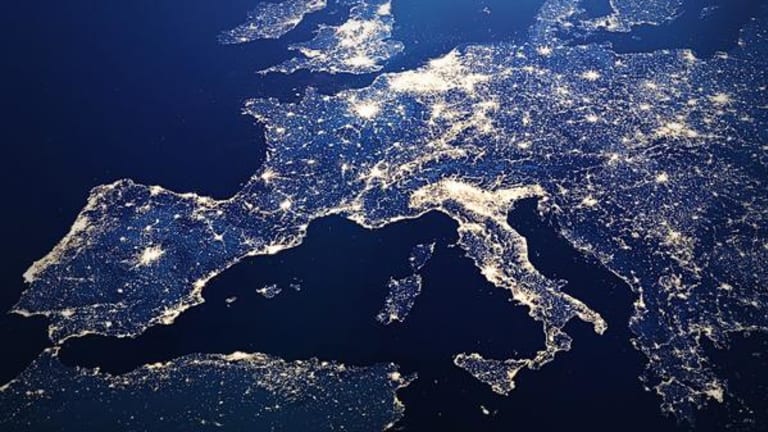 European Stocks Mixed as London Rises and Continental Benchmarks Fall
European stocks were mixed Tuesday as London's blue chip benchmark set a new record while indices on the Continent were hit by losses at the region's big automakers.
European stock markets were mixed Tuesday as London's blue chip benchmark set a new record while indices on the Continent were hit by losses at the region's big auto makers.
London shone for the session thanks to positive corporate earnings, as well as M&A, newsflow, while a dire set of registrations numbers for April hit the automakers over in Europe.
Auto registrations fell by more than 6% across European Union and free trade area countries, led by a more than 20% fall in the U.K., which led to lower volumes all around although Peugeot (PEUGF) and Ford (F) - Get Ford Motor Company Reportsaw the most attrition.
All continental auto markets saw weakness during the recent month although this was more apparent in the U.K. where customers had pulled forward car purchases into March in order to get around emissions-related new vehicle levy introduced at the beginning of April.
The FTSE 100 rose 0.91% to close at a new all-time high of 7,522. The DAX slipped by 0.02% to close at 12,804 in Frankfurt while the CAC 40 dropped 0.20% before coming to a rest at 5,406 in Paris.
Stocks in southern Europe were a brighter picture with the FTSE MIB in Milan and the IBEX in Madrid both eking out a minor gain for the session.
In London the top gainer was Vodafone (VOD) - Get Vodafone Group Plc Sponsored ADR Report , which had garnered more than 4% shortly ahead of the close, despite having booked a multi-billion full-year loss connected with the sale of its Indian division.
However, the telecom titan raised its guidance for the coming year and said that it expects to be able to meaningfully raise its dividend over the coming periods due to improving cash flows, which are partly connected to the jettisoning of its Indian assets.
Also in London, mining companies Fresnillo (FNLPF) and Rio Tinto (RIO) - Get Rio Tinto plc Sponsored ADR Reportsaw noteworthy gains on the back of stronger commodity prices, rising more than 2% each.
On the downside, budget airline easyJet (EJTTF) saw its stock slump more than 7% after posting a wider than expected loss for the first half of the year.
The budget carrier posted a pretax loss of £236 million, wider than the -£18 million reported for the same period of 2016, and also wider than the consensus analyst forecast for a negative result of -£165 million.
In Paris, auto equipment manufacturer Valeo (VLEEY) and carmaker Renault (RNSDF) were among the top fallers, with losses of more than 1% each. IT services firm Atos (AEXAF) was also a big faller for the session.
In Frankfurt, car-parts firm Continental (CTTAY) and premium auto manufacturers BMW (BMWYY) and Daimler (DDAIF) all featured prominently among the biggest fallers.
Elsewhere in Europe, UBS (UBS) - Get UBS Group AG Report stock continued to slide as investors shunned the lender on news that its largest investor has taken a step toward toward the exit door.
GIC Private, the Singapore sovereign wealth fund, sold 93 million shares in a placing to institutional investors on Monday in a move that reduced its ownership stake in the bank from 5.7% to 2.7%.
The sale meant crystallizing a loss for GIC, which will go from being UBS's largest shareholder to its second largest.