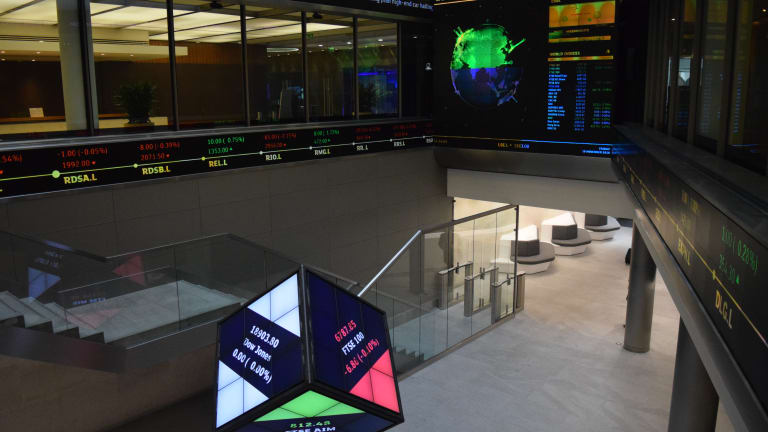 European Stocks Mixed as Italy Banks Fall, Randgold Supports FTSE 100
European stocks fell Monday, led by a steep decline for Italian banks, as investors prepare for a busy week of corporate earnings.
European stocks fell across the board Monday, led by a steep decline for Italian banks, as investors prepare for a busy week of corporate earnings and sift through the differing policy ambitions of U.S. President Donald Trump. 
The region-wide Stoxx 600 Europe Index fell 0.22% in the first hour of trading and was quoted at 363.3 points by 09:00 GMT. Italy's FTSE MIB led major bourses lower with a 1.03% decline as capital raising plans from the country's biggest lender, UniCredit SpA (UNCFF) , held down financial stocks. The FTSE Italy Banks Index fell 1.21% in the opening hour of trading while UniCredit fell 2.3%.
Britain's FTSE 100 slipped a modest 7 points in the opening hour, or 0.11%, while Germany's DAX performance index drifted 0.76% lower to 11,582 points. In Paris, the CAC-40 fell 13.5 points to 4,819.
Randgold Resources (GOLD) - Get Barrick Gold Corporation Report , the biggest gold producer on the London Stock Exchange, was the biggest early market mover in Europe after it posted a stronger-than-expected rise in full-year profit and boosted its annual dividend by more than 50%.
Randgold shares rose more than 4% in early London trading to change hands at closed at 7,140 pence each, making it the top gainer in European and extending its three month advance to 5% against a 6.06% decline in cash gold prices.
Overnight in Asia, Japan's Nikkei 225 was able to grind out a 0.31% gain, despite a firmer yen holding down gains for export stocks, as banks and financial shares rose following President Donald Trump's plans to rollback the Dodd-Frank Wall Street Reform and Consumer Protection Act. The broader MSCI Asia ex-Japan rose around 0.53% with gains for South Korea's KOSPI Composite offsetting a modest loss for the S&P/ASX 200 in Australia, which fell 0.1%.
The U.S. dollar was little-changed, however, as traders and investors digested last week's January employment report, which indicated stronger-than-expected jobs growth for the first month of the year but disappointed some analysts with only a modest increase in wages and a higher headline unemployment rate.
The mixed picture has, for the moment at least, clouded the debate over the pace of rate increases from the U.S. Federal Reserve and correspondingly put downward pressure on the greenback, which traded at 99.69 against a basket of six global currencies as European markets began to take over at 06:45 GMT before improving to around 99.84 by 09:00 GMT.
Global oil prices also crept higher overnight, although gains were limited by the anticipation of increased U.S. production, as traders reacted to renewed sanctions put in place by the Trump administration in retaliation for Iran's recent testing of a Sumar ballistic missile. WTI futures for March delivery rose 0.26% from Friday's close to $53.97 per barrel while Brent contracts for the same month, the global benchmark, advanced 0.17% to $56.91.
The Dow Jones Industrial Average ended Friday above the 20,000 level for the first time in a week as financials rallied on the promise of relaxed regulations. The Nasdaq scored a new record close.
The Dow rose 0.94% to finish at 20,071. The S&P 500 was up 0.73%, ending the day just 1 point shy of its previous record high of 2,298 set on Jan. 25. The Nasdaq posted a new record close, gaining 0.54% to finish at 5,666.
U.S futures prices, much like those in Europe, suggest a marginal decline at the open of trading on Wall Street Monday, with the Dow falling around 2 points, the Nasdaq 5 points and the S&P 500 1.25 points.