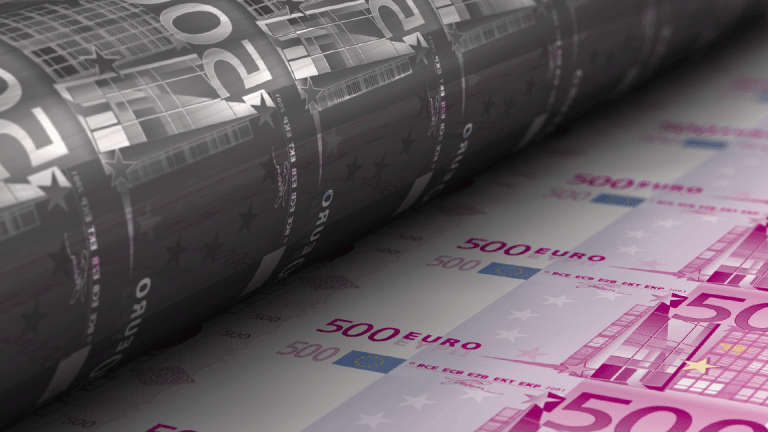 European Stocks Jump for Several Reasons
Stronger-than-expected German GDP data and solid corporate earnings have lifted European stocks and supported Wall Street futures.
European stocks posted firm early gains Tuesday and helped lift Wall Street futures higher after stronger-than-expected economic data from Germany and solid bluechip earnings added a bullish tenor to market ahead of a series of central bank speakers this week amid questions over the pace and scope of Federal Reserve rate hikes.
Germany's DAX performance index was marked 0.3% higher in the opening minutes of trading in Frankfurt, led by gains for technology and bank stocks and supported by a stronger-than-expected reading of 3.3% annual GDP growth in Europe's largest economy. Germany's official statistics office, Destatis, also lifted its full-year forecast to an annual rate of 3.6%. 
Eurostat, the statistics office for the European Union, will publish its flash estimate of third quarter GDP for the currency area at 10:00 am London time. 
Britain's FTSE 100 was also in the green, rising 0.15% in the opening 30 minutes of trading as investors keep tabs on a softer pound sterling and developments in domestic U.K. politics as the so-called Brexit reform bill works its way through Parliament. The pound was marked 0.11% lower at 1.3105 at the start of European trading and ahead of October inflation data from the Office for National Statistics later in the session.
Wall Street futures, which had traded in the red overnight, were showing modest improvements after last night's single-digit gains, with the Dow Jones Industrial Average expected to open around 6 points higher at the bell and the broader S&P 500 looking at a 1 point, or 0.04%, decline at the start of trading.
House Republicans say they should have enough votes to pass their version of the reform bill this week, while U.S. President Donald Trump is expected to address GOP lawmakers on the issue Thursday. The Senate plan, meanwhile, which would add $1.5 trillion to the country's deficit over ten years and eliminate popular deductions such as state and local taxes, may struggle to find support given the 60-seat threshold required for its passage.  
An early mover of note in European trading were shares of Vodafone plc (VOD)  , which surged more than 4% after it topped estimates for its first half earnings Tuesday and lifted guidance for the rest of the year thanks to stronger-than-expected data and broadband growth in key European markets.
Vodafone said adjusted first half earnings came in at €7.39 billion, up 13% from the same period last year and firmly ahead of the Factset consensus of €7.08 billion. Revenues for the six months ending in September fell 4.1% to €23.1 billion. The group also lifted its full-year earnings growth guidance to around 10%, indicating a range of €14.75 billion and €14.95 billion, up from a previous forecast of 4.8% growth.
Several of the world's most important central bankers are due to speak this week, highlighted by the European Central Bank Communications Conference in Frankfurt, which will host a panel discussion that includes Fed Chairwoman Janet Yellen, ECB President Mario Draghi, Bank of England Governor Mark Carney and Bank of Japan Governor Haruhiko Kuroda.
The dollar index, which benchmarks the greenback against a basket of six global currencies, was little changed at 94.48 ahead of the meeting, although U.S. Treasury bond yields crept higher again during Monday's trading session in New York at held at the 2.4% mark for much of the Asia session.
Stocks in the region were pressured as a result, but not overly so, with the region-wide MSCI Asia ex-Japan slipping around 0.08% from its 10-year peak and the Nikkei 225 in Japan rising as much as 0.7% at one stage before giving back gains to end the session little-changed from its Monday close.
Data from China, the world's second-largest economy, was also linked to the equity torpor, with major readings on retail sales and industrial output showing firm advances but still missing analysts' forecasts. Retail sales last month jumped 10% from the same period last year, according to the National Bureau of Statistics, while industrial output expanded 6.2%, a figure that lagged both the Street consensus of 6.3% and the final September tally of 6.6%.
More of What's Trending on TheStreet: