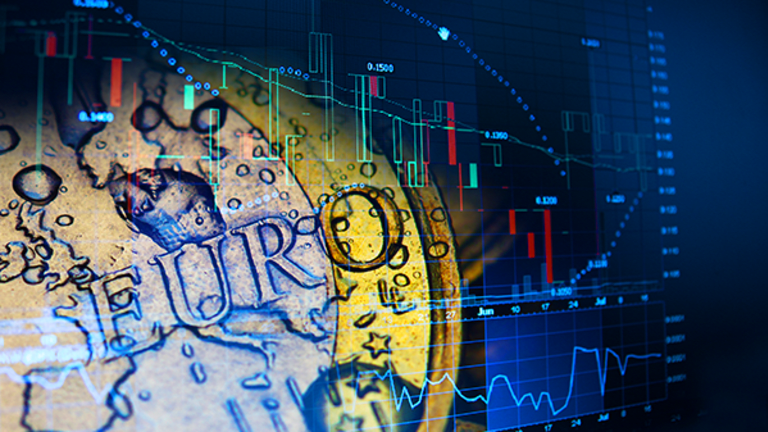 European Stocks Hold Gains, Oil Rebounds Firmly Ahead of Fed Rate Decision
European stocks held onto modest gains Wednesday as investors set positions ahead of a key rate decision from the U.S. Federal Reserve and results from national elections in the Netherlands.
European stocks held onto modest gains Wednesday as investors set positions ahead of a key rate decision from the U.S. Federal Reserve and results from national elections in the Netherlands.
The region-wide Stoxx Europe 600 Index was marked 0.23% higher at 374.32 my mid-morning trading, with benchmarks around the region edging higher. Britain's FTSE 100 led the advance, rising 20 points in the opening two hours as trader took advantage of a weaker pound on foreign exchange markets.
Global oil prices traded on a firmer footing in Asia, rising more than 2% from Tuesday's three-month lows after data from the American Petroleum Institute showed commercial stockpiles unexpectedly fell by 531,000 barrels last week, the first so-called "draw down" in over two months.
WTI futures for April delivery were marked 2.4% higher at $48.52 per barrel while Brent contract for May delivery, the global benchmark, were seen 1.4% higher at $51.63 per barrel.
U.S. equity futures are pointing to a rebound on Wall Street later Wednesday, with the Dow Jones Industrial Average poised to add 37.5 points after Tuesday's 0.21% decline. The S&P 500 is priced to open 5.67 points higher while the Nasdaq has a 10.5 point gain signalled for the start of trading.
Hikma Pharmaceuticals plc (HKMPY) shares were an early mover of note in Europe as they surged to a seven-month high Wednesday after the generic drugmaker said new products and stronger sales will boost 2017 earnings.
Hikma pegged its full-year revenue forecast at $2.2 billion on a constant currency basis and held its generic drugs sales forecast steady at $800 million. The estimates followed full-year 2016 revenues of $1.95 billion and core operating profit of $419 million.
France's CAC-40 was little-changed from Tuesday's closed by mid-morning, with a steep 3.2% decline in Renault SA (RNLSY) shares holding down gains after a report in France's Liberation newspaper said the carmaker is suspected of trying to disguise the true level of emissions from some of its diesel-powered vehicles.
In Germany, another index heavyweight, E.ON SE (EONGY) , slowed advances for the DAX after the country's largest utility said it may sell a series of assets in order to cut its €26 billion debt pile after writedowns pushed Germany's biggest utility into a record loss.
E.ON said it will look at selling a stake in its Uniper power plant, as well as moving a stake in the Nord Stream 1 pipeline to its pension fund, in order to reduce group debt by around €6 billion from its current €26.3 billion.
E.ON shares fell 3.27% in the opening hours of trading in Frankfurt to change hands at €6.81 each, wiping out nearly have of the gains recorded over the past three months. However, the stock has still far outperformed the Stoxx Europe 600 Utilities index, rising 4.6% compared to a 1.55% decline for the sector benchmark.
Early moves in the U.S. dollar, however, are coloring trading ahead of Wednesday's rate decision from the Fed and the follow-up statement from chairwoman Janet Yellen. The dollar index, a measure of the greenback's strength against a basket of global currencies, is trading 0.1% lower at 101.44 while benchmark 10-year U.S. Treasuries are trading 2 basis points lower at 2.58%. Fed Funds futures prices, which provide a likelihood of interest rate movements, suggest a 95% chance that the Fed will lift its key rate target by 25 basis points to between 0.75% and 1.0%.
In the Netherlands, voters have begun heading to the polls -- which will close at 20:00 GMT -- in a national election which is unlikely to deliver a decisive result for several days. Incumbent Prime Minister Mark Rutte and his People's Party for Freedom and Democracy party are likely to win 27 seats in the 150-member parliament, while his Freedom Party rival, Geert Wilders, is projected to win between 20 and 21 seats.
The results will set in motion a complicated series of negotiations with smaller parties to form a government, a process that is likely to keep Wilders -- an outspoken anti-European and anti-Islamist -- from any senior leadership role.
Overnight, the region-wide MSCI Asia ex-Japan index rose for a second consecutive session, adding 0.18% by 06:45 GMT on the strength of gains in China and Australia. Japan's Nikkei 225, however, slipped 0.16% to 19,576.38 points on the back of a 12.2% slide for Toshiba Corp and a stronger yen.