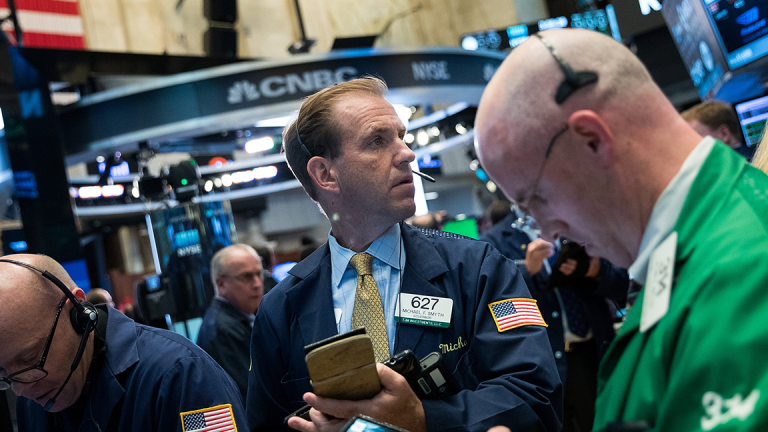 Europe, Wall Street Get Trade Boost; Asia Hit as US-China Tariff Deadline Looms
Global stocks were mixed in early Thursday trading, with solid gains in Europe helping Wall Street futures firmly into the green, even as continued weakness in Asia suggests investors remain very concerned about an imminent trade war between the US and China.
The Thursday Market Minute
Global stocks mixed, with Asia weakness giving way to solid gain in Europe, as investors brace for first major round of US-China tariffs.
China stocks extend declines ahead of Friday tariff deadline as officials warn U.S. "opening fire" in global trade war.
European stocks posted solid gains amid report Trump may reverse tariff threat on autos if EU cuts levies on US cars.
Oil prices drift after Trump Tweets frustration with OPEC, but US Crude holds near $74 and gas prices continues to rise past $2.85 per gallon.
Wall Street futures point to solid opening bell gains, but flattening yield curve puts Fed Minutes in Thursday spotlight 
Market Snapshot
Global stocks were mixed Thursday, with indices in China extending declines deeper into bear market territory, as investors brace for the first major wave of U.S. tariffs on China-made goods, and the potential for a reciprocal reply from Beijing, in what could be the opening salvo in an escalating summer trade war between the world's two biggest economies.
China's Commerce Ministry spokesman, Gao Feng, told reporters Thursday that around 60% of the goods earmarked for tariffs from the White House, and set to kick in at midnight local time tomorrow, are in truth made by non-Chinese companies, including American ones. The $34 billion in levies, he argued, are "essentially attacking global supply and value chains. To put it simply, the U.S. is opening fire on the entire world, including itself." 
The prospects for trade war escalation have rippled through markets and economies all over the world, with the International Monetary Fund only this morning trimming its growth forecast for Germany, Europe's biggest, citing "substantial" risks that include "a rise in global protectionism" and a so-called "hard Brexit" departure from the European Union by the United Kingdom.
Against that backdrop, and with global oil prices rising while industrial commodities slump, Asia stocks struggled to establish any early momentum this morning and extended declines throughout the session, taking the MSCI Asia ex-Japan index down 0.55% for the session and past a nine-month low. Japan's Nikkei 225 slid 0.78% to end the day at 21,546.99 points and down 3.38% since last Friday's close.
Stocks in China were also notably weaker, with the offshore Hang Seng Index falling 1.11% while the benchmark Shanghai Composite index fell 0.91% to 2,733.97 points, taking the fall from its Jan. 25 peak past 23.2%. 
Trade and tariff speculation was also the main driver for stocks in Europe, although investors were also focused on currency and bond markets amid speculation that the European Central Bank had grown concerned that its signalling of a September 2019 rate hike had not been priced in by the markets.
Reaction in early Thursday trading, however, now puts that probability at around 90%, up from around 60% yesterday, and helped lift the euro past 1.17 against the U.S. dollar for the first time in two weeks before fading to 1.1687. The euro's move held down gains for regional stocks, although the Stoxx 600 index rising 0.81% by mid-day of trading in Frankfurt to 383.12 points thanks to big gains for auto and basic resource stocks.
Germany's DAX booked a 1.52% mid-session gain thanks to solid performances from its auto sector, where stocks rose firmly following a Wednesday report from Germany's Handelsblatt newspaper which said US Ambassador Richard Grenell told bosses at the country's biggest carmakers that President Donald Trump would suspend his threat to slap a new 25% tariff on imports of the EU removed its levies on US cars heading into the bloc.
Volkswagen AG (VLKAY) shares were marked 4.4% higher as a result and changing hands at €148.96 each, with shares in domestic rivals BMW AG (BMWYY) and Daimler AG (DMLRY)  surged 5.2% and 3.8% respectively.
U.S. equity futures may also get a boost from some of the toned-down rhetoric, at least between Brussels and Washington, but are also likely to be supported by a modestly weakened U.S. dollar, which slipped 0.39% against a basket of six global currencies overnight to trade at 94.30. Future contracts tied to the Dow Jones Industrial Average I:DJI suggest a 177-point gain for the 30-stock index at the start of trading today while those linked to the S&P 500 undefined are signalling a 17 point advance for the broader benchmark. 
Away from equities, U.S. Treasury bond yields continue to signal investor concern over the pace of growth in the world's biggest economy, with the gap between 2-year and 10-year note yields narrowing to 0.302% in overnight trading, the smallest since 2007, suggesting today's Minutes of last month's Federal Reserve rate meeting, as well as tomorrow's June jobs report, could prove critical for summer sentiment. 
Crude oil prices, too, are providing investors with food-for-thought on the state of the global economy, with prices falling in the overnight session in reaction to yet another attack on OPEC from President Donald Trump, but still holding at near four-year highs thanks to supply disruptions in Libya, political turmoil in Venezuela and impending U.S. sanctions on Iran.
Brent crude contracts for September were seen 1 cents higher than their previous close in early European trading at $78.25 per barrel while WTI contracts for August, which are more tightly-linked to U.S. gas prices, wee marked 15 cents higher at $74.48 per barrel.