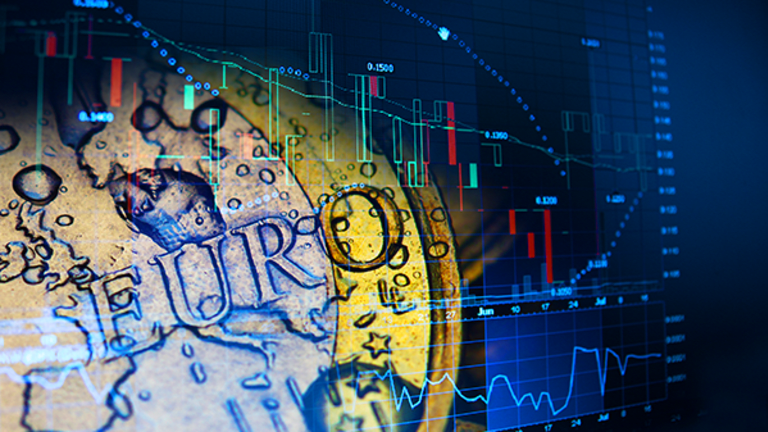 European stocks added to gains Wednesday as financial markets continue to shift focus from the failure of President Donald Trump's health care reforms to the underlying strength of the global economy.
The region-wide Stoxx Europe 600 index, the broadest measure of share performance, edged 0.15% higher in the opening 45 minutes of trading as banking and basic resource sector stocks pacing the gains. Britain's FTSE 100 opened around 18 points higher, supported to a large degree by a weaker pound sterling, which has slipped markedly in the past two sessions to 1.2403 as the country's formal EU exit process begins and lawmakers in Scotland renewed a vow to pursue a second independence referendum.
Prime Minister Theresa May will formally deliver a letter to EU officials in Brussels later Wednesday that will fire the starting gun on Britain's lengthy exit negotiations before taking questions from U.K. lawmakers in Parliament around mid-day.
Germany's DAX index added a further 73 points at the start of trading to Tuesday's gains, with both Commerzbank AG and Deutsche Bank AG rising to the top of the benchmark's leaderboard. Daimler AG was also an early mover of note, rising 1.3% to €72.82 each after the carmaker told shareholders it is expecting record sales for its Mercedes-Benz division this year.
The optimistic start follows a solid session in Asia, where the MSCI ex-Japan benchmark rose 0.22% by 06:45 GMT amid rising commodity prices and a broadly firmer U.S. dollar. Japan's benchmark Nikkei 225 booked its second consecutive advance, rising 0.03% by the close of trading to 19,208.25 points.
The U.S. dollar has been quietly gaining from the early November lows it touched on Monday amid the global market reaction to the failure of President Donald Trump's health care plans as investors switch focus to not only his plans for tax reform but also the spectre of rising interest rates and an improving economy.
Each of those cases were boosted Tuesday with data showing consumer confidence surging to its highest level in 16 years this month as the job market continues to improve and prices remain stable and a duo of Federal Reserve members reminding investors of a tighter policy path in the months ahead.
The dollar index, a measure of the greenback's strength against a basket of six global currencies, traded as high as 99.75 during Asia hours before paring gains to around 99.55 as European trading began.
In U.S. markets Tuesday, the Dow Jones Industrial Average ended an eight-session losing streak with a triple-digit gain, clawing back from some of the heavy losses seen over the past week.
The Dow rose 0.73% or 150 points, after falling 1.9% over the previous eight sessions. The S&P 500 also jumped 0.73% and the Nasdaq added 0.60%.
The blue-chip index had suffered its longest losing streak since 2011 after closing Monday with its eighth day of losses in a row. The Dow has not had nine consecutive losses since the late 70s. Stocks were under pressure for much of Monday as Wall Street contemplated the way forward for the Trump White House after its defeat on health care reform.
Crude oil prices closed at their highest level in a week after production hurdles in Libya eased pressure on high global output. A militia in Libya shut down pipelines on Monday in protest of wages.
Oil prices remained elevated as European trading began, with WTI futures for May delivery marked 0.78% higher at $48.76 per barrel and Brent crude contracts, the global benchmark, rising 0.83% to $51.75 per barrel.