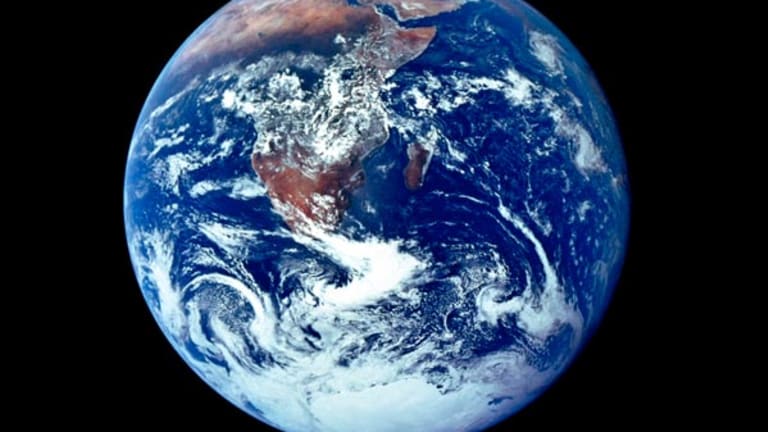 European Stocks Flat Ahead of European Central Bank Rate Decision
European stock indices were little changed before the Easter break on Thursday as eurozone monetary policymakers prepared to meet to set rates.
LONDON (TheDeal) -- European stock indices were little changed before the Easter break on Thursday as eurozone monetary policymakers prepared to meet to set rates.
European Central Bank policy makers will announce their rate decision at 1.30 p.m. local time in Frankfurt. Recent data has tempered expectations of further aggressive stimuli in the eurozone, where the benchmark rate is 0.05%. In the U.K., construction data for March lagged expectations, with a purchasing managers' index for the sector declining from February.
In London, the FTSE 100 edged up 0.06% to 6,813.57. In Frankfurt, the DAX slipped 0.04% to 11,996.70, and in Paris, the CAC 40 was up 0.02% to 5063.38.
Greek indices declined after eurozone officials sent the Greek government back to the drawing board after deeming a new list of reforms to be insufficient to justify new funding.
In London, Marks & Spencer (MAKSY) led the FTSE 100 gainers, rising almost 6% after the retailer announced that clothing sales had returned to growth on a same-store basis after a long period of shrinkage. Same-store general merchandise sales, which includes clothing, rose 0.7% in the fourth quarter, ahead of expectations.
Also in London, online gaming company Playtech (PYTCY) gained about 4% on news it plans to diversify into online brokering with the purchase of TradeFX for up to €458 million ($495 million).
In Zurich, Swiss chemicals maker Sika slipped after Cie. de Saint-Gobain (CODGF) claimed a regulatory ruling will allow it to proceed with a controversial $2.8 billion purchase of a controlling stake in the company from the founding family without making a bid for the rest of the company.
In Amsterdam, telecom Royal KPN gained ground after it confirmed it has had interest from potential buyers of Belgian unit Base, which is estimated to be worth about €1 billion ($1.1 billion).
In Paris, oil services company CGG (CGG) was up almost 6% after Societe Generale analysts upgraded their recommendation to buy from hold.
In Australia the S&P/ASX 200 closed up 0.65% to 5,898.58 after subdued inflation data stoked hopes of rate cuts.
Mining equipment supplier Bradken (BRKNF) gained 18% to close at A$2.29 in Sydney, after it said it had received and rejected a A$2.50-per-share bid from Pacific Equity Partners teamed with Koch Industries.
In Hong Kong, the Hang Seng closed up 0.76% at 25,273.03.
Real estate developer Country Garden Holdings rose 4.8% in Hong Kong after Ping An Insurance (PIAIF) agreed to buy 9.9% of the company for HK$6.3 billion ($813 million).
In Tokyo, the Nikkei 225 closed up 1.46% at 19,312.79, rebounding from Wednesday's three-week low. The Topix closed up 1.65% at 1,554.27.
However, camera maker Olympus (OCPNY) fell 4.1% per cent after Sony (SNE) - Get Reportsold part of its stake.
Major European stock indices are closed on Friday and Monday for the Easter Break, as are Hong Kong and Sydney.