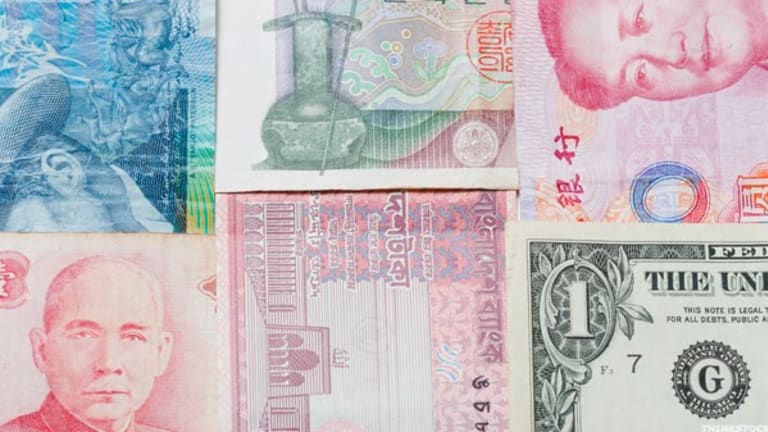 European Stocks Fall on U.K. Manufacturing Slump
European stocks continue to lose steam on Tuesday, as disappointing corporate news and an unexpected U.K. manufacturing slump causes some jitters.
LONDON (The Deal) -- European stocks continued to lose steam on Tuesday, as disappointing corporate news and an unexpected U.K. manufacturing slump caused some jitters.
In London, the FTSE 100 was down 0.51% at 6,788.64, while in Frankfurt the DAX lost 0.56% to 9.850.70. In Paris, the CAC 40 shed 0.40% to 4,388.08.
Airline shares across Europe posted declines after Air France-KLM Group cut its full-year profit forecast.
Europe's largest airline is now targeting earnings of 2.2 billion to 2.3 billion euros for the year, down from a previous forecast of at least 2.5 billion euros, citing overcapacity on North American and Asian long-haul routes. On top of this, the carrier said that a "persistently" weak cargo demand and the difficult situation in Venezuela weighed on its first-quarter performance.
In London, International Consolidated Airlines Group fell 5.07%and low-cost easyJet declined 3.32%, while in Frankfurt Deutsche Lufthansa AG fell 2.37% to 15.25 euros.
Among other decliners, retailer Marks & Spencer fell 1.64% at 426.10 pence, as a 12th straight quarterly drop in non-food sales offset a slight improvement in clothing sales. The retailer said its full-year guidance remains unchanged amid "challenging" market conditions. It's due to report second-quarter and half-year results in early November.
In the U.K., an unexpected monthly drop in output, also weighed on investor sentiment. Output fell 1.3% from April to May, the biggest monthly drop in six months, and the sharpest decline since January 2013. The main contributors to the decrease in manufacturing were basic metals and metal products, basic pharmaceuticals and preparations, and computer, electronic and optical equipment.
In Frankfurt, shares in Commerzbank were down 3.58% at 11.05 euros, on expectations that Germany's second-biggest lender would be the next big European bank to face penalties in connection with a U.S. criminal probe into alleged sanctions violations.
According to Bloomberg News, Commerzbank may incur a fine this summer of at least $500 million as part of a deferred-prosecution agreement.
The report comes a week after U.S. prosecutors imposed a record $8.9 billion fine against France's BNP Paribas for breaching U.S. sanctions imposed on transactions processed for clients in blacklisted countries including Sudan, Iran and Cuba. Though the bank escaped a threatened downgrade by Standards & Poor's, BNP Paribas shares continue to decline. On Tuesday the stock shed 1.3% to 48.96 euros.
German engineering company Siemens SI fell 1.1% to 95.17 euros, on speculation that it's considering a sell of its hospital database and information-technology unit, reportedly valued at more than 1 billion euros.
Asian stocks were mixed. In Hong Kong the Hang Seng was unchanged at 23,541.38, while in Tokyo the Nikkei shed 0.42% to 15,314.
In Tokyo, Casio Computer soared 7.46% to 1,571 yen, after the maker of watches and electronics announced plans to buy back 12.5 billion yen ($123 million) of its own shares.
And in Seoul, Samsung Electronic Co. added 0.23% to 1,2995 Korean won in Seoul. The world's leading maker of smartphones said it "cautiously expects" a better third quarter after posting a 24% drop in second-quarter operating income. Operating income was 7.2 trillion won ($7.1 billion) in the second quarter, on of around 52 trillion won.
Things are looking brighter for the third quarter, with the planned September launch of the curved-screen Galaxy Note 4 handset at the IFA trade show in Berlin.