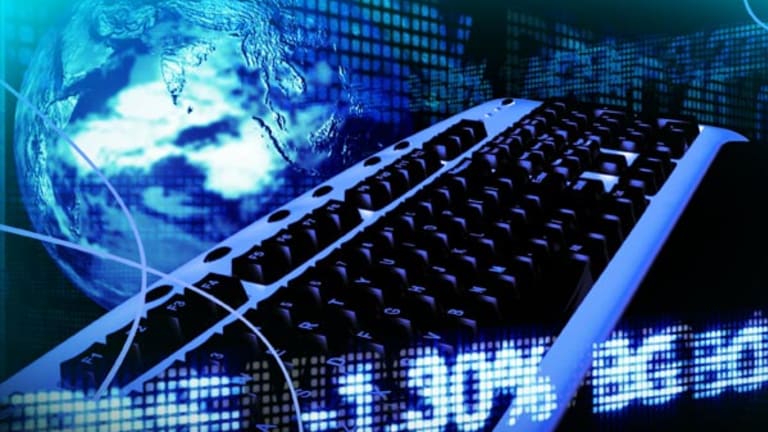 European Stocks Fall on Growth Slowdown
European markets are in negative territory Wednesday, as a slowdown in first-quarter euro-area economic growth raises expectations of imminent action by the European Central Bank at Thursday's rate-setting meeting.
NEW YORK (The Deal) -- European markets were in negative territory Wednesday, as a slowdown in first-quarter euro-area economic growth raised expectations of imminent action by the European Central Bank at Thursday's rate-setting meeting.
In London the FTSE 100 was down 0.34% at 6.812.74, while in Frankfurt the DAX shed 0.48% to 9.872.01. In France the CAC 40 retreated 0.63% to 4,475.54.
In the 18 European countries using the common currency, seasonally adjusted GDP rose by 0.2% in the fourth quarter, down from a 0.3% rise in the previous quarter, according to figures released Wednesday by Eurostat, the EU's statistics office.
The latest data increases pressure on central bankers to step in and do something to combat a protracted period of low inflation that's threatening to derail the region's fragile recovery. Most bets are on a cut of 10 or 15 basis points in the benchmark and deposits rates. However, the ECB may hold off on liquidity injections for a bit -- saving the so-called QE bazooka up its sleeve for later.
The interest rate decision will be announced Thursday afternoon in Frankfurt, followed by a press conference by ECB President Mario Draghi.
In London, shares of Tesco were down after Britain's largest grocery retailer reported its third quarterly sales decline. The stock was down 0.69% at 295.45 pence, recovering somewhat after falling to 292.05 pence.
U.K. comparable sales at Tesco excluding gasoline and value-added tax fell 3.8% in the first quarter of 2014, more than the 3.0% drop in the previous quarter. Investors were also in a selling mood after CEO Philip Clarke said in a conference call that he's not able to promise any improvements in the next few quarters.
In Zurich, shares of Dufry were up nearly 8% after the Swiss operator of duty-free stores agreed to buy domestic rival Nuance Group for 1.55 billion Swiss francs ($1.73 billion) to reinforce Dufry's leading position in the global duty free and travel retail market -- with a 15% combined market share.
The deal will Dufry a leading position in the Mediterranean, the world's No. 1 vacation destination, adding Nuance's operations in Turkey, Malta and Portugal to Dufry's existing activities in eight countries in the region including Italy, Greece and Spain.
Dufry plans to finance the acquisition with Sfr1 billion in equity and Sfr 550 million in debt. It's purchasing Dufry from French buyout shop PAI Partners and Gecos SpA of Italy, and expects to close the deal in the fourth quarter.
In Frankfurt, Volkswagen retreated on news that the German carmaker sold 2 billion euros worth of preferred shares to fund its takeover of Swedish truckmaker Scania.
A syndicate of banks -- BofA Merill Lynch, Deutsche Bank AG, Goldman Sachs International and J.P. Morgan Securities -- subscribed for 10.4 billion in new preferred shares, placed with institutional investors in Germany and elsewhere. That includes a private placement for qualified institutional investors in the U.S.
Volkswagen first bought a minority stake in Scania in 2001 and can now realize a long-term dream of being a diversified vehicle maker from small economy city cars to hulking trucks, and being able to compete better with larger truckmaking rivals Daimler of Germany and Volvo of Sweden.
Later Wednesday, investors will be looking across the ocean to the U.S. for the latest on the health of the world's largest economy.
A report by the ADP Research Institute is expected to show that the U.S. economy added at 210,000 private-sector jobs in May, compared with 220,000 added in April, according to economists surveyed by Bloomberg News. The figures could be a harbinger of Friday's official U.S. employment report.
A separate report also due out Wednesday is expected to show little change in the U.S. trade deficit in April, and an expansion in service industries.
Asian markets were mixed. In Tokyo the Nikkei rose 0.22% to 15,068, while in Hong Kong the Hang Seng shed 0.60% to 23,151.71.
In Tokyo, shares of Dai-ichi Life Insurance surged nearly 4% after the Japanese insurer agreed to pay $5.7 billion for Protective Life (PL) of Birmingham, Ala. to create the world's 13th-largest insurer with $424 billion in assets and give the buyer its first significant operation in the United States.
It also marks the first foreign acquisition ever by a Japanese life insurer. Dai-ichi will pay $70 in cash for Protective Life, a 34% premium over the target's closing share price in New York on May 30.
The stock was up 3.59% at 8,750 Japanese yen, after rising as high as 1,516 in earlier trading for its biggest gain in nearly two months.
Dai-ichi is counting on Protective Life to act as its strategic growth platform in North America, achieving further growth and adding to group profits. Protective Life will continue to be managed by Protective Life CEO John D. Johns from Protective Life's current headquarters, the companies said.