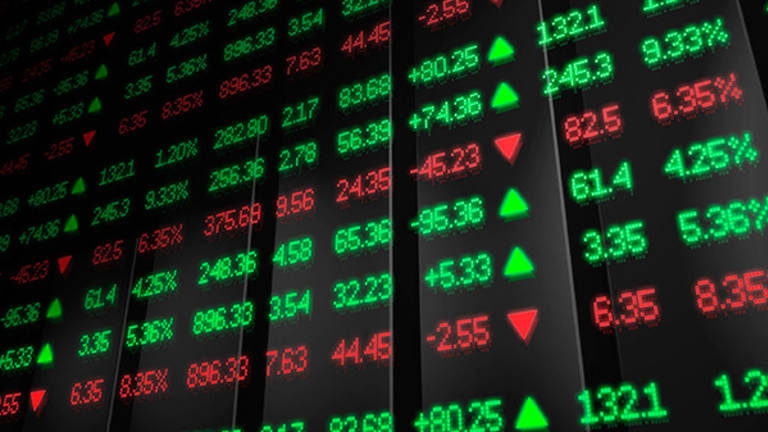 European Stocks Fall; Burberry Slips on Gloomy Outlook
A return to deflation in both the eurozone and the European Union fans hopes of monetary stimuli.
European stocks followed Asia lower on Wednesday though pared losses as confirmation that deflation had returned spurred hopes of monetary stimuli.
Consumer prices in both the eurozone and the wider, 28-nation European Union were down 0.2% on the year in April, as deflation returned following price stagnation in March. Month-on-month, eurozone prices were unchanged, while the European Union eked out a 0.1% gain. The eurozone annual inflation figure matched an initial estimate from the Eurostat statistics agency on April 29 and suggested the European Central Bank may take further action to fan growth.
In Frankfurt the Dax was recently down 0.19% at 9,871.46. In Paris the Cac 40 was down 0.22% at 4,288.35 and in London the FTSE 100 fell 0.41% to 6,142.64.
S&P 500 mini futures were recently up 0.04%.
 Luxury goods maker Burberry (BURBY) (BBRYF) fell more than 3% as it warned of a challenging outlook and announced a plan to cut operating costs by 10% over three years in response. To sweeten investors, which have bid its stock down by more than a third over the past year, it said it will begin a £150 million ($216.2 million) share buyback.  The company said underlying pretax profit in the year ended March fell 10% to £421 million ($607.6 million) and sales fell 1% to £2.5 billion.
Chilean miner Antofagasta (ANFGY) (ANFGF) was down well over 3% in London as chairman Jean-Paul Luksic said before the company's annual shareholders' meeting that it expects "another year or two of low copper prices."
Betting company Playtech was up more than 1% as it reiterated it would contemplate a cash return to shareholders if it can't find suitable acquisition targets. However, in comments published before the company's annual shareholders' meeting chairman Alan Jackson said: "Our pipeline of M&A opportunities remains healthy with active discussions in the gaming division as well as discussions for selective bolt-on acquisitions in the financials division."
Japanese GDP data showed the economy swung back into growth in the first quarter, with expansion of 1.7% year-on-year and 0.4% quarter-on-quarter coming in much higher than analysts expected. However, declining business investment cast a cloud on the results.
The Nikkei 225 closed down 0.05% at 16,644.69. The Topix closed up 0.19% at 1,338.38.
Suzuki (SZKMY) closed down 9.4% after it said tests ordered by the Japanese government disclosed discrepancies in fuel-efficiency and emissions tests. Mitsubishi Motors (MMTOF) closed up 3.9% after its president quit as its own, long-running efficiency-testing scandal escalated.
In Hong Kong the Hang Seng fell 1.45% to 19,826.41. On mainland China the CSI 300 closed down 0.58% at 3,068.04.