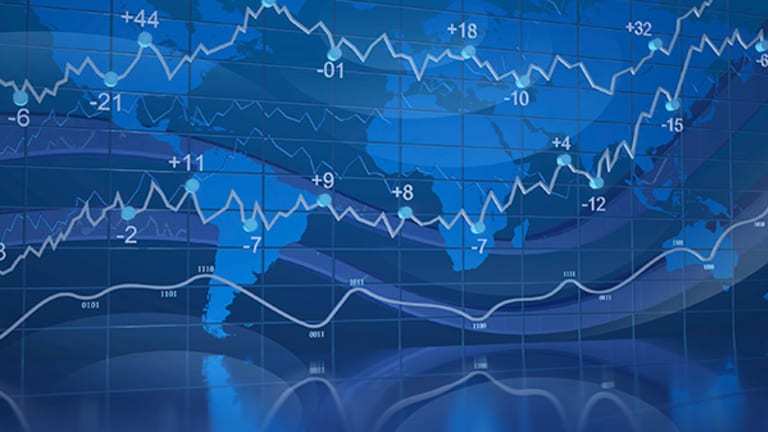 European Stocks Fall as China Plunges, Oil Slides
European stocks fall on Tuesday after Chinese benchmarks plunge and as declining oil prices skirt the psychologically important $30 a barrel mark.
LONDON (The Deal) -- European stocks indices fell on Tuesday after Chinese benchmarks plunged and as declining oil prices skirted the psychologically important $30 a barrel mark.
By late morning in London the FTSE 100 was down 0.94% at 5,821.93. In Frankfurt the DAX was down 0.74% at 9,664.47, and in Paris the CAC 40 was 0.87% lower at 9,664.47.
Brent crude was down 12 cents a barrel at $30.38, pushing oil producers including BP (BP) and Royal Dutch Shell (RDS.A) lower.
S&P 500 futures nudged down 0.23% to 1,866.00.
In London, Bank of England Gov. Mark Carney was grilled by a committee of lawmakers on subjects ranging from the interest rate outlook to how long he planned to stay in the job. (Deputy Gov. Andrew Bailey will leave to head the Financial Conduct Authority, the two agencies announced Tuesday. During the interrogation, Carney stepped back from comments he made last week that were taken to suggest rates will definitely stay on hold for some time to come. 
In London, soap maker PZ Cussons was down about 10% as commentary with its first-half results stoked worries about the outlook for its Nigerian business.
Retailer Carpetright plunged close to 9% after the company reported a "softening" of footfall in its stores before Christmas. But it said same-store sales in the four weeks to Jan. 23 were up 6% and it maintained its earnings outlook.
Homebuilder Crest Nicholson Holdings was up close to 6% after posting a 32% increase in full-year pretax profit, a 26% improvement in revenue and remarking that the U.K. housing market is underpinned by "strong demand dynamics, a benign land market and government policies to improve access to home ownership."
Easyjet (ESYJY) fell about 2.6% after it said terrorist attacks in Egypt and Paris crimped demand in November and December, pushing revenue per seat down 3.7% in the quarter ended December. It said bookings had since picked up.
Stock Spirits Group was up almost 7% after the central Europe-focused company announced "a root and branch review" of its Polish business and its "broader corporate strategy" as it said its performance in the fourth quarter met its expectations.
Media buying and marketing company XLMedia was down almost 3% after it said Canaccord Geunity Ltd. and Cenkos Securities would conduct a strategic review of the business, considering transactions including acquisitions and also a sale of the company.
Siemens was up 2.4% after it posted a 42% increase in first-quarter net profit to €1.6 billion ($1.7 billion)and said it would raise its full-year earnings outlook.
But Deutsche Post tumbled well over 4% after Credit Suisse Group analysts cut their price target, and their recommendation to underperform from outperform.
French cut-price wireless services provider Iliad was down more than 2% in Paris after the Financial Times reported that founder Xavier Niel had held talks with U.K. regulators about how to enter the British market.
And also in Paris Airbus Group fell more than 1% as the Polish government suggested it could tear up a large order. 
The Shanghai Composite index closed down 6.42% at 2,749.79, its lowest since December 2014. The CSI 300 composite fell 6.02% to 2,940.51.
In Hong Kong, the Hang Seng closed down 2.48% at 18,860.80.
In Tokyo, the Nikkei 225 lost 2.35% of its value to close at 16,708.90, while the Topix dropped 2.33% to 1,360.23.
In Seoul, the Kosdaq slipped 0.38% to 678.85. Official data confirmed GDP growth had slowed significantly in the fourth quarter, falling to 0.6% from 1.3% the quarter before.