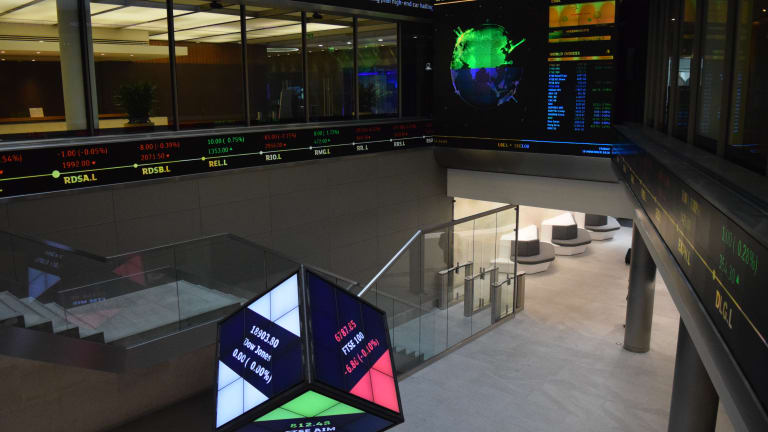 European Stocks Drift Lower, Dollar Firms as Risk Appetite Fades
European stocks drifted lower Friday as investors trimmed risky positions following a pullback from recent market highs and an erratic press conference from President Donald Trump.
European stocks drifted lower Friday as investors trimmed risky positions following a pullback from recent market highs and an erratic press conference from President Donald Trump.
The Stoxx Europe 600 index, the region's broadest measure of share price performance, fell 0.08% to 369.81 points Friday but still looks set to book a weekly gain of around 0.5% amid a string of solid corporate earnings and solid underlying economic growth.
Britain's FTSE 100 fell by around 0.21% in the opening hour of trading, with energy and financial stocks leading the declines. Germany's DAX index was little changed from Thursday's close by 09:00 GMT, powered by a 2.3% advance for Allianz SE (AZSEY)  , which rose to the highest in more than a year after Europe's largest insurance company said it would launch its first-ever share buyback and boost its annual dividend after better-than-expected full year earnings.
Overnight in Asia, markets pulled back from multi-month highs Friday, with the region-wide MSCI Asia ex-Japan index falling 0.21% and traders citing a cautious reaction to Thursday's extraordinary press conference in which Trump traded barbs with the media over his alleged relationship with Russia and his plans to control immigration from Muslim-majority countries.
The lack of detail in terms of economic plans, and most specifically tax reform, assisted in delivering a second day of declines for the U.S. dollar on foreign exchange markets, with the greenback falling from a one-month high of 101.76 Wednesday to a one week low of 100.41 against a basket of six global currencies. The dollar index rebounded modestly to 100.59 by 09:00 GMT.
The pullback gave a temporary boost to the yen which rose to 113.39 against the dollar and trimmed any advance for Japan's benchmark Nikkei 225, which fell 0.58% to close in the red for the second consecutive session.
Toshiba Corp. (TOSBF)  was one of the session's biggest movers, lurching lower again Friday after Standard & Poor's warned of a potential 'selective default' downgrade for the Japanese conglomerate if it seeks debt financing to assist in its global restructuring.
Toshiba shares fell more than 9% in Tokyo trading to end the session at ¥184 each, extending a decline that began in mid-December -- when the company revealed it would have to book a bigger-than-expected writedown on its U.S. nuclear operations -- to more than 60%. Toshiba said earlier this week that the goodwill impairment would amount to $6.3 billion.
Global oil prices largely tracked the dollar's moves, but were also influenced by speculation that OPEC producers could be considering an extension of their production cut agreement, which will take 1.8 million barrels per day out of the market in the first half of this year, in order to address a global supply overhang.
WTI futures for March delivery gave back earlier gains to trade 0.2% lower at $53.25 as the dollar found its feet, while Brent contracts, the global benchmark, were marked 0.2% lower at $55.56 per barrel.
Wall Street's longest winning streak in a quarter century came to a close on Thursday as investors took a breather after five days of records.
The S&P 500 fell 0.09% and the Nasdaq fell 0.08%. The Dow Jones Industrial Average scored a small gain of 0.04%, its sixth consecutive record close.
Markets had little reason to push higher after climbing to new heights over the past five sessions. The S&P 500 had risen 2.4% from last Thursday to Wednesday, while the Dow climbed 2.7%.
U.S. futures prices suggest investors could be inclined to book some profits Friday, with the Dow called 42 points lower at the open, the S&P 500 expected to open 4.5 points lower and the Nasdaq expected to start the session 7 points in the red.