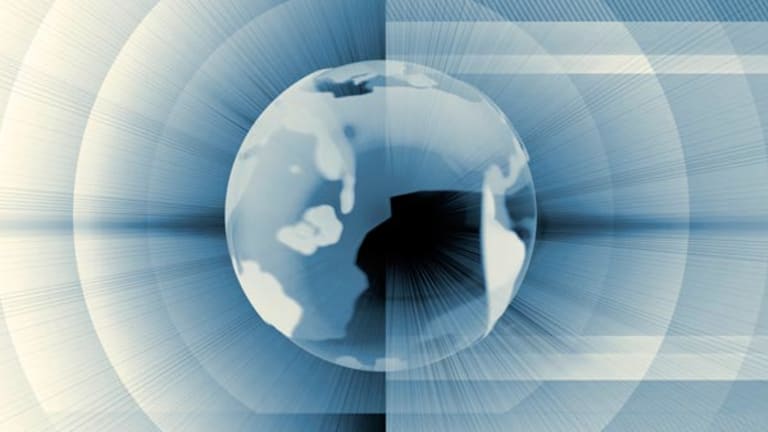 European Stocks Decline Amid Weak Eurozone, China Manufacturing Reports
European stock indices are a sea of red on Thursday as weak manufacturing data stokes worries about both the eurozone and the Chinese economies.
LONDON ( The Deal) -- European stock indices were a sea of red on Thursday as weak manufacturing data stoked worries about both the eurozone and the Chinese economies.
Markit Economics' purchasing managers' indices for the services and manufacturing sectors unexpectedly dropped in Germany and in the wider eurozone in November. In China, the Markit Economics/HSBC Holdings index of manufacturing output showed production contracted for the first time in seven months, while the corresponding purchasing managers' index fell to a six-month low.
In the U.K., Office for National Statistics figures showed October retail sales increased an above-forecast 0.8% month on month and were up 4.3% year on year.
In London, the FTSE 100 tumbled 0.59% to 6,656.87. In Frankfurt  the DAX fell 0.54% to 9,421.97. The CAC 40 in Paris slumped 1.01% to 4,223.11.
In Frankfurt, German industrial conglomerate and steelmaker ThyssenKrupp (TYEKF) moved higher after posting its first annual net profit in three years and announcing plans to resume dividends with a modest 0.11 euro payout, the first since the fiscal year ended 2011. The company forecast single-digit percentage growth in sales for the fiscal year ending 2015 and said it's targeting a significant improvement in net profit.
In Paris, seismic surveyor CGG (CGG) was up more than 19% after receiving and rejecting a 1.4 billion euros ($1.8 billion) bid from Technip (TKPPY) . News of the overture buttressed expectations there will be more oilfield services M&A action after Halliburton (HAL) - Get Report  and Baker Hughes (BHI)  agreed to their $34 billion merger earlier this week. 
But French pharma company Sanofi (SNY) - Get Report fell more than 2% despite announcing plans to generate more than 30 billion euros of additional sales through up to 18 new products it expects to launch over the next seven years. The increased revenue will come during the various products' first five years on the market, it said. Sanofi last month ousted Chris Viehbacher as CEO. Serge Weinberg is acting as both chairman and CEO until a replacement for Viehbacher is found.
In Hong Kong, the Hang Seng fell 0.10% to 23,349.64. In Tokyo, the Nikkei 225 edged up 0.07% to 17,300.86 as the yen fell.