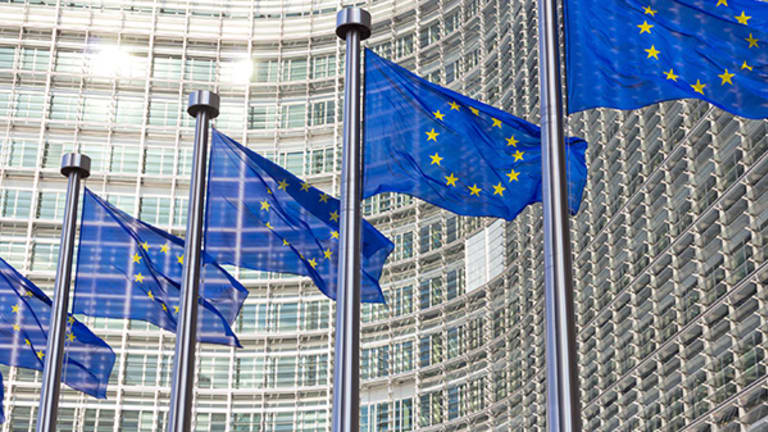 European Stocks Close Lower; Weaker Oil Prices, Politics, Earnings Weigh
Steep losses for oil, earnings aftershocks and another Clinton investigation leave markets reeling.
European stock markets closed lower on Monday as a cocktail of weaker oil prices, bad politics and earnings disappointments weighed on investor sentiment. Banks were also a big weight on markets across the continent as the exuberance that followed a series of brighter-than-expected earnings reports in recent days began to fade.
Brent crude oil was down by around 3% for the session, at $48.14, while investors were also left to weigh the potential implications on the looming U.S. election of another investigation into U.S. presidential candidate Hilary Clinton and her use of a private email server for government business. 
London's FTSE 250 and France's CAC 40 were the steepest-falling benchmarks for the session, down 0.5% and 0.7%, to close at 17,565.4 and 4,509.6 respectively.
The FTSE 100 fell by 0.4% to close at 6,960.5 and Germany's DAX sank by 0.3% to 10,665.4. The Europe Stoxx 600 index, the broadest measure of European stocks, was down by 0.5% at 339.3.
In fixed income markets, European 10-year government bond yields were mixed, with the German Bund trading modestly higher at 0.17% and the French Tresor flat at around 0.47% -- both having responded to a modest increase in eurozone inflation during the month of October.
The U.K. government Gilt yield was also a fraction higher, at 1.14%, after reacting to mortgage lending and consumer loan data that showed credit continuing to flow to the real economy in October -- which followed last week's stronger-than-expected gross domestic product data for the third quarter.
Both the pound and the euro were mixed against the U.S. dollar for the session, with sterling up 0.29% at $1.2208 and the euro down by 0.2% at $1.0960.
Some of the biggest laggards in London were Tesco (TSCDY) , RBS (RBS) - Get Royal Bank of Scotland Group Plc Report , Tullow Oil (TUWLF) and NCC (NCCGF) .
Tesco stock fell by more than 2% after it emerged that a consortium of more than 100 institutional investors have brought a damages claim before a court. The claim is related to the grocer's 2014 accounting scandal, which saw Tesco's profits overstated by more than £200 million and gave rise to sharp losses for shareholders.
Royal Bank of Scotland was also among the top fallers, outpacing the wider large-cap banking sector in its losses, with the shares down by more than 2% as investors began to look past last week's minor beat against consensus for third quarter profit before tax, in favor of a renewed focus on the litany of litigation and regulatory risks facing the business.
Tullow Oil was down more than 5% as the exploration and production firm fell victim to a tanking oil price, whereas beleaguered cyber security provider NCC saw its shares fall by more than 4% as investors continued to shun the stock following a profit warning last week.
In Germany, financial giants Deutsche Bank (DB) - Get Deutsche Bank AG Report and Commerzbank (CRZBY) topped the loser board, with both falling by more than 1%, on a day characterized by broad weakness for European banks.
In France, Nokia (NOK) - Get Nokia Oyj Report stock continued to fall on Monday and was down by more than 2%, as investors continued to cash in and walk away after last week's cataclysmic third-quarter earnings performance. BNP Paribas (BNPQY) and Societe Generale (SCGLY) both also put in an appearance in the top 10 fallers.
EDITOR'S NOTE: This article was originally published by The Deal, a sister publication of TheStreet that offers sophisticated insight and analysis on all types of deals, from inception to integration. Click here for a free trial.