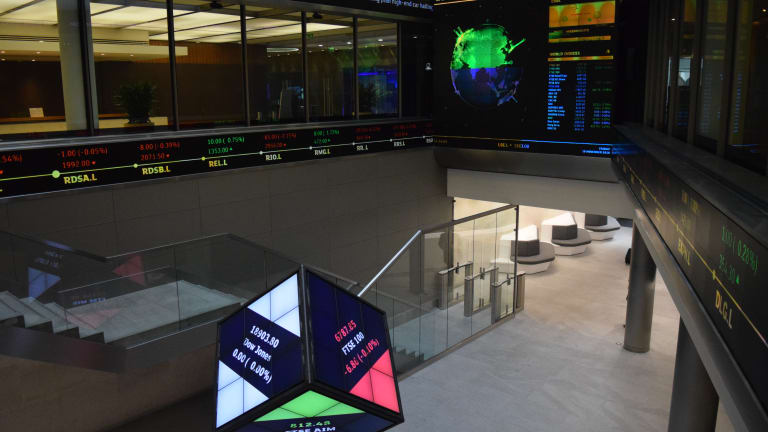 European Stocks Drift Lower in Holiday-Thinned Trading
European stocks are likely to post modest losses Thursday as a slower holiday trading pace takes over regional markets.
European stocks were mixed in early Thursday trading in what is likely to be the final "full" session of the year amid a modest pullback in global equities and a softer U.S. dollar.
Britain's FTSE 100 fell around 7.4 points, or 0.11%, to 7,029 points by 08:30 GMT, but with thin trading volumes. Germany's DAX index and France's CAC-40 notched similar percentage declines in the first 30 minutes of trading.
Italy's FTSE MIB index opened little-changed at 19,242, but volatility in it banking sector, particularly related to the failing lender Banca Monte dei Paschi di Siena (BMDPY) , will likely provide another day of large swings in share prices throughout the session.
BMPS itself fell 6.44% to €15.25 each by 08:30 GMT amid increased speculation that it will ultimately be rescued by the Italian government in the coming days. 
Another stock to keep an eye on at the open will be Actelion (ALIOY)  after the Swiss biotech said Wednesday that it has re-entered talks with Johnson & Johnson (JNJ) - Get Free Report that could lead to a "strategic transaction."
The statement came just a week after the two groups ended talks that could have led to a $27 billion takeover of the Allschwil, Switzerland-based firm and ignited speculation of a counter bid from France's Sanofi (SNY) - Get Free Report .
Actelion shares rose 7.3% higher in Zurich at the open to change hands at a record-high Sfr230.37 each, valuing the company at just under $25 billion.
Stock markets were mixed overnight in Asia, with the Nikkei 225 recording a modest 0.3% decline from the 2016 high posted in yesterday's trading. Volumes were thin, however, on the Japanese benchmark and sentiment failed to carry over into other regional markets, as Australia's S&P/ASX index added 0.5% to Wednesday's 18-month high to close at 5,643.9 points.
The dollar fell back for a second consecutive session, although the decline was modest and the greenback remains withing touching distance of its 14-year highs as it traded at 102.85 against a basket of six global currencies in European dealing.
Oil markets were softer, despite the marginally weaker dollar, as traders reduced bullish positions following a surprise build-up in U.S. crude inventories. The Energy Information Agency said Wednesday that U.S. oil stocks grew by 2.3 million barrels in the week ending Dec. 16, a figure that surprise a market that had been anticipating a 2.6 million decline.
WTI futures for February delivery were marked 0.15% lower as European trading commenced, changing hands at $52.43 per barrel, while Brent crude for the same month was priced 0.2% lower at $54.42.
Early indications from U.S. stock futures prices suggest the Dow Jones Industrial Average will struggle to take another run at 20,000, with traders anticipating a 19 point fall at the opening bell, although economic data set for release Thursday could provide a much-needed pre-holiday kick.
Investors have sparse earnings data to base trades on while looking forward to the Christmas break. Thursday will see the release of a handful of economic data, most notably revised Q3 GDP, which is expected to gain a slight upward adjustment.