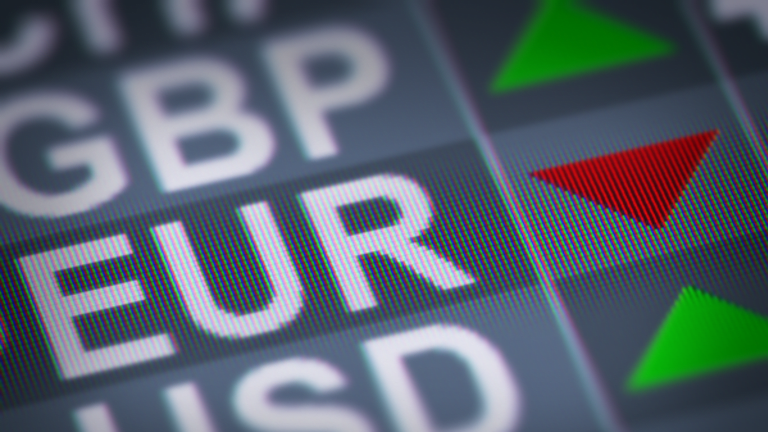 European Stocks Called Lower; Euro Dips After Merkel Election Disappointment
European stocks are set for a modest pullback following a tough federal election win Sunday by Germany's Angela Merkel.
European stocks are expected to open lower Monday as investors start the week on a cautious note and keep close tabs on the euro, which slipped in Asia trading after Chancellor Angela Merkel won a smaller-than-expected victory in Germany's federal elections and indicated a new government may not be in place until Christmas.
Germany's benchmark DAX performance index is priced for a modest 12 point decline, according to financial bookmakers IG, with similarly modest declines anticipated for markets in France and Switzerland. Britain's FTSE 100 is set for an 8 point decline as the pound remains elevated at 1.3539 despite Friday's move from Moody's Investors Service to cut the U.K.'s debt rating one notch to Aa2, citing uncertainty over the country's post-Brexit future.
The euro was marked 0.20% lower in early trading and changing hands at 1.1927 against the U.S. dollar by 06:30 London time after Merkel's Christian Democrats (CDU) and their sister party, the Christian Socialists (CSU), polled at around 32.7% in the national vote, comfortably ahead of the 20.2% tally earned by their chief rival, the Social Democrats, led by former European Parliament President Martin Schulz.
However, both the CDU/CSU pairing, as well as the SDP, saw significant slippages in their overall vote share, with a major portion of those lost votes going to both the far-right Alternative for Deutschland Party and the Free Democratic Party.
Overnight in Asia, the U.S. dollar index, which measures the greenback's strength against a basket of six global currencies, traded modestly higher at 92.32 as investors followed-on from Friday's rise in U.S. Treasury bond yields after last week's interest rate signalling from the Federal Reserve.
The dollar's moves pushed the yen lower and helped lift the Nikkei 225 into a 0.4% gain heading into the final 30 minutes of trading. The region's broadest measure of share prices, however, the MSCI Asia ex-Japan index, was marked 0.13% lower into the start of European trading.
Wall Street futures are also trading modestly lower, with the Dow Jones Industrial Average priced for a 16-point, or 0.07%, pullback at the opening bell. Both the broader S&P 500 and the tech-focused Nasdaq are looking at similar percentage declines, based on early indicates from futures prices. 
More of What's Trending on TheStreet: