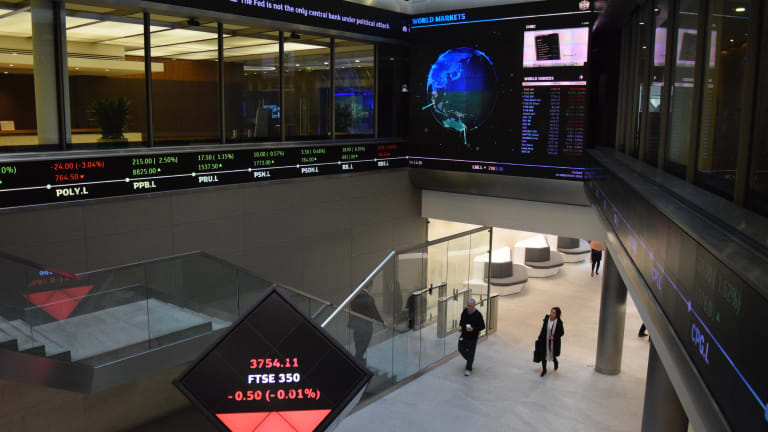 European Stocks Slip as Investors Stay Cautious Ahead of U.S. Jobs Report
European stocks are set to open lower Friday after a weaker Asia session and ahead of key payroll data from the United States.
European stocks are set to open lower Friday after a weaker Asia session and ahead of key payroll data from the United States.
European stocks opened weaker Friday after losses in Asia as investors prepare for employment data from the United States and a crucial constitutional referendum this weekend in Italy.
Britain's FTSE 100 dropped 0.7% at the start of trading in London to 6,702 points, held down by basic materials and energy stocks. Germany's DAX performance index fell 76 points, or 0.73% at the open while France CAC-40 dipped 33 points. In Italy, the FTSE MIB opened 0.67% lower in the final trading session ahead of Sunday's plebiscite on Senate reform which could trigger the resignation of Prime Minister Matteo Renzi.
Aixtron SE (AIXG) shares were an early mover of note in Germany, falling 7.2% to on reports that President Barack Obama is preparing to reject a proposed €670 million ($714 million) takeover of the German chipmaker by China's Fujian Grand Chip Investment Fund LP.
Obama was asked to decide the fate of a controversial takeover after the powerful Committee on Foreign Investment in the United States recommended the deal be withdrawn on national security grounds.
Asia stocks fell Friday amid a weaker U.S. dollar and faded risk sentiment ahead of both the November non-farm payrolls report from the U.S. Labor Department at 13:30 GMT. Japan's Nikkei 225 ended the session down 0.47% as traders pared holdings amid a rebound in the yen, which strengthened against a softer U.S. dollar in overnight trading. Hong Kong's Hang Seng index fell 1.2% while China's main Shanghai composite fell 1.05%.
Oil markets were also quieter overnight, with prices for both Brent and WTI crude for January delivery slipping around 0.2% by 07:15 GMT as traders began to question the ability of OPEC members to implement their agreed 1.2 million barrel per day production cuts.
The dollar pullback helped global fixed income markets regroup somewhat, as yields on benchmark U.S. 10-year and 30-year Treasuries pared losses from Thursday's brutal session to trade 2 basis points lower at 2.44% and 3.09% respectively. 
In Europe, German bund futures opened 16.8  ticks higher at 160.072 and benchmark 10-year bunds were marked at 0.37% after rising 13 basis points Thursday amid the global fixed income selloff. 
The Labor Department's November employment report, one of the most closely watched pieces of data of the month, will be under an even more intense spotlight Friday as investors look for confirmation the Federal Reserve will pull the trigger on interest rates at their December meeting. Economists anticipate 180,000 jobs to have been added to the U.S. economy in November and for the unemployment rate to hold at 4.9%.
"Another healthy report reflecting job growth near its recent trend (175k-195k) will give the Fed added comfort to lift rates in December, though the bar for a rate move is low in our view and any print at or above the break-even pace (roughly 100k) is likely sufficient," TD Securities analysts wrote in a note.
On Wall Street Thursday, the Dow Jones Industrial Average scored a new record close with modest gains on Thursday as another rally in the banking and energy sectors offset weakness in tech.
The Dow climbed 0.36% to 19,191, surpassing last week's record of 19,152. However, the S&P 500 closed down 0.35%, and the Nasdaq fell 1.36%.
Tech names have been under pressure in recent sessions as sector rotation benefited energy and financials and disadvantaged high-momentum movers. Facebook (FB) - Get Report , Amazon (AMZN) - Get Report , NvidiaA (NVDA) - Get Report and Microsoft (MSFT) - Get Report were all lower, while the Technology SPDR ETF (XLK) - Get Report slid 2.1%.