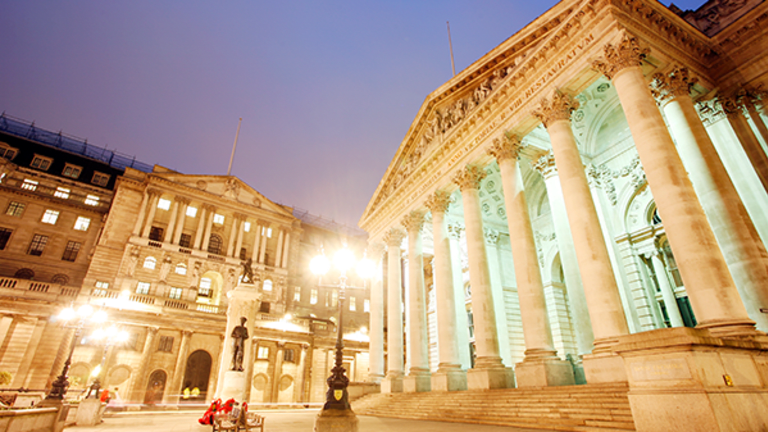 European Stocks Called Lower as Global Investors Approach Fed Meeting
European stocks are likely to slip modestly at the start of trading Tuesday as global investors retreat from all-time highs.
European stocks are expected to slip modestly at the start of trading Tuesday as global investors pull back from record highs ahead of the first day of the U.S. Federal Reserve's two-day rate setting meeting.
Benchmarks around Europe are priced to give back around 0.1% across the board, according to financial bookmakers IG, with a weaker U.S. dollar pushing regional currencies higher and holding back equity gains. Britain's FTSE 100 is likely to open little-changed from Monday's close, but with the pound holding firm at 1.3540, the benchmark could struggle to edge into the green.
Overnight in Asia, Japan's Nikkei 225 leaped 1.5% in its first trading session of the week as investors returned from a national holiday while the broadest measure of regional shares, the MSCI Asia ex-Japan index, was marked 0.1% higher by 06:00 London time.
The U.S. dollar index, which measures the greenback's strength against a basket of six global currencies, slipped 0.15% to 91.98 during Asia trading hours while benchmark 10-year Treasury bond yields were marked at 2.24%, some 22 basis points from their early September lows in the immediate wake of Hurricane Harvey.
With futures prices pointing to a 55.8% chance of a Fed rate hike during its December meeting, but only a 2% chance of a change in the Fed's 1% to 1.25% target rate on Wednesday, investors are now focused on details regarding the central bank's plans to begin reducing its $4.1 trillion balance sheet and its economic projections for 2018.
U.S. crude prices weakened overnight, as well, partly as a result of a U.S. Energy Information Administration statement that October shale production is likely to rise to around 6.1 million barrels per day.
West Texas Intermediate crude futures for October were seen 0.45% lower at $49.87 at 06:15 London time while Brent contracts for November were marked 0.25% lower at $55.35.
Early indications from U.S. equity futures, however, suggest the Dow Jones Industrial Average may extend its run of five consecutive record highs at the start of trading with a 19 point gain while both the S&P 500 and the Nasdaq are priced for little-change from their Monday closing levels.