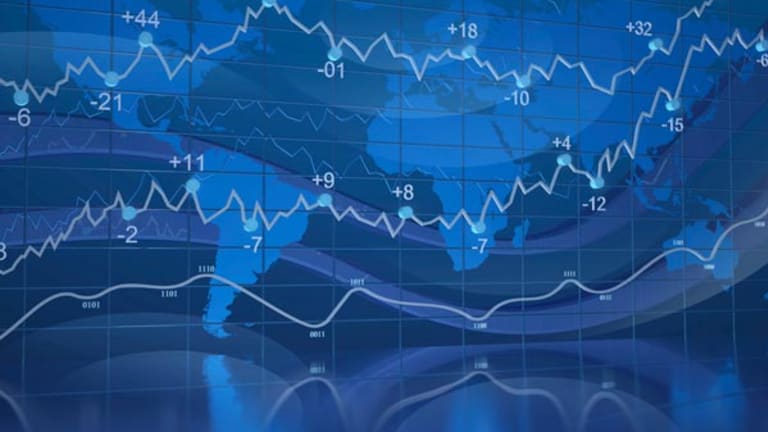 Publish date:
European Stocks Break Losing Streak
European stocks shrug off a slump in China even as crude oil falls again.
European stocks shrug off a slump in China even as crude oil falls again.
LONDON (The Deal) -- European stocks shrugged off a slump in China to break a two-day losing streak.
In London, the FTSE 100 was up 1.95% at 5,980.63 as the pound stabilized against the dollar following two days of heavy "Brexit"-fueled losses. £1.00 bought just over $1.39 as of late morning. In Frankfurt, the DAX was up 0.78% at 9,239.07, and in Paris, the CAC 40 jumped 1.59% to 4,221.21.
Brent crude oil was down 1.25% at $33.98 a barrel.
Eurozone indices gained despite updated January consumer price data showing a more subdued 0.3% inflation rate, lower than the 0.4% predicted earlier by the European Union's statistics arm. Still, the figure was up on December's 0.2% rate of price growth.
Leading British telecom BT (BT) was up about 2.5% in London after escaping a compulsory breakup following a review by telecom and media regulator Ofcom. Rival Vodafone (VOD) - Get Report and Sky (SKYAY) , which had unsuccessfully lobbied for the enforced divestment of BT's Openreach infrastructure arm, were also up, however.
Bus and train operator National Express was up close to 10% after reporting above-forecast full-year results, including pretax profit of £150.1 million ($209 million), up 25.2% on 2014.
Rentokil Initial (RTOKY) , which provides pest control and other services, was up 2.5% after publishing full-year results which featured a 13.1% increase in the dividend. It reported good prospects in most of its markets, bar France and the Benelux region, for the coming year.
In Oslo, offshore rig operator Seadrill (SDRL) - Get Report was up more than 8% after it promised a plan to tackle its $9.9 billion of debt in the first half as it beat the consensus profit forecast in the fourth quarter.
In Frankfurt, pharmaceuticals and chemicals company Bayer (BAYRY) - Get Report was down more than 4% after missing fourth-quarter expectations for core earnings per share and delivering disappointing guidance for 2016.
In Paris, oilfield services company Technip (TKPPY) was up close to 15% on well-received guidance for 2016, even though net profit in 2015 at €45 million ($49.6 million) came in well below forecasts because of write-downs and unfavorable currency effects.
In China, the CSI 300 composite index slumped 6.14% to 2,918.75, as G20 leaders gathered for a two-day meeting in Shanghai.
In Hong Kong, the Hang Seng closed down 1.58% to 18,888.75.
In Tokyo, the Nikkei 225 rose 1.41% to close at 16,140.34, and the Topix closed up 1.79% at 1,307.54.
Shares in struggling Japanese electronics giant Sharp (SHCAY) closed down more than 14% after it said it had accepted a takeover offer worth about $6.2 billion from Hon Hai Precision Industry (FXCOF) , known as Foxconn. However, The Wall Street Journal reported later that Foxconn was delaying the signing of the deal.
The agreement, as disclosed by Sharp to news outlets in Japan, includes the purchase of 66% of Sharp at a price of ¥118 per share, 32% less than its Wednesday closing price.
Foxconn rose 2.6% on the Taiwan exchange.