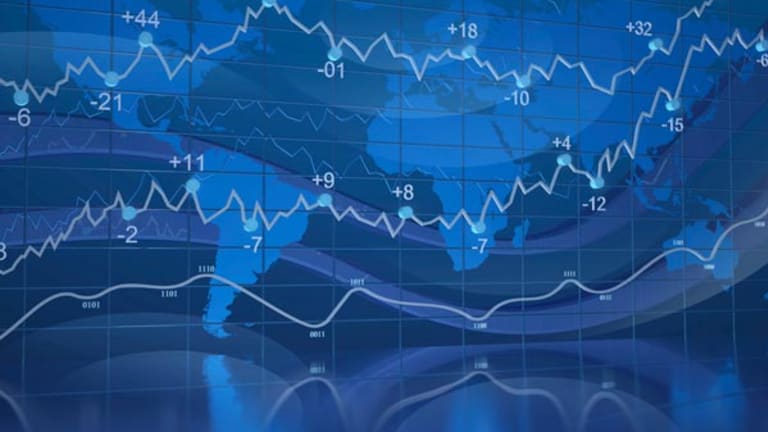 Publish date:
European Stocks Bounce Higher in Low-Volume Trading
European stocks were following Asia higher in a quiet post-Christmas trading session.
European stocks were following Asia higher in a quiet post-Christmas trading session.
LONDON (The Deal) -- European stocks followed Asia higher in a quiet post-Christmas trading session.
In London, the FTSE 100 rose a modest 0.32% to 6,276.10. In Frankfurt, the DAX powered ahead 1.46% to 10,809.20, and in Paris, the CAC 40 jumped 1.23% to 4,674.86.
Hikma Pharmaceuticals (HKMPY) posted the greatest gains of the FTSE 100 constituents, rising well over 3%. Home builders including Berkeley Group Holdings, Persimmon (PSMMF) and Taylor Wimpey (TWODF) were also among the lead gainers.
Deutsche Bank (DB) - Get Report rose 1.6% in Frankfurt after it sold its 20% stake in China's Hua Xia Bank to insurer PICC Property and Casualty for up to 25.7 billion yuan ($4 billion).
Groupe Eurotunnel (GRPTF) was up about 1.4% in Paris as the cross-channel tunnel operator tweaked its debt structure so as to allow for a potential refinancing of floating-rate loans.
Avocet Mining (AVVGF) was up more than 12% in London on news that it won't have to pay adversaryJ&Partners' costs in an arbitration procedure, removing a threat to short-term liquidity. It said the arbitrator had found in favor of Avocet in "almost all aspects" of the case, though added that some areas remained unresolved.
But ZincOx Resources plunged 39% after it said efforts to raise $5 million had failed, forcing it to transfer a 90% stake in a South Korean subsidiary to creditor Korea Zinc. It said it would continue fundraising efforts, which will probably include a share sale, and expects to announce a plan by the end of January.
Video surveillance system makerIndigoVision (INDVF) tumbled more than 8% in London as it reported slower-than-anticipated second-half sales, mainly because of a project delay in the Middle East.
Asian indices rose on Tuesday. In Tokyo, the Nikkei 225 closed up 0.58% at 18,982.23, and the Topix closed up 0.93% at 1,543.39.
Sharp (SHCAY) gained another 1.7% in Tokyo, after rising 7.3% on Monday, after a report that Taiwan's Hon Hai Precision Industry (FXCOF) , which is also known as Foxconn, made a ¥300 billion ($2.49 billion), conditional takeover proposal.
In Sydney, the S&P/ASX 200 gained 1.15% to 5,267.34.
In Hong Kong, the Hang Seng rose 0.36% to 21,999.62.
Trading in Hanergy Thin Film Power remained suspended after news the renewables technology company's founder had sold a 6% stake at a 95% discount to the stock's last traded price. The Financial Times has this year run several articles questioning the company and its parent's business model.
In mainland China, the Shanghai Composite swelled by 0.85% to 3,563.74, and the Shenzhen Component index closed up 0.94% at 12,806.16