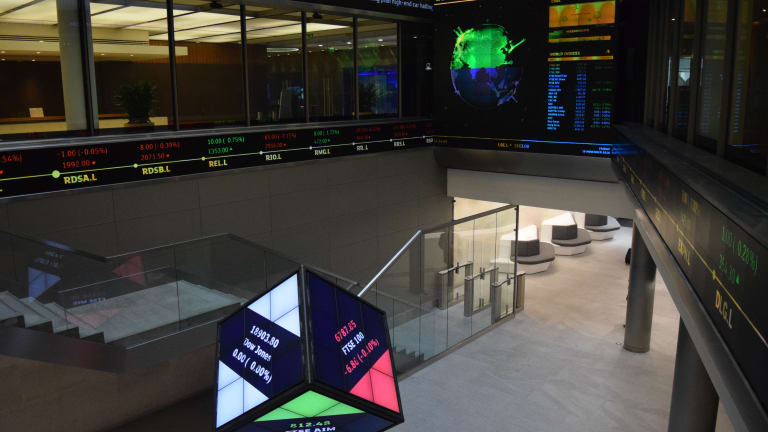 European Stocks Book Solid Gains as Earnings, Deal Speculation Boost Sentiment
European stocks notched solid gains Wednesday as global equity investors build on a strong U.S. corporate earnings season, European deal speculation and encouraging economic data from Japan.
European stocks notched solid gains in early Wednesday trading as global equity investors build on a strong U.S. corporate earnings season and encouraging economic data from Japan.
Germany's DAX performance index led the major European benchmarks higher with a 1.3% gain driven largely by financial stocks, including Deutsche Bank (DB) - Get Free Report  , which hit a one-year high of €18.86, valuing Germany's biggest bank at just under €26 billion, following media reports that the the bank is considering sale options for its asset management unit.
Britain's FTSE 100 also traded firmly in the green, rising 0.65% in the session's opening hour with gains across the corporate spectrum. Curiously, the advance also paralleled a modest rise in the pound, which gained 0.05% against the U.S. dollar to 1.2527.
Italy's FTSE-MIB was also in focus Wednesday after Generali (ARZGY) shares rose to the highest level in more than a year after Italy's Intesa Sanpaolo (ISNPY) confirmed it may make a takeover bid for the insurance group.
Novartis AG (NVS) - Get Free Report  was another mover of note after Europe's second-biggest drugsmaker led gainers on the Swiss SMI after missing analysts expectations with its fourth quarter earnings but launching a $5 billion share buyback program and hinting at the sale of its Alcon eye care unit.
Novartis shares gained 2.62% in Zurich trading to change hands at Sfr71.28 each, trimming their three-month loss to around 4%. That compares to a 2.17% fall for the Stoxx Europe TMI Pharmaceuticals index.
Generali gained 1.6% in Milan to change hands at €15.71 each, extending their three day gain to just under 15% and valuing the group at just under €24.5 billion.
Overnight in Asia, the region's broadest measure of shares, the MSCI Asia ex-Japan index, edged 0.09% higher by 07:00 GMT, helped by a 0.1% gain for South Korea's KOSPI -- thanks to a record high for Samsung Electronics -- and a 0.4% advance for the S&P/ASX index, which closed at 5,671.50 points.
Japan's Nikkei 225 rebounded firmly, assisted by a weaker yen a stronger U.S. dollar and solid export data, reversing two days of declines with a 1.4% advance to take the benchmark back over the 19,000 barrier for the first time in nearly a week.
Japan's exports rose for the first time in more than a year last month, the country's Finance Ministry said, with a 5.4% increase from a year ago and well ahead of the 1.2% advance economists had forecast. The country's full-year trade surplus with the U.S. was measured at €6.8 trillion ($59.8 billion)
The dollar had a modest boost in Asia trade, rebounding to 100.20 against a basket of six global currencies but sill well shy of the 103.82 high it reached in the so-called Trump rally that followed the November elections.
Global oil prices eased in overnight trading, with WTI futures for March delivery drifting 0.62% lower to $52.85 per barrel as traders assessed both a larger-than-expected read of U.S. crude stocks from the American Petroleum Institute and President Trump's authorisation to re-start the Keystone XL and Dakota Access pipelines.
The Energy Information Administration will report crude stock data at 15:30 GMT, with analyst expecting a build of around 2.8 million barrels.
Tuesday on Wall Street, the Dow Jones Industrial Average's rocked triple-digit gains for the first time in three weeks, settling within 90 points of its 20,000 milestone.
The Dow rose 0.57%, or by 112 points, to 19,912 on Tuesday. The S&P 500 and Nasdaq closed at fresh records after rising 0.66% and 0.86%, respectively. The S&P 500 finished at 2,280 and the Nasdaq ended the day at 5,600.
Positive earnings from the likes of DuPont (DD) - Get Free Report and Alibaba (BABA) - Get Free Report were the main drivers of gains for Wall Street on Tuesday. So far, less than one-fifth of S&P 500 companies have reported earnings. Average earnings for the S&P 500 in the fourth quarter are expected to increase 6.3% from the same period a year earlier, according to Thomson Reuters.
U.S. futures prices are anticipating another bullish session, with the Dow called 65 points higher and 6.5 and 20.2 point gains for the S&P 500 and Nasdaq respectively.
Earnings are also expected from Boeing (BA) - Get Free Report , United Technologies (UTX) - Get Free Report , Norfolk Southern (NSC) - Get Free Report .