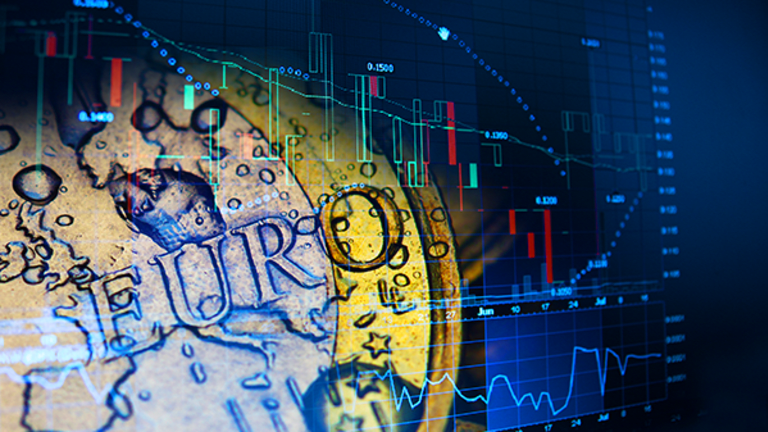 European Stocks Book Solid Early Gains as Investors Shrug Off Fed Meeting Caution
European stocks tossed caution to the side Wednesday, extending gains across the board as sentiment from a record-setting session on Wall Street offset investor wariness ahead of today's Fed meeting.
European stocks tossed caution to the side Wednesday and extended gains across the board as sentiment from a record-setting session on Wall Street offset investor wariness ahead of the U.S. Federal Reserve's rate decision later today.
The region-wide Stoxx Europe 600 benchmark gained around 0.55% in the opening hour of trading and was quoted at 390.84 points at 09:00 London time. France's CAC-40 led gains for regional indices, rising 0.9% on the back of solid gains for industrial and consumer stocks while Germany's DAX performance index added 0.5% on the strength of big gains for utility stocks such as RWE AG (RWEOY) and E.On AG (EONGY) . Britain's FTSE 100, however,edged only a few points higher to 7,505 points as gains were tempered by a stronger pound sterling.
The pound has been rising steadily this week, gaining just over 1.1% against the U.S. dollar -- to 1.2772 -- since the results of last week's general election, in which Prime Minister Theresa May's Conservative government lost its parliamentary majority, were revealed Friday. Since then, speculation has grown that, given the electoral setback, May will need to soften her negotiating stance with EU officials in Brussels when Brexit talks kick off next week.
Early indications from U.S. equity futures suggest another record-setting day on Wall Street, with each of the three major becnhmark expected to open modestly firmer after a triple-set of all-time highs in Tuesday trading amid a rebound in tech stocks that took the Nasdaq to 6,220.37 points and added 92.8 points to the Dow Jones Industrial Average, which ended at 21,328.47 points.
Wednesday's sentiment, however, is likely to be dominated by the Fed decision and the subsequent policy statement from chairwoman Janet Yellen, amid speculation that she could signal a change in the way the central bank will unwind the $4.5 trillion in assets sitting on its balance sheet.
The Fed's rate policy, according to futures prices, appears more settled, with a near certain expectation of a 0.25% increase in the main Fed Funds rate to a range of 1% to 1.25%.
The U.S. dollar, however, is reflecting the Fed's stance over the rest of the year and has lost ground to a basket of six global currencies over the past month, but is nonetheless marked marginally higher in European trading at 96.98.
Elsewhere, global oil markets extended declines Wednesday as investors trimmed price expectations amid increasing signs that the current supply glut will continue to weigh on sentiment.
The slide followed data from OPEC Tuesday which indicated that member states increased production last month, despite reaching an agreement to trim output. In its regular Monthly Oil Market Report, OPEC said its May crude output pace rose by 336,000 barrels per day to just over 32.1 million. The figures added to market pressure after a report from the American Petroleum Institute that estimated domestic crude stocks rose by a more-than-expected 2.8 million barrels in the week ending June 9.
West Texas Intermediate crude futures for July delivery were marked 1.35% lower at $45.83 per barrel by 09:00 London time while Brent contracts for August, the global benchmark, were seen 1.15% lower at $48.16 per barrel.
Asia stocks were equally cautious, with the region-wide MSCI Asia ex-Japan index edging 0.12% higher thanks in part to solid economic data from China, which indicated steady growth in factory output and retail sales last month, challenging assumptions of a slowdown in the world's second-largest economy.