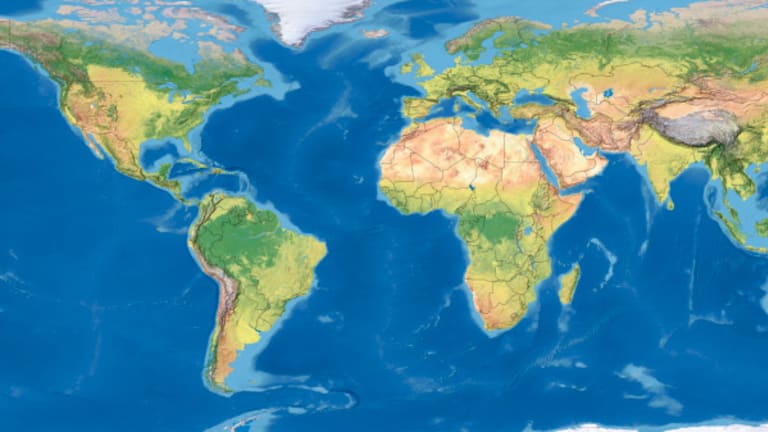 European stocks, Asian Stocks Rise on Better China Trade Data
European stock indices follow many Asian markets higher on Thursday.
LONDON (The Deal) -- European stock indices followed many Asian markets higher on Thursday following better-than-expected trade data from China and after comments from Federal Reserve boss Janet Yellen reassured investors about the monetary outlook.
China's exports and imports defied forecasts by rising in April. They increased 0.9% and 0.8%, respectively, recovering from steep declines the month before and assuaging fears about slowing Chinese growth dragging down the global economy.
But in Germany, industrial output unexpectedly fell in March, falling 0.5% and disappointing consensus expectations for an increase of 0.2%.
Both the European Central Bank and the Bank of England meet later Thursday to decide whether to change benchmark rates from their current respective levels of 0.25% and 0.5%.
And in Washington, Yellen will address the Senate Budget committee, after she highlighted risks to the economy in a testimony before Congress on Wednesday.
In London, the FTSE 100 rose 0.50% to 6,830.17. In Frankfurt the DAX rose 0.60% to 9,578.02 and in Paris the CAC 40 climbed 0.54% to 4,470.56.
Lender Barclays (BCS) - Get Barclays Plc Report rose more than 5% in London as CEO Antony Jenkins announced the long-awaited outcome of his strategy review. The measures include 14,000 job cuts this year, up from the previously announced 12,000, and will result in greater-than-expected savings. Jenkins said he will put £115 billion ($195.1 billion) of primarily investment banking assets into a non-core unit, into which he will also pour all of Barclays' mainland European retail banking businesses. By the end of 2016 he wants to have more than halved the assets held in that noncore unit. And he said investment banking will account for no more than 30% of core assets by 2016, down from more than 50% right now.
BT Group was the second-biggest gainer in the FTSE 100 after Barclays after the telecom announced full-year results ahead of forecast and predicted a return to growth in the fiscal year ending 2016 after flat revenue and pretax profit on a reported basis, at £18.3 billion and £2.3 billion, respectively, in the year just ended.
In the mining sector, Glencore Xstrata moved higher as the company announced that former BP boss Tony Hayward, who has been interim chairman for the past year, will take on the permanent position.
In Madrid, Spanish oil company Repsol rose after reporting above-forecast first-quarter profit thanks to output growth in Latin America. Yesterday it sold its residual 12% stake for $1.3 billion in the YPF SA business in Argentina that it once controlled before the Argentine government seized the company.
In Frankfurt German retailer Metro rose sharply after confirming its full-year outlook even after foreign exchange movements, the impact of disposals and a late Easter meant second-quarter and first-half sales and operating profit fell year-on-year.
In Helsinki, Nokia (NOK) - Get Nokia Oyj Reportrose on news it will collaborate with Japan's NTT DoCoMo on research and standardization of 5G mobile communication technologies.
In Sydney, pipeline operator Envestra may rise on Friday after billionaire Li Ka-shing's Cheung Kong Infrastructure Holdings Ltd., a 17.5% shareholder, burst into the bidding with a late announcement that it will offer A$2.4 billion ($2.3 billion), or A$1.32 per share, in a challenge to APA Group Ltd., which is Envestra's largest shareholder. Envestra's shares had closed at A$1.13.
In Tokyo, the Nikkei rose 225 0.93% to close at 14,163.78 and in Hong Kong the Hang Seng climbed 0.42% to close at 21,837.12.