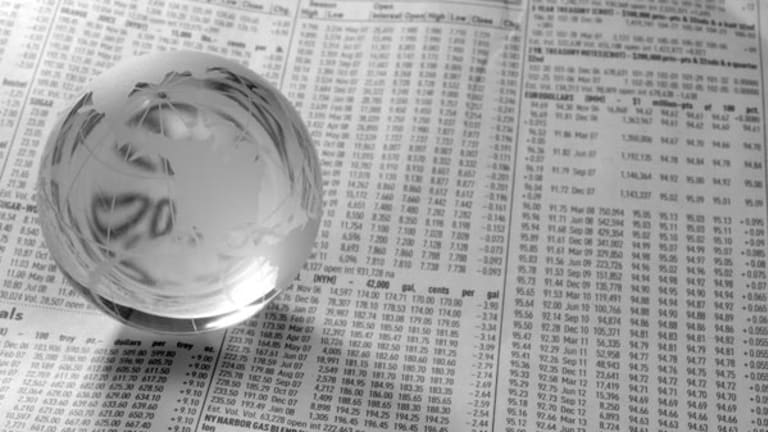 European Stocks Recoil From Further Drops in Asian Stocks
European stock indices take fright on Tuesday from weak manufacturing data from China, which sent Asia Pacific indices down sharply.
LONDON (TheDeal) -- European stock indices took fright on Tuesday from weak manufacturing data from China, which sent Asia Pacific indices down sharply.
The Chinese government's purchasing managers' index fell to 49.7 in August from 50 in July. The reading, which was in line with expectations, was the worst for three years.
Meanwhile, revised August purchasing managers' data from Caixin and Markit Economics Ltd. put the manufacturing index at 47.3 in August, compared with a preliminary reading of 47.1. The index was the worst since March 2009 and compared with a reading of 47.8 in July. Anything below a neutral reading of 50 signals economic contraction and the PMI has held below that threshold for six months in a row.
That data from China continued to eclipsed better news on the economy that followed later in the European morning from the euro zone. The European Union's official statistics arm said unemployment slipped to a rate of 10.9% in July, compared with an expected stagnation of the jobless rate 11.1%. According to today's figures, eurozone joblessness is at a three-year low.
By late morning in Frankfurt the DAX was down 2.77% at 9,975.22. In Paris the CAC 40 declined 2.46% to 4,538.51 and in London the FTSE 100 dropped 2.31% to 6,103.86
Mining company Glencore  led that index lower, sliding close to 6% amid concern about its debt mountain following weak results earlier this month and declining prices for its key commodities, including copper.
A flurry of takeover activity in London lifted some smaller and mid-cap stocks but made no dent on wider indices.
Aga Rangemaster Group was up almost 10% after Whirlpool (WHR) - Get Report confirmed it had make a takeover proposal to rival MiddlebyCorp.'s (MIDD) - Get Report agreed £129 million ($199 million) bid.
Latchways, which operates in the so-called fall protection sector, was up 47% at 1,060 pence after agreeing to a £114 million, or 1,100 pence-per-share, offer from Cranberry Township, Pa.-based MSA Safety (MSA) - Get Report .
Meanwhile, a Carlyle Group LP vehicle has agreed to pay £499 million for Innovation Group, a Portsmouth, England company which manages claims for insurers. Innovation shares edged higher, after rising sharply on Friday when news of the possible offer first emerged. The shares held under the 40 pence value of the Carlyle offer. 
Rentokil Initial (RTOKY) was up close to 3% after announcing a $425 million deal to buy pest-control peer Steritech Group of Charlotte, N.C. 
In Amsterdam security software maker Gemalto (GTOMY) was down over 2% at €62.74 after Credit Suisse lowered its price target to €55.
And in Paris CGG (CGG) , an oilfield services company, rose as it announced a restructuring to help counter a slump in demand from its cash-strapped energy-sector clients. 
Asian stock indices ended the day overwhelmingly in the red on China worries.
In Sydney, the S&P/ASX 200 closed down 2.12% at 5,096.410. The Reserve Bank of Australia on Tuesday kept its benchmark interest rate at 2%, as expected, having last cut rates in May. 
In Tokyo the Nikkei 225 tumbled 3.84% to 18,165.69, while the Topix fell 3.83% to 1,478.11.
Toshiba closed down 5.3% after announcing it would postpone full-year results for a second time following the discovery of accounting issues. The expected release date is now Sept. 7.
It also said it will sell all the shares it owns in optical equipment maker Topcon Corp., or about 30.4% of that company, for around ¥50 billion to ¥60 billion ($417 million to $500 million). Topcon closed down 3.4%. 
The Shanghai Composite index fell 1.22% to 3,166.62. In Hong Kong the Hang Seng declined 2.24% to close at 21,185.43.
Read more from: