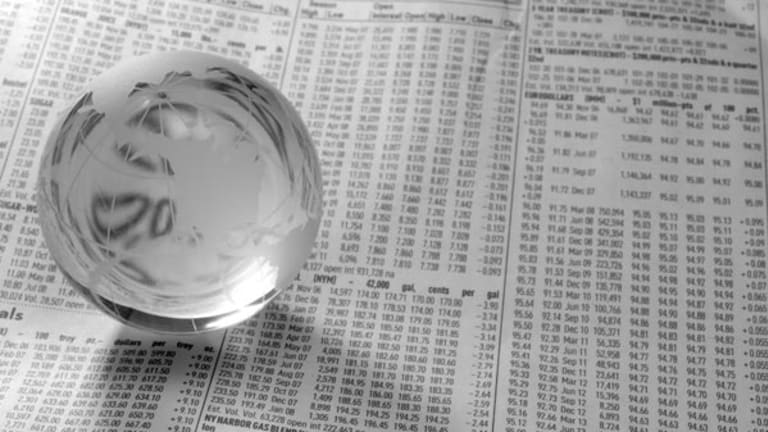 European Stocks Are On the Rise Ahead of European Central Bank Rate Announcement
European stock indices rose on Wednesday, shrugging off slower Chinese growth, as investors waited to hear what European Central Bank boss Mario Draghi has to say about today's policy meeting.
LONDON (TheDeal) -- European stock indices rose on Wednesday, shrugging off the expected slowdown in Chinese growth, as investors waited to hear what European Central Bank boss Mario Draghi has to say after today's policy meeting.
In London, the FTSE 100 was up 0.37% at 7,101.31. In Frankfurt, the DAX gained 0.44% to 12,280.59, and in Paris, the CAC 40 increased 0.6% to 5,249.43.
Mainland Chinese indices fell as government figures confirmed expectations that the economy grew 7% year-on-year in the first quarter, the slowest rate in six years. That was down from 7.3% growth in the fourth quarter.
The International Monetary Fund predicted yesterday that China would grow 6.8% this year and 6.3% next -- compared with 7.5% growth for India both years.
At the same time the IMF upgraded the eurozone growth forecast. It noted that the growth outlook in advanced economies was improving, whereas growth in developing countries and emerging markets was likely to be lower. It said the economic benefit of lower oil prices could be greater than expected.
In Frankfurt, the ECB holds a monetary policy meeting today. A rate announcement is due at 1:45 p.m. local time, or 7:45 a.m. East Coast time, with a press conference 45 minutes later. Expectations point to benchmark rates remaining at 0.05%, but investors will look closely at what Draghi has to say about the central bank's government bond buying program, the eurozone growth outlook, and emergency funding for Greece.
Alcatel-Lucent (ALU) declined more than 10% in Paris, but Nokia (NOK) - Get Nokia Oyj Report rose about 3% in Finland as the partners unveiled an agreed €15.6 billion ($16.6 billion) all-stock offer by the Finnish telecom equipment maker for its French peer. The partners had announced advanced talks yesterday.
Luxury good maker Burberry (BURBY) gave up early gains in London after a first-half bulletin showed strong Americas growth had offset lackluster business in Asia Pacific. Overall revenue rose 9% to £1.4 billion ($2.1 billion).
Consumer lender Virgin Money Holdings was down sharply on news of a secondary share offering by Wilbur Ross and another key investor amounting to about 10.2% of its share capital.
In Paris, spirits maker Remy Cointreau (REMYF) gained after reporting a return to "organic" revenue growth in the fourth quarter and publishing full-year sales figures for the year ended in March. Those sales numbers came in ahead of expectations, albeit declining 6.4% year-on-year.
In Zurich, shares in chemicals maker Sika fell when trading resumed after shareholders voted to retain a rebel board opposed to a takeover by France's Cie. de Saint-Gobain (CODGF) . Sika's founding family's vote was limited to 5% at the seven-hour meeting on Tuesday.
In Hong Kong, the Hang Seng closed up 0.21% at 27,168.82.
Alibaba Health Information Technology soared 80% on news that New York-listed parent companyAlibaba (BABA) - Get Alibaba Group Holding Ltd. Report will inject its online pharmacy operations into the business in a $2.5 billion deal.
In Tokyo, the Nikkei 225 declined 0.20% to 19,869.76. The Topix fell 0.13% to 1,588.81.