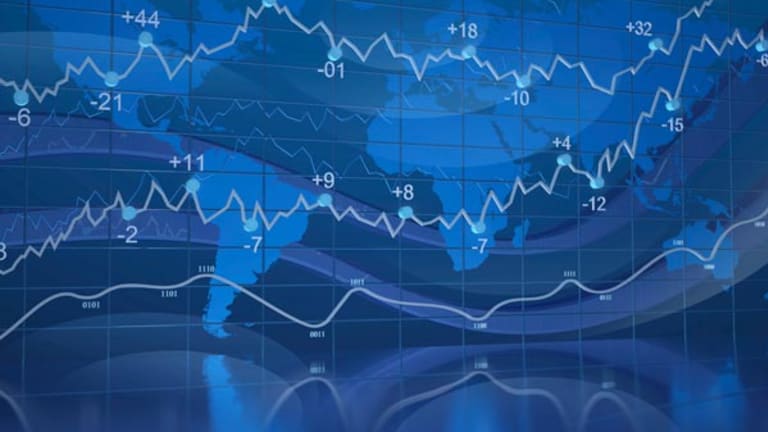 LONDON (The Deal) -- European stocks continued their downward spiral on Wednesday as investors awaited the release of minutes from the most recent Federal Reserve meeting for fresh clues on the world's largest economy. Asian indices were also lower. 
In London, the FTSE 100 was down 0.56% at 6,459.07, while in Frankfurt the DAX shed 0.78% to 9,015.69. In France, the CAC 40 shed 0.63% to 4,182.74. 
Watch the video below for a closer look at how European markets are doing in midday trading Wednesday:
Minutes of the Fed's Sept. 16-17 meeting are due to be released at 2 p.m. EDT. 
In Paris, Air France-KLM (AFLYY) shares ran into turbulence after the carrier said that the two-week pilot strike in September could shave up to 500 million euros off of its full-year Ebitda. So far the estimated loss already stands at 320 million euros to 350 million euros in lost revenue and additional costs minus savings on fuel and other expenses.The stock was down 2.55%. 
September traffic was 15.9% lower compared to last year, with short and medium-haul traffic 17.5% lower. The airline is predicting a 0.7% capacity increase in the upcoming winter season from late October to late March, with the passenger business accounting for just 0.1% of that amount. 
German carrier Deutsche Lufthansa (DLAKY) was also down, falling 2.04% in Frankfurt on the first day of a pilot strike that forced its Lufthansa Cargo unit to rearrange flight schedules. 
German drug packaging firm Gerresheimer fell 3.39% after lowering its full-year revenue growth forecast to 4%, from a previous figure of 4% to 6%. 
The Dusseldorf-based company cited a more difficult environment for its pharmaceutical customers in the U.S. and potential further limitations on revenue growth for customers targeting Eastern Europe. It may give more guidance during a two-day capital markets day starting Wednesday. 
In London, rail operator FirstGroup lost 3.56% to 111 pence after losing the ScotRail franchise it's held since 2014. The company said it will continue to run ScotRail until April 1, and that the latest develop won't affect its previously stated medium-term targets. 
Bucking the negative trend, Golden Ocean Group was up nearly 6% in Oslo, as investors welcomed a planned all-share merger between the dry-bulk shipper and its peer, Nasdaq-listed Knightsbridge Shipping (VLCCF) . Both companies are controlled by billionaire John Fredriksen. The news may give a boost to Knightsbridge shares on Wednesday. On Tuesday, shares closed 7.6% lower at $7.85, for a market value of $385.6 million. 
Under the terms of the agreement, Golden Ocean shareholders are to receive 0.1379 of a share in Knightsbridge, which will issue 61.5 million shares to Golden Ocean investors. The merger, subject to approval of both companies' shareholders, will create one of the world's leading dry bulk companies with a 72-strong fleet. 
With the exception of China, Asian indices were also in the red, led by a 1.19% fall in Japan's Nikkei. In Hong Kong, the Hang Seng shaved off 0.68%amid continued political tensions two days before direct talks are set to start between pro-democracy protesters and government leaders.
Must Read: